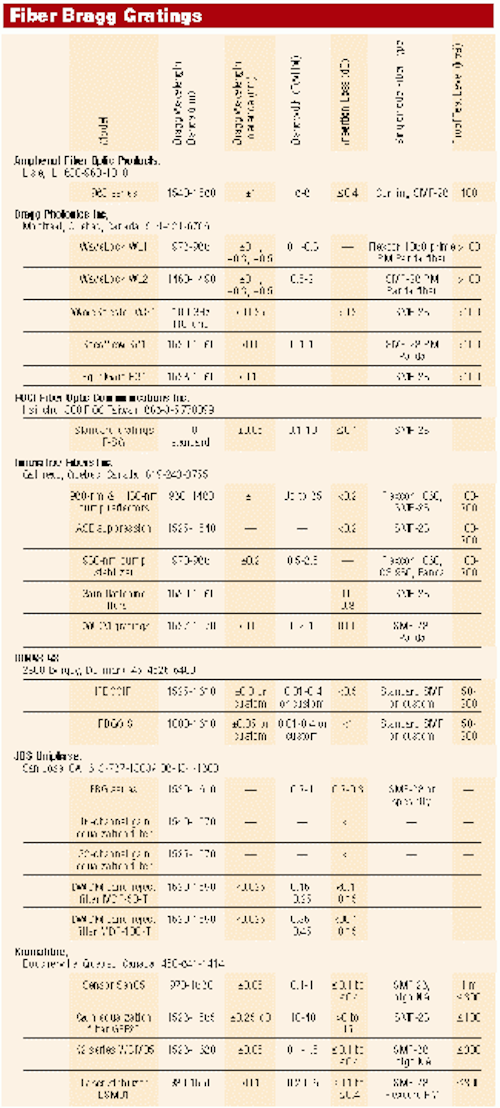 Fiber Bragg gratings and wavelength-division multiplexing (WDM) have evolved as complementary technologies that can en able fiber-optic networks to push the limits in terms of capacity. Fiber gratings perform functions such as wavelength selection or rejection, filtering, attenuation, pump stabilization, spectral shaping, and dispersion compensation.
Fiber gratings are well suited for meeting the challenge of today's capacity demands. In fact, more than two years ago, the technology was off and running alongside WDM. In an earlier Lightwave article, "Fiber Bragg gratings help WDM push limits of fiber capacity," reprinted from the March 1998 Laser Focus World, Franáois Ouellette of Kromafibre predicted the many practical uses for fiber gratings.
They are well-suited for use in WDM applications due to their inherently narrow band--almost square--wavelength response function, said Ouellette. He also cited other uses in communications systems, for example, as gain equalizers, where their spectral profile is made to match the gain curve of an erbium-doped fiber amplifier (EDFA). "Due in part to their growing utility in the WDM environment, fiber gratings have pervaded the marketplace and found numerous applications in telecommunications and optical-fiber sensors," observed Ouellette.
Today, one of the most significant industry contributions of fiber Bragg gratings are their ability to enable network designs to break out of the traditional ring architectures, says Bill Kleinebecker, president of Technology Futures Inc., a Texas-based telecommunications analyst and consulting firm.
"By being able to morph the wavelengths in a fiber, this technology and the ones to follow will open up access to new customers who are 'downstream' from the current SONET [Synchronous Optical Network] rings," says Kleinebecker. "These customers can be provided bandwidth that meets their current demand and that can grow with their needs. Those customers today are usually small businesses that are not on the major metropolitan fiber routes."
Still, fiber grating manufacturers credit WDM technology for giving a huge boost to their market--or was that fiber gratings boosting the WDM market? In either case, the technological relationship between the technologies continues to break new ground in the telecommunications industry.
"Fiber Bragg gratings address virtually any filtering function in DWDM [dense WDM] optical systems with incredible flexibility in the filter profile and specifications, more so than with any other filtering technology," says Barbara Birrell, marketing manager for 3M Optical Transport Systems. "For instance, gratings can be produced with narrower bandwidth than can thin-film filters and with a flat-top profile unlike the rounded or Gaussian shape of unbalanced Mach-Zehner type devices. This flexibility allows individual manufacturers to have very unique specifications for their products. It also allows new grating specifications to migrate rapidly from development to manufacturing."
Additionally, Birrell says, given that the grating is intrinsic to the fiber, the filter just needs to be spliced in for simple management and packaging. Insertion losses can also be very low. That's one reason fiber gratings are gaining acceptance in gain flattening and have become the industry standard in pump stabilization, she adds.
The availability and diverse use of fiber Bragg gratings is particularly appealing to some major carrier markets. Kleinebecker observes that statewide long-distance carriers, regional intercity carriers--especially to Tier 3 and Tier 4 cities and rural service areas--and competitive local-exchange carriers addressing the medium- and small-business markets will be first to take advantage of wavelength-morphing technologies like Bragg gratings.
"For greenfield infrastructures, they enable a new architecture that can avoid SONET and attendant equipment costs," says Kleinebecker. "More importantly, they avoid the inefficiencies of the specific fixed, ungraceful bandwidths offered in SONET."
There are probably as many trends to observe in the fiber Bragg gratings market as there are applications. Besides their increasing popularity in EDFA gain flattening and dispersion compensation, fiber gratings are generally being accepted as a proven technology for applications requiring long-term reliability. Tunable Bragg grating filters are emerging, and long-haul and undersea applications are fueling the market.
"The current trends are to integrate fiber Bragg gratings with other optical components, couplers, and circulators," says Peer Ficocelli, vice president of sales and marketing for Bragg Photonics in Quebec. "The market is in the early stages and demand is greater than supply, prompting Bragg Photonics to put in place a manufacturing process that enables increased manufacturing efficiency and product standardization."
3M's Birrell agrees, although she believes supply will catch demand in the long term. She also sees product standardization just around the corner.
"One ongoing trend is the rapid evolution of specifications for every type of grating," says Birrell. "This means tighter specifications and more-complex filter functions."
Competition, as in many other niche markets, is fierce among manufacturers, with customers and suppliers reaping the benefits of competitive pricing and products. But competition also comes from outside the fiber gratings manufacturers--from competing technologies.
"There are a number of competing companies in the fiber Bragg grating market, but also a number of competing technologies," says Simon Poole, technical director at JDS Uniphase Pty Ltd. "For example, in the demux/channel drop markets, there are thin-film filters, AWGs [arrayed waveguide gratings], and interleavers. In the amplifier gain-flattening market, we're competing against long-period gratings, thin-film filters, tapers, and cascaded Mach-Zehnders. This plethora of alternatives provides a broad range of choices for the customer and system designer. A challenge that all component companies face is to provide the system designer with the support needed to make the right tradeoffs for each system design."
Finally, what does the future hold for the fiber Bragg gratings manufacturers? In the labs, gratings are being applied to solutions for dispersion slope compensation, 50- and 25-GHz channel filters, tunable gratings with low power consumption, an emerging sensor market, and even components for fiber-to-the-home applications. Modularity, a popular concept in other telecommunications equipment, is also finding its way in new fiber Bragg gratings offerings.
As Ouellette stated several years ago, "Fiber Bragg gratings have come a long way since the first demonstrations by researchers from United Technologies [Hartford, CT] in 1989. They are now sophisticated components that are basic building blocks of many WDM systems." Years later, the sophistication continues to branch into all areas of the optical network, ensuring a bright future for an ever-evolving technology.