Prototype reconfigurable OADMs emerge
May 1st, 2003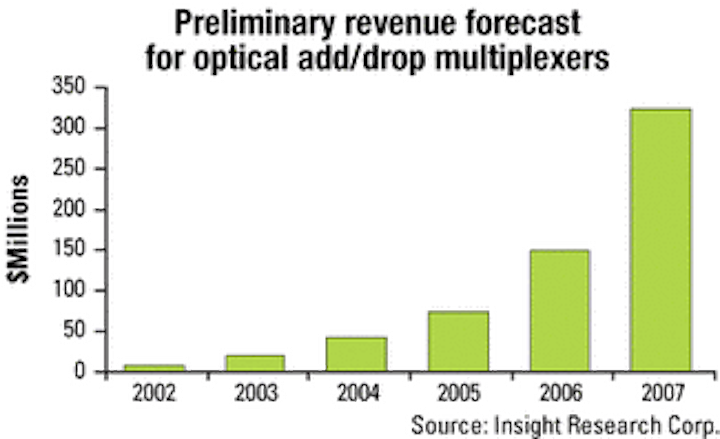 Optical add/drop multiplexers (OADMs) enable channels to be added or dropped from a group of channels in a DWDM network. Most of the OADMs in operation today are two-, four-, or eight-channel "fixed" devices, meaning they are pre-programmed to add or drop specific wavelengths. Several companies are now developing a new class of OADM, reconfigurables (ROADMs), which will enable automatic provisioning "on the fly" using either software-controlled switching or a tunable-filter mechanism.
"In the old architecture," explains Gurpreet Mand, product-line manager at JDS Uniphase (San Jose, CA), "you had to pre-choose that you were going to drop Lambda 3 to a certain location. If you then had to make any changes, you physically had to go to that point and change or add cards. In this case, it can all be done remotely; you can just say, 'I need more bandwidth going to L.A. because the Super Bowl is on tomorrow,' for example, and you can provision that in seconds, sitting at your operating center, as opposed to having to plan it for weeks."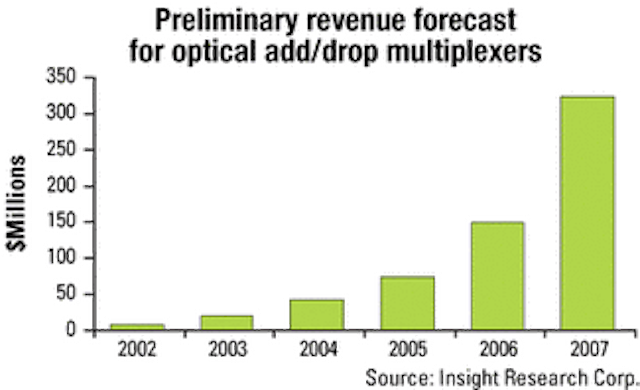 The optical-add/drop-multiplexer (OADM) market, according to a new report from Insight Research, will net more than $300 million by 2007. Reconfigurable OADMs will capture an increasing percentage of that total as the devices are deployed closer to the user.
An OADM can also be used in conjunction with a legacy ADM (operating on a specific wavelength) to add wavelengths. "When an ADM operating at OC-3 or OC-12 begins running out of steam, an OADM can act almost as a wavelength splitter and create an OC-48 overlay on the same fiber," notes Robert Rosenberg, president of Insight Research (Boonton, NJ) and author of the forthcoming report, "Next Generation Add-Drop Multiplexers 2003-2008." "This is very important for a phone company that has to continue operations even as they upgrade the network."
According to a recent ElectroniCast report (San Mateo, CA), global consumption of the total OADM market will reach $1.03 billion by 2006. While ROADMs hold a minor share of that market today, they should grow more rapidly than other configurations to capture 45% of the market by 2006.
The promise of capital- and operational-expenditure reductions will no doubt help fuel market growth. "These types of nodes are going to reduce capital expenditure up-front because they minimize regeneration from the optical to electrical domain and back," asserts Mand, "and they will also reduce operating expenses because you don't need to change cards or deploy truck rolls to various sites to make changes."
At this point, ROADMs have only seen trial deployments, though they are "off the bench," as Rosenberg puts it. "They are out there," he asserts. He points to AT&T's recent announcement that it will be upgrading to OC-768 as proof that the ILECs will need ROADM functionality in the future.
Incumbents and startups alike are vying for a piece of the market. JDSU seems to hold the early lead with its Wavelength Blocker—even more so now that Corning (Corning, NY) has discontinued development on its add/drop-switch subsystem. Available in extended L- or C-band variations at 50- or 100-GHz, JDSU's Wavelength Blocker features a voltage-controlled filter to enable the adding or dropping of wavelengths in milliseconds. The subsystem has been available for slightly more than a year and is currently in customer trials.
In a similar vein, Xtellus (Morris Plains, NJ) makes a "channelized blocker equalizer" based on liquid-crystal technology. Alpha versions of the devices are in testing with system vendors, according to the company's vice president of business development, Jonathan Homa. He expects prequalified beta versions will ship this summer, if not before. Xtellus will offer devices for 50- and 100-GHz spacing applications as well as C- and L-band operation. The subsystems will also support bidirectional applications.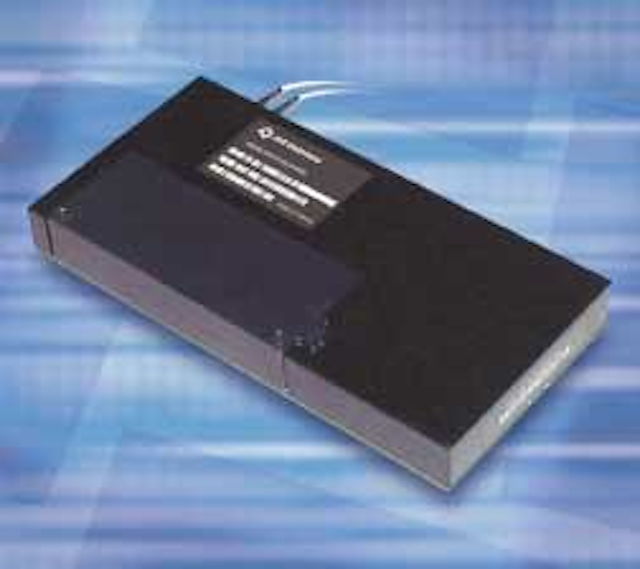 First-generation reconfigurable OADM devices like JDS Uniphase's Wavelength Blocker are in customer trials now.
Infineon Technologies AG (Munich), meanwhile, has announced the prototype version of its 20-channel 200-GHz smart ROADM with integrated power monitors and variable optical attenuators. A one-chip, fully integrated device, the ROADM is designed for DWDM core metro and long-haul systems and supports up to 40-Gbit/sec data rates.
Among a slew of startups working on ROADM components, subsystems, and systems is CoAdna Photonics (San Jose), which showcased a working demo of its liquid-crystal-based ROADM at OFC in March. CoAdna claims its device features express channel equalization and bit-rate and protocol transparency. Also at OFC, Clarendon Photonics (Newton, MA) announced it has completed mask layouts of what it contends is the world's first monolithic, eight-wavelength ROADM, intended for metro-network applications. And Optoplex (Fremont, CA) demonstrated a prototype of its tunable OADM with what it calls a "hitless" feature, meaning adding and dropping of wavelengths can occur without temporarily disrupting those channels going through the OADM.
Despite the current economy and the slower-than-expected takeoff of metro WDM, the ROADM market remains promising enough to inspire continued innovation. Xerox (Rochester, NY), for example, recently announced what it claims is a breakthrough technology—an optical micro-electromechanical systems (MEMS) photonic switch integrated with planar lightwave circuits onto a single silicon chip—which it says will lead to the development of ROADMs as small as 2×1.5 cm. The company has developed a working prototype eight-channel ROADM that it plans to commercialize through licensing agreements.