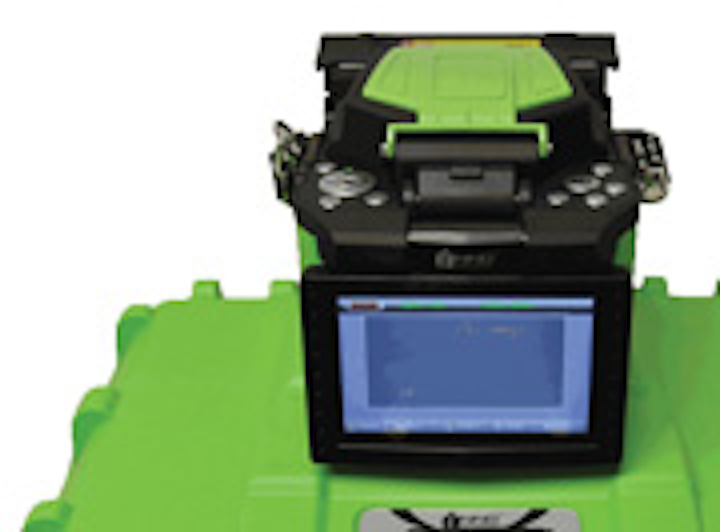 These are the latest products being featured by Lightwave's partners. For more information, click on the link at the end of each description.
For advertising information, contact Kathleen Skelton or Kelly Barker.
FTTX
INNO Instrument IFS-15H
FiberOptic Resale Corp.
The IFS-15H sets the standard in FTTX Digital Core Alignment Splicing Technology. Features: GUI menu, universal fiber holders 250mm, 900mm 3.0, SOC holders, Detachable SOC oven, highest industry resolution 800x480.
www.fiberopticresale.com

EQUIPMENT DESIGN

USB To Fiber Optic Bit-Driver
S.I. Tech
Supports USB 1.1 and 2.0 plug and play, multimode or singlemode for secure communication, remote security cameras, instruments, or other USB devices, extended-distance. EMI/RFI immunity. Order: 1.KIT #26 for complete multimode system. 11.3181/3182 for tempest version.
www.sitech-bitdriver.com

NETWORKING
Get optical signal analysis capabilities into a compact, affordable and portable unit
Agilent
Deeper analysis and greater flexibility of complex modulated signals for 100G designs at a fraction of the cost, size and weight of existing optical modulation analyzers. Why wait?
www.agilent.com

TEST
FastMT — The Fastest Automated Auto-Focus Inspection Available... Without Scrolling! Inspect • Certify
FiberQA,LLC
FastMT simultaneously auto-focuses 4-72 individual fiber displays while certifying results on 8, 12, 24, 36, 48, 60, 72 MT connector regions.
www.fiberqa.com

TEST and MEASUREMENT
CWDM OTDR
Terahertz Technologies Inc.
The U.S. made TTI FTE-7500-CWDM TaskMaster is a CWDM OTDR, available in a variety of wavelength configurations. Laser Sources also operate in CW mode for use with integrated broadband PM. Video Scope and VFL functions complete the TaskMaster's functionality. This OTDR is fast, easy to use, affordable and rugged for the ultimate productivity. Please contact us at 315-736-3642 or sales@terahertztechnologies.com

TEST
Integrated de-emphasis and higher output voltage for Agilent's N4960A Serial BERT 32 and 17 Gb/s
Agilent
New remote pattern generator heads add integrated de-emphasis, improved rise/fall time and jitter performance for transceiver, backplane and IC testing. The N4960A system is ideal for 100G Ethernet, CEI 28G VSR and 32G FC applications.
www.agilent.com/find/N4960A

TEST AND MEASUREMENT

WAN Emulator with Ethernet / Optical Interfaces
GL Communications Inc.

GL's IPNetSim™ IPN600 series emulates real-world conditions of wide area networks (terrestrial, wireless, satellite, internet). It offers 1 or 10Gbps multi-rate capability with four 1 or 10Gbps SFP+ ports, and simulation of two separate 10Gbps (or 4Gbps) full-duplex links.
www.gl.com

TEST AND MEASUREMENT
1240 – 1700nm Tunable Lasers
Yenista Optics
TUNICS T100S-HP is now available in 6 models covering all telecom wavelength bands: a tuning range up to 200nm, 8dBm minimum output power, 13dBm peak power and high dynamic range.
www.yenista.com

TEST AND MEASUREMENT

Optical Wavelength Meters
Bristol Instruments
Optical wavelength meters precisely characterize the wavelength of DWDM lasers. Multi-wavelength meters measure wavelength, power, and OSNR of DWDM signals. High accuracy and reliability achieve the most meaningful test results.
www.bristol-inst.com

FTTX
Tough Technology Does it Again
Lindsay Broadband
Fiber Distribution Hub is the complete solution for managing up to 288 Homes for FTTx PON application. Features front-access shelf for Splitter installation and a 72 port parking area.
www.lindsaybroadbandinc.com

More LW Articles
Past Lightwave Issues