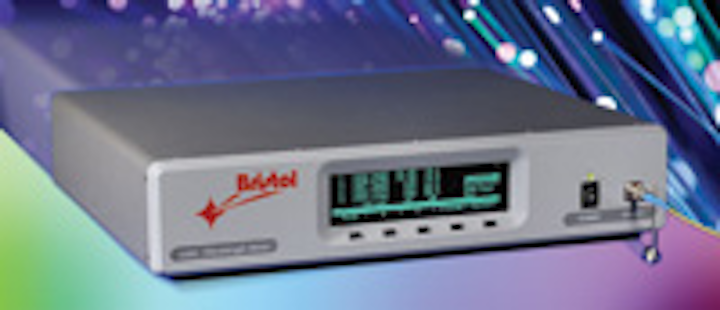 These are the latest products being featured by Lightwave's partners. For more information, click on the link at the end of each description.
For advertising information, contact Kathleen Skelton.
Test and Measurement
Optical Wavelength Meters
Bristol Instruments
Optical wavelength meters precisely characterize the wavelength of DWDM lasers. Multi-wavelength meters measure wavelength, power, and OSNR of DWDM signals. High accuracy and reliability achieve the most meaningful test results. www.bristol-inst.com

Test
FTE-7800 OTDR with a CWDM 8 Channel Analyzer TaskMaster.
Terahertz Technologies Inc.
US made FTE-7800 "TaskMaster" has a 1310/1550nm SM OTDR paired with an 8 channel CWDM analyzer, video scope, LTS and VFL. Contact us at 315-736-3642 or sales@terahertztechnologies.com
FTTx
Industry-1st 24 --F Armored "Cross-Over" Cable
Sumitomo Electric Lightwave
Sumitomo's new PureDri™ Armorlux™ Extra cable combines a familiar buffer tube design and the strength of a standard 600 lb. Outside Plant Cable with the flexibility of a Drop Cable. This innovative design eliminates costly fillers, providing reduced OD, unprecedented flexibility, and ease of entry. Dry & Gel Versions. Call Customer Service: 800-358-7378. Visit www.sumitomoelectric.com

Test and Measurement
WAN Emulator with Ethernet / Optical Interfaces
GL Communications Inc.
GL's IPLinkSim™ emulates real-world conditions of WAN (terrestrial, wireless, satellite, or internet). Test the performance of network-dependent applications with user-selected & auto-negotiated bandwidth (up to 1Gbps), latency, background traffic, and packet loss rates. www.gl.com

Test and Measurement

New Sub-Band Chromatic Dispersion Emulator
TeraXion
This passive chromatic dispersion emulator is now available with a broad continuous bandwidth (>400GHz) allowing DSP testing for advanced modulation formats at 100 and 400Gb/s. Perfectly suited for manufacturing environments and labs, it emulates more than 10,000 km of fiber in a compact unit while maintaining very low insertion loss. View Now… www.teraxion.com/cs-cde

FTTx/Enterprise Networks
New Industry-1st Quantum V-Groove Splicer
Sumitomo Electric Lightwave
Most technologically advanced, competitively priced, V-Groove fusion splicer! 1st & ONLY industry features include patented independent dual heaters, full touch screen control, USB interface for 24/7 remote maintenance, SD port for virtually unlimited data storage, plus more. 800-358-7378. www.sumitomoelectric.com

FTTx
Lindsay Broadband Termination Closures
Lindsay Broadband
LB-TBA & TBB Compact Termination Box capable of handling up to 8 SC adapters or 16 SC adapters. Equipped with a hinged adapter tray for splicing and/or splitter installation. www.lindsaybroadbandinc.com

Test and Measurement
OSA20 -- Optical Spectrum Analyzer
Yenista Optics
Yenista unveils its first Optical Spectrum Analyzer at ECOC. OSA20 is fast & accurate: wavelength resolution bandwidth of 20 pm with scan speed of 2000 nm/s over 1250 -- 1700 nm. www.yenista.com

Test
Integrated de-emphasis and higher output voltage for Agilent's N4960A Serial BERT 32 and 17 Gb/s
Agilent
New remote pattern generator heads add integrated de-emphasis, improved rise/fall time and jitter performance for transceiver, backplane and IC testing. The N4960A system is ideal for 100G Ethernet, CEI 28G VSR and 32G FC applications. www.agilent.com/find/BERTs32G.com

Equipment Design
USB To Fiber Optic Bit-Driver
S.I. Tech
Supports USB 1.1 and 2.0 plug and play, multimode or singlemode for secure communication, remote security cameras, instruments, or other USB devices, extended-distance. EMI/RFI immunity. Order: 1.KIT #26 for complete multimode system. 11.3181/3182 for tempest version.
www.sitech-bitdriver.com