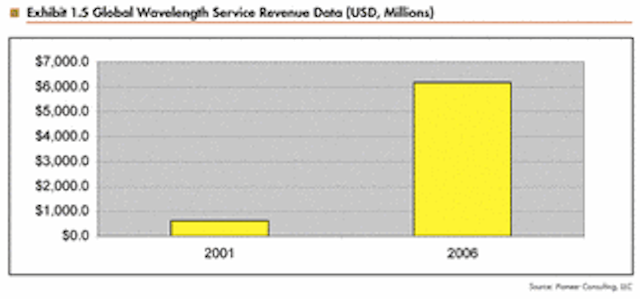 Advancements in DWDM and optical switch technologies and an ever-growing need for cost-effective bandwidth transmission are fueling interest in the wavelength serivces market, claims a new market and technology assessment report from Pioneer Consulting LLC (Boston, MA). Worldwide wavelength services revenue is expected to jump from its $622-million mark last year to $6.2 billion by 2006.
"Wavelength services offer tremendous revenue potential to carriers in not only North America but in Europe and Asia-Pacific as well," contends Jason Marcheck, senior market analyst, optical networking. "Despite the current economic contraction, demand for wavelength services is healthy and will increase even more as the economy improves. In addition," he adds, "Gigabit Ethernet and SAN [Storage Area Networking] services will stimulate demand for leasing bandwidth."
DWDM equipment and intelligent optical switches will enable new wavelength services in long haul and metro networks over the forecast period, say Pioneer analysts. Global long-haul wavelength service revenues are predicted to increase from $439 million in 2001 to more than $3.3 billion by 2006.
In the short term, wavelength services will remain a primarily long-haul service offering, says the report. However, as DWDM further penetrates the metro segment, the opportunity for wavelength services will increase in the metro as well. Metro wavelength services revenues are expected to jump from $183 million in 2001 to more than $2.9 billion by the end of the forecast period.
"The growing use of wavelength services would appear to be inevitable given the need for a more cost-effective use of bandwidth, technological advances in DWDM and optical switching technologies, and a growing list of applications that stand to benefit from the leasing of lambdas," concludes Paul Kellett, senior director of research.
Pioneer's report, "Global Wavelength Services: Optical Signaling Development, Business Case Justification, and New Revenue Opportunities," forecasts the global market for wavelength services from 2001-2006, focusing on the metro and long haul segments. The report also examines the network elements that will impact carriers' delivery of wavelength services, including DWDM transport systems, intelligent optical switches, tunable lasers, wavelength-level monitoring equipment, and next-generation optical amplifiers.
For more information, visit Pioneer Consulting on the Web at www.pioneerconsulting.com.