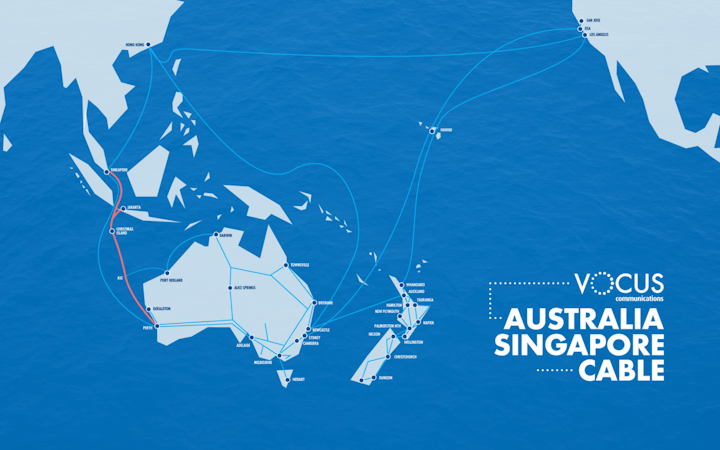 Vocus
Vocus says that it has boosted the end-to-end capacity of its Australia Singapore Cable (ASC) subsea system to 60 Tbps, a 50% increase in capacity from its initial launch capacity (see "Australia Singapore Cable ready for service this month: Vocus"). Several subnetworks also have seen capacity enhancements in the 10 months since launch.
The four-fiber-pair Australia Singapore Cable submarine cable system offers connections between Perth and Singapore over a 4600-km route, as well as into Christmas Island and Indonesia. On these latter branches, the Singapore to Indonesia connection now has a capacity of up to 44 Tbps and the Perth to Indonesia branch has seen its capacity increase to up to 33 Tbps.
"Since launch, we have nearly sold 10 times the entire capacity of the Sea-Me-We3 cable system on ASC," asserted Vocus Chief Executive, Wholesale Mark Callander. "Based on the current demand, we expect to see capacity on ASC exceed 4 Tbps within the first 12 months of launch, and there is increasing demand across all paths to the west," he said.
Vocus has expansion in mind for the Australia Singapore Cable as well, according to Callander. "The ASC provides valuable future options, such as a connection to our existing North West Cable system that extends from Port Headland to Darwin, servicing Australia's oil and gas and mining sectors. It also gives us more options into Indonesia, the fourth most populated nation in the world, and with the seventh largest economy that is growing at around 5%," he stated.
For related articles, visit the Network Design Topic Center.
For more information on high-speed transmission systems and suppliers, visit the Lightwave Buyer's Guide.