Liquid Telecom says it has completed construction of a new terrestrial fiber-optic network that links East and West Africa. The final link in the One Africa broadband network was a recently deployed 2600-km fiber route across the Democratic Republic of Congo (DRC).
Liquid says this fiber network is the first to completely link East and West Africa. Previously, traffic between Kinshasa in the DRC and Dar es Salaam in Tanzania had to be routed via London, the company says by way of example. The new network thus significantly reduces latency on such routes. The new route also connects customers in the DRC with the rest of the One Africa network, which Liquid says runs almost 70,000 km (see below). The network also will make fiber broadband an alternative to mobile-based approaches.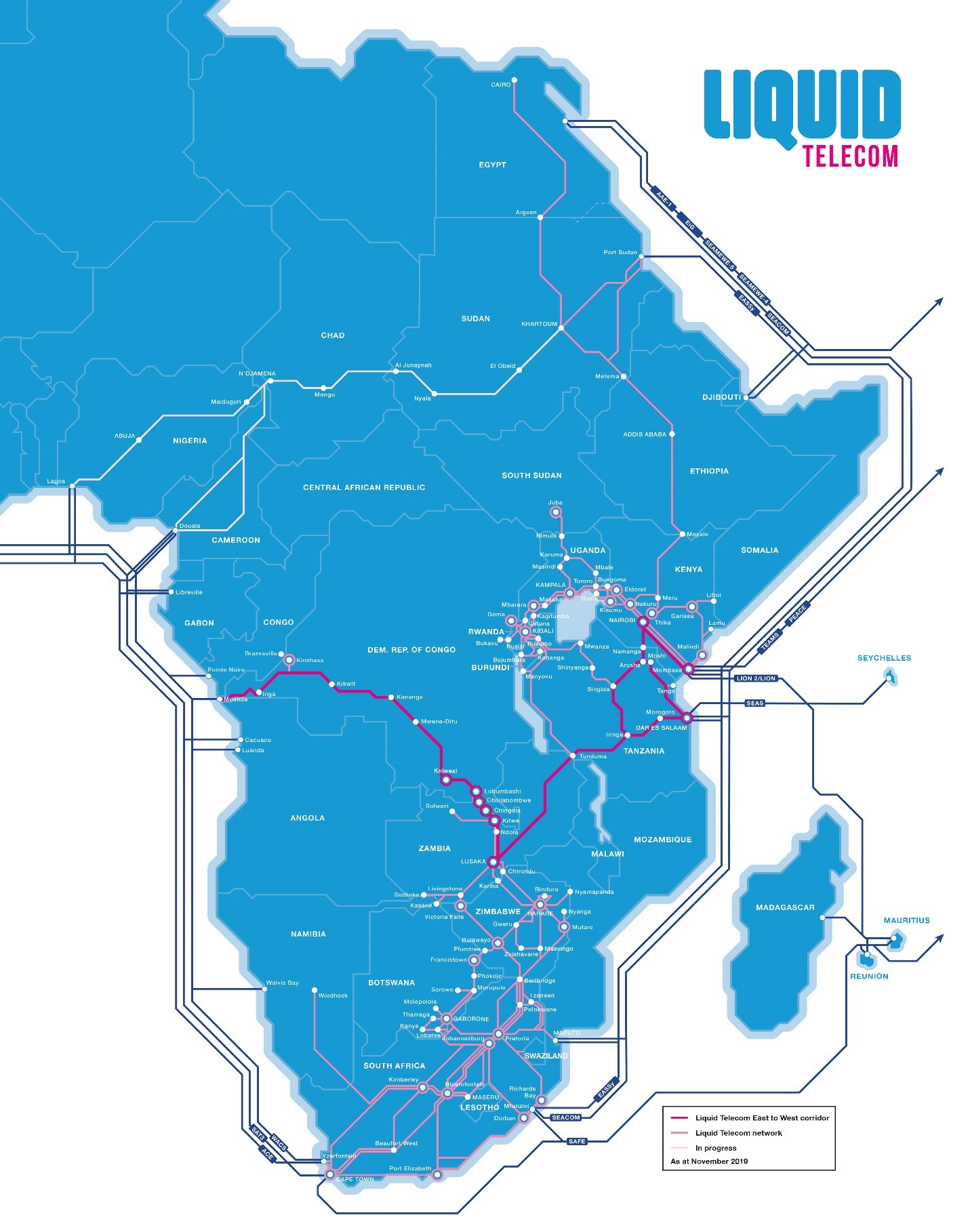 Liquid Telecom

"Liquid Telecom has connected East to West Africa with the most direct digital corridor across the southern hemisphere. We have set a new benchmark and achieved a historic milestone in our vision to create a more connected Africa," said Nic Rudnick, Group CEO, Liquid Telecom. "By linking the DRC to Liquid Telecom's rapidly expanding pan-African fiber network and the rest of the world, this transformative infrastructure is creating a foundation for digital growth. Fast, reliable broadband connectivity will advance society, fuel innovation, and help champion pan-Africa trade."
The new DRC route is part of Liquid's network expansion initiative to more fully interconnect the African continent. "In 2018 Liquid Telecom launched a direct land-based fiber link between Cape Town and Cairo and in July this year, we started work on connecting South Sudan to the rest of the continent," Rudnick explained. "By connecting East to West Africa via DRC with a direct land-based fiber link, more African cities, more communities, and more businesses will have access to reliable and faster internet connections than ever, and many for the first time. This will bring proven economic and social benefits throughout the country, including vastly improved healthcare, education, social welfare and trade as we continue to expand Liquid Telecom's 'One Africa' Broadband Network."
For related articles, visit the Network Design Topic Center.
For more information on high-speed transmission systems and suppliers, visit the Lightwave Buyer's Guide.
To stay abreast of fiber network deployments, subscribe to Lightwave's Service Providers and Datacom/Data Center Newsletters.