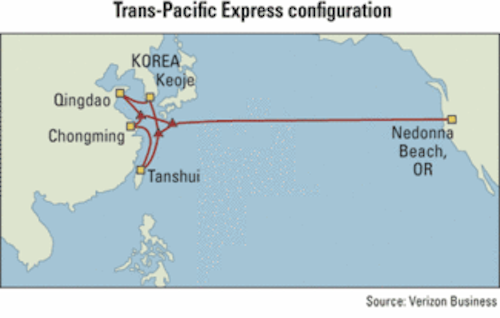 by Meghan Fuller
Since its February 2005 acquisition of MCI, Verizon Business (www.verizonbusiness.com) has continued to make significant investments in its global, facilities-based infrastructure. Proud of its reputation for "driving the optical community pretty hard," in the words of Fred Briggs, executive vice president of network operations and technology, the carrier continues to push the industry in terms of data rates, reliability metrics, and customer service. Briggs used a recent interview to sound off on Verizon's plans for 2007, its roadmap for the future, and its need to improve customer service to maintain a competitive edge.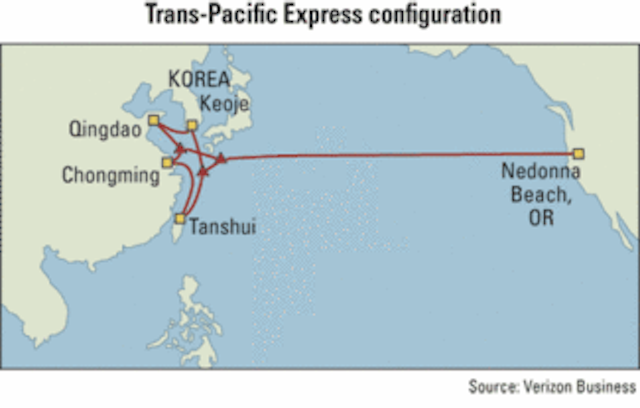 With landing points in Qingdao and Chongming, China, and Nedonna Beach, OR, the Trans-Pacific Express undersea network provides direct 10-Gbit/sec wavelength access between the U.S. mainland and China. TPE will also have landings in Tanshui, Taiwan, and Keoje, South Korea.
Network upgrades
Verizon Business recently confirmed that it is increasing the capacity of its ultralong-haul (ULH) network from the current rate of 10 Gbits/sec to 40 Gbits/sec, beginning with the high-traffic corridor between New York City and Washington, DC. According to the carrier, it will mark the industry's first commercial rollout of 40G. Additional routes will be upgraded throughout the year.
Briggs says the overall U.S. ULH rollout will be about 60% complete by the end of this year, and he confirms that this year will see the beginning of a ULH rollout in Europe as well.
Verizon Business is also investing in its access network, particularly around Ethernet. In fact, Briggs confirms that the carrier's investment in its Converged Packet Access (CPA) architecture-a service-agnostic infrastructure used to deliver Ethernet as well as Frame Relay, ATM, and IP VPNs-"is, frankly, just as much of an investment as ultralong haul." Verizon Business will expand its CPA architecture into 25 countries and more than 60 additional locations in the US this year. The carrier also will begin its rollout of pseudowire technology by mid-year.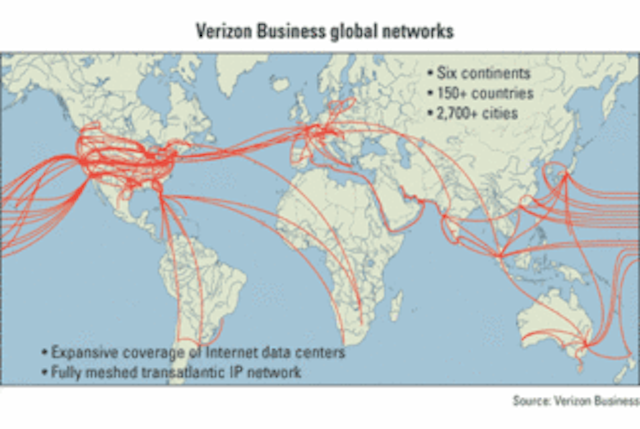 Verizon Business says its data network now includes more than 446,000 route-miles, including terrestrial and undersea cable spanning six continents, and access to another 187,000 route-miles from Verizon Telecom.
Increasing the capacity and improving the conditions of its undersea facilities also has been a priority for Verizon Business. The carrier is one of the owners of the Sea-Me-We-4 network, which provides critical capacity between Western Europe, the Middle East, and Southeast Asia, says Briggs.
The carrier also is the only U.S. organization to buy into the Trans-Pacific Express (TPE) network, which Briggs says is the first next-generation undersea network to provide a direct link between mainland U.S. and China. He confirms that Verizon and its five partners, which include China Telecom and China Netcom, have an aggressive rollout schedule; they plan to have the multiterabit-capacity mesh network up and running prior to the 2008 Summer Olympics in Beijing.
Last year, Verizon also took steps to improve the reliability of the transatlantic portion of its global IP network. In the past, traffic moved across the Atlantic over SONET rings, which provided redundant paths. However, such architecture only protects against a single failure in a given ring. A failure or service interruption on two or more segments of the same network required the deployment of a cable ship-the nautical equivalent of the truck roll-to restore service. Today, Verizon Business operates a mesh network, using Ciena CoreDirectors (www.ciena.com), to move traffic between six diverse paths that can be routed onto other undersea networks in the event of a network failure.
When asked why Verizon Business has invested so heavily in undersea networks-the carrier has ownership in 18 undersea cable systems in the Asia-Pacific region alone-Briggs points to the 7.1 magnitude earthquake that struck the coast of Taiwan back in December 2006.
"Eight cables were cut in 22 places," he recalls. "It was probably the largest single [communications] disaster we have seen in that region." And while he admits that the public network was more heavily congested as a result, the network itself never went down, nor did the carrier's private IP network. He credits the mesh configuration for the added resiliency.
"When the capacity across the Pacific was lost, we were able to restore the traffic into Sea-Me-We-4 across the Atlantic mesh in some cases in a matter of milliseconds," Briggs reports. "In fact, while other carriers were still trying to recover, in a matter of two days we were actually provisioning new services into the region via the Atlantic mesh for customers that couldn't get capacity from other carriers." Briggs believes the TPE will only strength­en Verizon's network resiliency.
When asked about the industry buzz surrounding 100-Gigabit Ethernet (100GbE), Briggs admits he feels personally responsible for part of it. "With the demand we're seeing as a result of video, very high-speed Internet of 30 Mbits/sec going to 100 Mbits/sec, HDTV, streaming video through wireless, as well as the data associated with wireless, I have felt for some time now that 40 Gbits simply isn't going to be enough," he says.
While Briggs says he'd prefer to see the industry standardize around 160 Gbits/sec, he admits that such an implementation may be "too much of a leap." For now, he isn't as concerned with what 100G will look like-e.g., will it be serial or parallel, will it be based on an IEEE proposal or an ITU proposal, etc.-as much as he is concerned with what he perceives as skepticism in the industry. "I can accept some flexibility in terms of what is provided," he maintains, "but we just need to move them into 100 Gbits. I think many people thought that 100G was something many, many years out," he says. "And the point I've tried to make is that, given the demands we're seeing, it's not years and years out. It's on our doorstep."
However, in the past month or so, Briggs says he's seen a change in mindset of his traditional suppliers. And the vendor community is now talking about delivering the technology in a timeframe more aligned with Verizon's needs.
"Very candidly, some of the feedback we're getting from the industry is that it could be ready for trials as early as 2008, certainly by 2009," says Briggs. "And if it is available in 2008, we will trial it. We'll be ready for it."
Briggs confirms that growth in the backbone will dictate rolling out 100-GbE at least in the US "in that timeframe," and then into Europe as well.
Verizon Business also has revealed a number of customer service initiatives that tie into the network upgrades it has undertaken and will continue to undertake. According to Briggs, there are three attributes that define quality customer service. The first, he says, is 100% availability, which Verizon Business believes it will attain with its ULH network and undersea activities. The second attribute is flow-through provisioning, which would enable customers to provision new circuits and/or additional bandwidth in real time.
Briggs reports that by the end of the year, 25% of the carrier's orders will be completed via flow-through provisioning. "That will be another significant change in the industry," he asserts. "For a quarter of orders, it will be essentially no-touch." Verizon Business will initially offer flow-through provisioning on its CPA architecture, but plans to expand the capability to other services in the future.
"What we are doing is starting with that architecture and doing the flow-through provisioning on those boxes, so almost starting with a greenfield," he says. "It's using the Converged Packet Access architecture with the new systems that are being developed today to flow those orders through. That's how you get the automation, and that's why we're confident we can get to 25% by the end of the year."
Finally, Briggs says the company as a whole is trying to change its mindset when it comes to timeliness of service delivery. Traditionally, the carrier has measured itself against the service turn-up date it gives customers, which may or may not fall within the customer's desired timeline. For this reason, Verizon is changing its metrics to measure success only against the service turn-up date set by the customer, even if that timeline is less than the carrier's standard delivery interval. "Part of the reason why we think we can start to meet [those metrics] is because of this automation that we're putting in place," Briggs notes.
Furthermore, the carrier also is reevaluating its mean-time-to-repair standards and has vowed to reduce its average repair time by 30 minutes to 3.2 hours per outage. Briggs believes this goal is achievable in part because the company is prioritizing what he calls "electronic bonding" with customers. Verizon hopes to get customers more accustomed to reporting outages and provisioning orders electronically rather than via a phone call.
Meghan Fuller is senior editor at Lightwave.