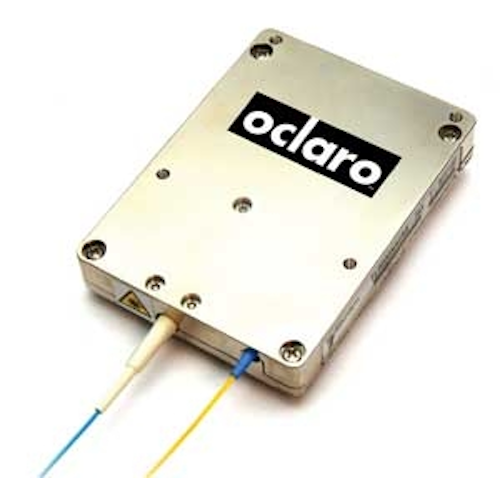 Much of the discussion regarding Oclaro's investment in and partnership with ClariPhy Communications Inc. has focused on upcoming 100-Gbps coherent offerings. However, the deal also has implications at lower speeds.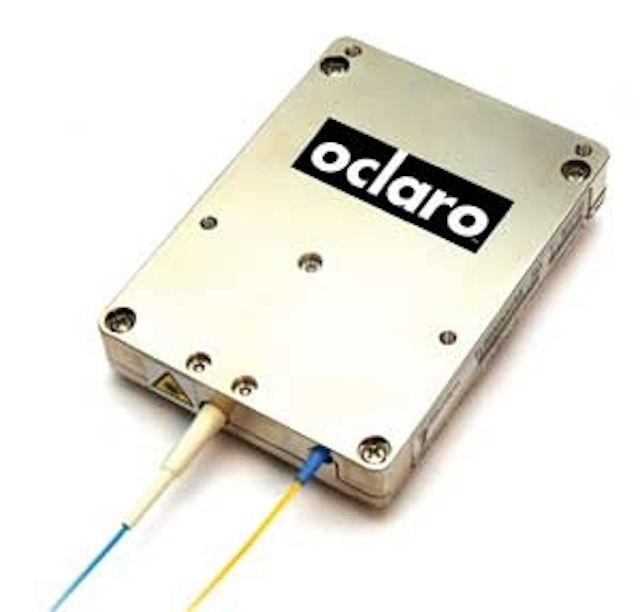 Oclaro has already worked with ClariPhy Communication on 10-Gbps modules. The new relationship will see that work expanded.
"We believe that 10G's price will continue to be very attractive compared to 40G and 100G. And we will leverage ClariPhy there as well," Oclaro CEO Alain Couder told Lightwave shortly after the relationship with ClariPhy was announced.
The two companies have already collaborated on an extended-reach version of Oclaro's 300-pin small form factor transponder. The module uses ClariPhy's electronic dispersion compensation (EDC) devices based on Maximum Likelihood Sequence Estimation (MLSE).
Oclaro will use similar EDC devices for its upcoming line of tunable 10-Gbps XFP and XFP+ modules. "That will be rolling out in a number of different formats," revealed Adam Price, executive vice president, transmission, at Oclaro during the same conversation. "I'm not going to say exactly when, but certainly we have this device being trialed by our customers now."
Meanwhile, ClariPhy cofounder and CEO Paul Voois told Lightwave that some of its newfound $24 million in funding will go towards development of a "high-density" 10-Gbps device. So it's clear that module vendors and their suppliers will continue to invest in 10-Gbps technology beneath all the dust 40G and 100G have kicked up. — Stephen Hardy
---
Success at 100G starts on the ground floor
Couder told Lightwave (and as he says in this issue's "Is 100G a DIY proposition?"), the partnership with ClariPhy opens a more complete optical and electronic component play at 100 Gbps—a necessity, given the fact that many Tier 1 system houses are designing interfaces in-house. Avi Katz, chairman of the board and CEO at electronic component vendor GigOptix, agrees with this assessment. He also believes this fact will change the way component companies need to interact with their customers.
"It used to be the standards committees would define the standards," Katz says of the current high-speed marketplace. "Today, I think, system OEMs are differentiating themselves by conceptual IP, which is coming down to the components. So if you can develop your strategic alliances with system OEMs…and be part of their think tank, if you will, then you'll be in a better position."
That means getting in front of your potential customers early in the process. "The opportunity really is if you can establish this relationship with the OEM early on as a component manufacturer, you can definitely be designed in and work with the system vendor on their system spec," Katz says. "But this is two years over the horizon, if you want to be there. For the designs we're putting out today on 100G, we launched the initial design specs and the concepts of the designs two years ago, in the middle of 2008."
This closer relationship between system houses and component vendors benefits both sides, in Katz's view. "System OEMs are understanding that they have to be in the forefront because the window of opportunity is really shortening now," he explains. "And I think this drives a closer interaction with the component manufacturers. Because to be ahead of the curve, you really have to develop this eco-system of partnerships quite early in the game."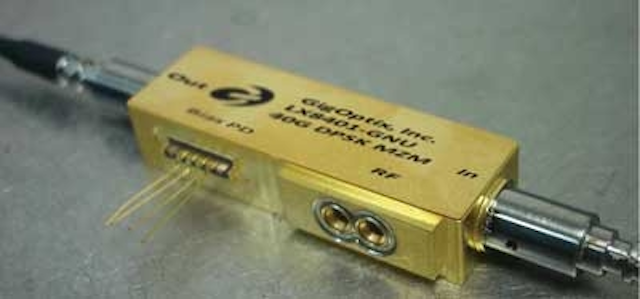 GigOptix has enjoyed success with its 100G products, such as this modulator. But it had to begin working early to earn design slots.
For the component developers, particularly small to midsize players, such a collaboration is not only beneficial, but nearly essential given the significant expense the development of the types of complex electronics coherent and other high-speed transmission techniques demand. "Issues of funding working capital become a major consideration in component companies," Katz says. "So securing a customer from the get-go, your ability to drive the business and financial model that really guarantees return on your investment, is very critical. Because then you can plan your cash flow and you can align your working capital needs." —SH
---
There's money for consolidation
Rob Shanahan, CEO of New England-based connectivity provider Lightower, recently shepherded his company's four acquisitions in the last two years—and he has a few more in the works. That's because, like a lot of mid-tier carriers and other connectivity suppliers, Lightower is operating in a financial sweet spot.
"There is a lot of activity right now, I think, over the past several months since the credit markets have opened up. There's a lot of interest in selling and a lot of interest in buying. There's also a lot of private equity firms that are not invested in the space that would like to get invested," Shanahan says. "Access to capital has improved and there's some real interest from some very big private equity firms that want to get in and look to roll up some of these companies out there."
Shanahan's most recent acquisition is Veroxity, which was both a competitor in the connectivity market, as well as a customer (Lightower provided backbone services to Veroxity). While the acquisition added more buildings to Lightower's footprint, connections to Washington, DC, and Chicago, and fiber rings in places like Phoenix, the addition of Veroxity's management team may prove equally important.
"Lightower has a two-pronged growth strategy," Shanahan explains. "We're going to continue to invest in the network and build more density. But we're also going to be very active in the M&A opportunities. So having the added bench strength in the management organization will help us to get to that next level. And we're looking to do the next deal and the deal after that, or just continue to grow the way we have been."—SH