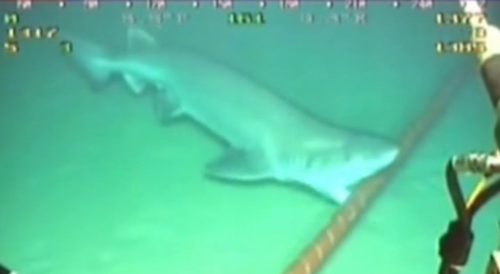 Sharks undoubtedly pose a threat to fish, humans, and other creatures who flail about in the water. But, despite what you may see on YouTube, they aren't much of a menace to submarine network cables, according to the International Cable Protection Committee (ICPC).

Spurred by the attention paid last year to a YouTube video that showed a shark gnawing on an undersea fiber-optic cable, the ICPC reviewed global records of cable faults. It says their survey revealed that sharks and other aquatic creatures were responsible for less than 1% of all cable faults up to 2006 – and none since.

Word is apparently spreading through the shark community that fiber cables are not tasty, as the frequency of shark attacks on submarine cable has generally declined through the years, the ICPC says. For example, the group cited three studies, each focused on different time periods:

From 1901 to 1957, at least 28 cables were damaged by sharks or other creatures.
From 1959 to 2006, about 11 cables needed repair; fish bites accounted for 0.5% of total cable faults.
From 2007 to 2014, no cable faults were attributed to sharks.

The reduction in shark-related faults can be attributed to improved cable design and such protection measures as burial beneath the seabed, according to the ICPC.

Shark attacks on cable were first recorded off the Canary Islands in 1985 to 1987, when small sharks began nibbling through cable's polyethylene sheath. Improved design of the cables' protective sheathing effectively eliminated the phenomenon, the ICPC says.

For more information on fiber cable and suppliers, visit the Lightwave Buyer's Guide.