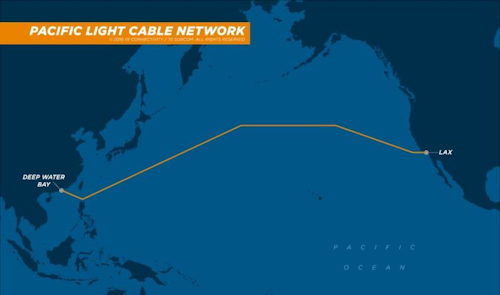 Facebook, Google, and PLDC (Pacific Light Data Communication Co. Ltd.), alongside their choice for a technology and deployment partner, TE SubCom, a TE Connectivity Ltd. company, have announced plans for a new transpacific submarine cable system. The Pacific Light Cable Network (PLCN) will link Hong Kong and Los Angeles directly over a distance of 12,800 km.
The group did not reveal the undersea cable system's targeted initial capacity, other than to say that it will be "the highest-capacity transpacific route" when it's ready for service in the summer of 2018. The submarine network will leverage TE SubCom's C+L technology, which supports coherent transmission in both the C-Band and L-Band.
"PLCN will be among the lowest-latency fiber-optic routes between Hong Kong and the U.S. and the first to connect directly using ultra-high-capacity transmission," asserted Wei Junkang, the chairman of PLDC, a new company headquartered in Hong Kong that will operate the submarine cable system. "It is certainly gratifying that global technology companies like Google and Facebook have become co-investors in PLCN. It is a strong signal that PLCN will be trusted to address the capacity needs for internet and international communications services throughout the Pacific Rim. We envision this deployment as the initial step in PLDC's construction of a global network."
The project continues a trend toward webscale companies backing the construction of undersea cable networks, rather than just leasing capacity (see "Why the submarine network market is so hot"). Facebook, for example, as partnered with Microsoft to back deployment of the MAREA transatlantic network (see "Microsoft, Facebook partner for MAREA undersea cable system").
For related articles, visit the Network Design Topic Center.
For more information on high-speed transmission systems and suppliers, visit the Lightwave Buyer's Guide.