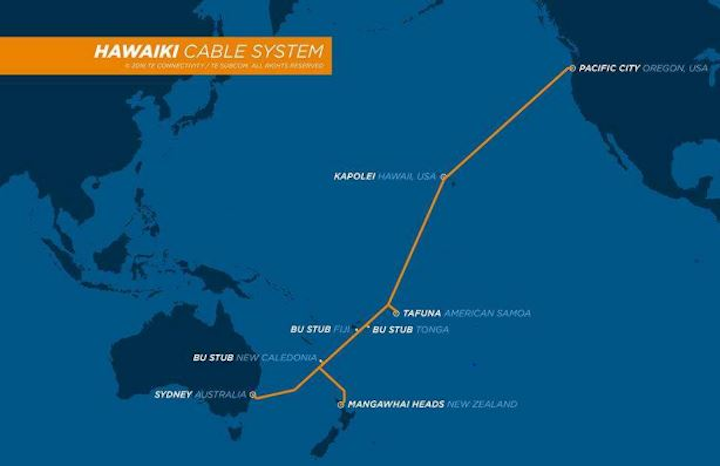 Hawaiki Submarine Cable LP has announced that its namesake undersea cable network is ready for service. The 15,000-km subsea cable links Australia, New Zealand, Pacific island nations, and the United States with 43 Tbps of capacity. The project cost $300 million and took 27 months to complete. TE SubCom, a TE Connectivity company, designed and deployment the fiber-optic cable network (see "Hawaiki transpacific submarine cable project advances to marine survey stage").
The submarine network design includes stubbed branching units to enable future connections to New Caledonia, Fiji, and Tonga. American Samoa is already connected, with the cable landing taking place this past April. Touch points in the U.S. include Hawaii and Oregon. Anchor customers include Amazon Web Services, Vodafone, American Samoa Telecommunications Authority (ASTCA), and Research and Education Advanced Network New Zealand (REANNZ).
"We wish to congratulate the team at Hawaiki for their immense effort and persistence in getting to this stage," commented Vodafone Chief Executive Russell Stanners. "As an anchor tenant of the Hawaiki cable system, Vodafone can now offer our customers triversity across the international cable systems that connect New Zealand to the world. In addition to greater levels of resiliency, the Hawaiki cable system brings greater competition to the New Zealand market, meaning we now have more choice and flexibility when it comes to designing connectivity solutions that meet the diverse needs of New Zealand consumers and businesses alike."
For related articles, visit the Network Design Topic Center.
For more information on high-speed transmission systems and suppliers, visit the Lightwave Buyer's Guide.