Startup's switchless switch targets network edge
Oct 1st, 2001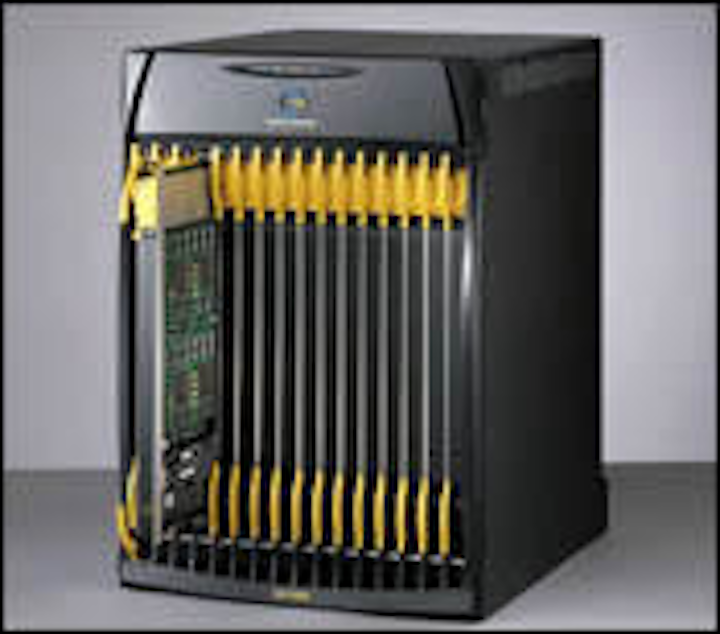 SYSTEMS
By MEGHAN FULLER
The edge network delivers four basic data-related functions to the service provider: ATM aggregation, IP aggregation, service creation, and subscriber management. Many of today's solutions deliver only one or two of those functions, which can result in multiple layers and a hardware glut in the carrier's edge network. To eliminate this "friction," Gotham Networks (Acton, MA) has developed the GN 1600 switchless switch, which consolidates all four functions in a single box.
Existing ATM switches like the Lucent CBX500, the Nortel Passport, and the Alcatel 7470 are "running out of gas," says Rosalyn Roseboro, analyst in edge switching and routing at market researcher RHK Inc. (San Francisco). "Gotham is one of the first to come up with a new architecture that supports both the legacy ATM and Frame Relay services as well as IP services," she says. "The existing switches all have software upgrades that al low them to handle IP and they've all incorporated MPLS, but this one has, from the start, been designed to handle any kind of service."
A traditional switch includes a centralized switch fabric, a centralized CPU that handles the control plane functions, and separate protocol-specific handling cards-one for Frame Relay, one for IP and MPLS, one for ATM, etc. A duplicate set of each of these cards is also required to deliver the carrier-class resilience that service providers require in the public network.
The GN 1600 Switchless Switch, by contrast, does not have a centralized switch fabric or CPU. Instead, the Gotham box employs what it calls the universal service card (USC). Each USC in the system is fully interconnected to every other USC through a midplane design that provides a complete NxN mesh.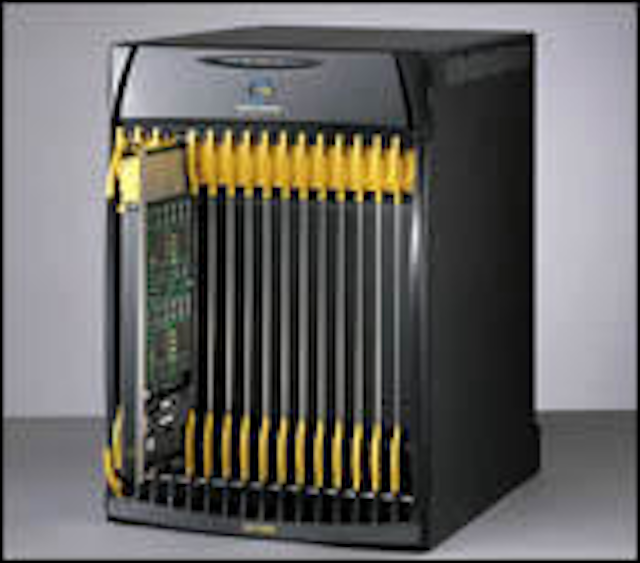 The GN 1600 switchless switch features the universal service card, which enables switching, control, and protocol processing-of ATM, Frame Relay, IP, MPLS, and packet-over-SONET-all on a single, multifunction board.
"Instead of having traffic come in, be input buffered, funneled through a centralized switch fabric, and then go out through the appropriate IOC [I/O controller], the Gotham architecture allows traffic to flow into the box at wire speed," explains Laura Howard, Gotham Networks' vice president of marketing. "Nothing is buffered at the ingress side, and [the traffic] then fully moves through that USC to any other point in the box because every USC has a direct non-blocking connection to every other USC."
The pin-by-pin connection between USCs is possible thanks to design partner Motorola Inc. (Schaumburg, IL), whose low-voltage differential signaling technology enables OC-48 signaling through the midplane. Eighteen months ago, the power necessary to support such speeds would have melted the box, admits Howard.
Gotham has also taken advantage of a joint development effort with Agere Systems (Allen town, PA) for its network processor, which eliminates the need for protocol-specific handling cards. Each USC includes a software programmable network processor that can provision any service or protocol on any port on any card, which, in turn, enables each card to reach full capacity before an other one is needed.
In a traditional switch, protocol-specific handling cards are always underutilized, because service providers never have 100% ATM, Frame Relay, or IP traffic; they have a mix of services, according to Gotham. "With the Gotham box," says Howard, "you can run all of your protocols on any channel on any port on any card, allowing you to get 100% maximum investment out of a small, upfront investment of 5 Gbits."
Each USC also has enough CPU power on it that it can act as its own independent system, which allows customers to purchase only the amount of hardware they need in increments of 5 Gbits. This "pay-as-you-grow" model is a drastic departure from the traditional switch model that forces service providers to spend upwards of 75% of their investment on the switch fabric, the CPU card, and at least one separate card for each service they want to provision, contends Howard.
She is quick to note that potential customers will not have to give up functionality, scalability, or density of platform if they opt for Gotham's multiservice box. "We have been very careful to ensure that as we design this box, we implement all the standards and test for complete robustness and interoperability with all the products that we are trying to displace within the network today or in the future," she says.
That said, Howard also stresses that the company is "not solving world hunger." There are some functions the box does not perform. "We're not a circuit-switched voice replacement," she admits. "We don't handle circuit-switched voice data; we'll handle packetized voice only if there's a voice-over-IP gateway downstream from us. We are a data box."
While Gotham's potential customer base seems limited-they are going after Tier-1 public-network service providers-Roseboro asserts that this is still a sizeable market with plenty of opportunity. Most of the legacy vendors have turned their attention away from the edge and are currently focused on core switches. Though fellow startup WaveSmith Networks Inc. (Acton, MA) may offer some competition with its DN multiservice switch family that was unveiled at SuperComm in June, the market might be big enough for both.
"There's definitely an opportunity right now-as people are trying to handle ever-increasing traffic-to go with something new," says Roseboro. "I think there are definite opportunities for them."
Being "an unknown quantity, so to speak" is not likely to hinder Gotham Networks, she adds. "If [the switchless switch] proves itself out, I think they've got just as good a shot. It's hit all the right things. They've got the scale issue, they've got the distributed architecture, they've got good price-points, form factor-they've covered all the bases," Roseboro concludes.
---
Lightwave is a monthly international publication focusing on fiber optics and optoelectronics, the technologies driving the growth, convergence, and improved performance of telephony, computer communications, and video. Lightwave provides technology news as well as applications and product information for corporate and technical managers and staff engineers. Lightwave's editors emphasize analysis and interpretation in their reports on the technological impact of fiber-optic components, systems, and networks in these markets.