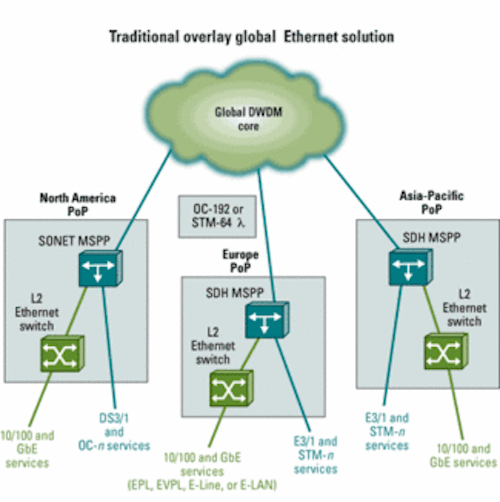 by Kevin Wade
Increasing business globalization and the rapid adoption of high-capacity, IP-based services continue to drive the growth and transformation of international optical networks. Ethernet's role in this transition has also evolved in recent years. Once viewed solely as a new high-speed interface for data services, Ethernet is now broadly accepted as a convergence-layer technology for delivering the full array of packet-based voice, video, and data services.
Optimizing a metro area network for the delivery of Ethernet services is challenging enough, but the challenges increase further for carriers looking to offer Ethernet services globally to large enterprises and to other carriers on a wholesale basis. Because capacity is a finite and valuable resource on undersea networks, international carriers must find ways to maximize bandwidth efficiency. In addition, they must interconnect with multiple, diverse local/terrestrial transport networks and offer a range of Ethernet connectivity options with bandwidth scalability and advanced service-level agreements (SLAs). As a result, many global carriers are looking to move beyond their first-generation platforms to next-generation Ethernet platforms with far more advanced service delivery features.
In the past, carriers treated Ethernet as an ancillary service to their high-margin TDM voice and Frame Relay data services. Ethernet was a niche market in which few companies demanded service. As a result, carriers first deployed Ethernet platforms with the intention of offering only a limited range of service offerings, usually in one or perhaps a handful of geographic areas. These first-generation services were not scalable or manageable. In addition, they were typically limited to 1 Gbit/sec capacity or less with little bandwidth granularity and did not support any quality-of-service (QoS) performance metrics for high-value SLAs.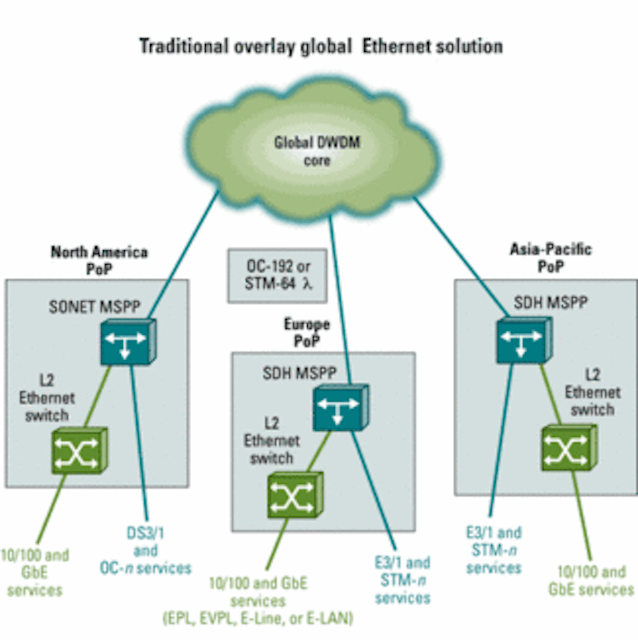 Figure 1. Using traditional equipment, a global Ethernet overlay network would require a wide range of platforms, which increases cost and complexity.
Today, multinational enterprises and organizations would like to build "all-Ethernet" networks around the world in order to extend LANs over a global Ethernet WAN. The corporate move to all-Ethernet networks mirrors carriers' desire to migrate to IP-optimized networks, and "IP-friendly" Ethernet has become the ubiquitous service delivery technology that can be supported over any transport network. Other global Ethernet applications include traditional data center connectivity as well as video broadcasting, IP voice, and data network peering.
The problem is that while service providers have accepted Ethernet as the enabling convergence layer technology, today's global carrier infrastructure is a diverse mix of technologies. Service providers' core, metro edge, and access networks are each at various stages in the migration from TDM to packet. While delivering Ethernet services within a local geographical area may involve just one kind of network, a global carrier delivering an end-to-end Ethernet service will more likely need to traverse a mixture of Ethernet, IP/MPLS, SONET, SDH, and DWDM local and long-haul networks.
A wide array of Ethernet service offerings, including E-Line (point-to-point) and E-LAN (multipoint) services ranging from speeds of 1 Mbit/sec to 10 Gbits/sec must be provisioned across these diverse local/terrestrial transport and undersea networks. In addition, international carriers must find ways to provide advanced packet-based QoS and performance metrics to support Ethernet SLAs while maximizing bandwidth efficiency.
These conditions increase complexity and costs for carriers when it comes to deploying a next-generation Ethernet service delivery platform. For example, to upgrade a global network to deliver advanced Ethernet services using traditional service platforms, the carrier might need to separately deploy several network elements:
Layer 2 Ethernet switches as an overlay to aggregate and manage advanced Ethernet services and to provide specific bandwidth (CIR) and class-of-service (CoS) guarantees.
Traditional SONET multiservice provisioning platforms (MSPPs) in North American service points of presence (PoPs) to interconnect the long-haul DWDM network with the local SONET transport infrastructure, provide Ethernet-over-SONET transport, and to aggregate and manage TDM and OC-

n

services.
Traditional SDH MSPPs in European, Asia-Pacific, Caribbean/Latin American, and other service PoPs to interconnect the long-haul DWDM network with the local SDH transport infrastructure, provide Ethernet-over-SDH transport, and to aggregate and manage TDM and STM-

n

services.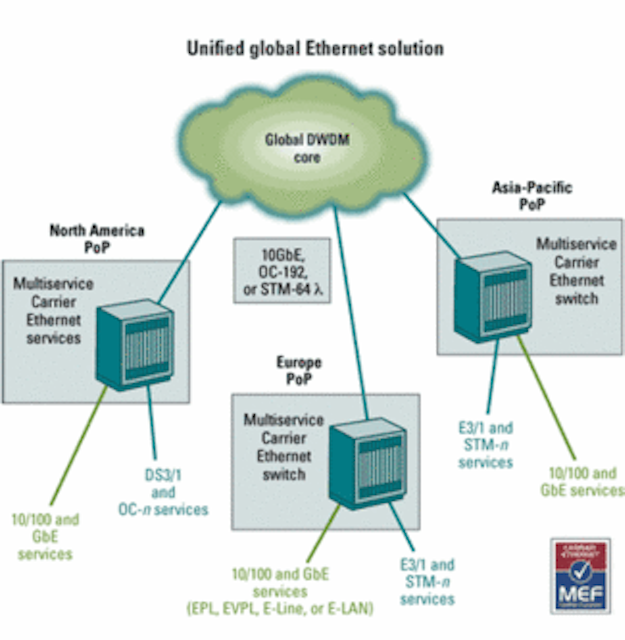 Figure 2. A unified global Ethernet architecture simplifies the network, lowers costs, and positions the carrier to take advantage of future technology advances.
In addition to being expensive to purchase and install, this amalgam of disparate network elements is difficult and costly to maintain and monitor. Because most global service providers have specialized provisioning and management systems for each type of network, it also may take weeks to coordinate the various systems and teams to provision a service for just one customer. Furthermore, traditional MSPPs can be viewed as an interim step at best because they are unable to make the transition to a converged, packet-based network.
To minimize the costs and complexity associated with upgrading global networks to deliver advanced Ethernet services, carriers require more robust and flexible Ethernet service-delivery platforms with truly global capabilities.
The following is a list of some key requirements for a global Ethernet service delivery platform today:
Scalable Layer 2 Ethernet aggregation and service switching (MAC, C-VLAN, S-VLAN/Q-in-Q) ­functionality.
High service granularity and capacity, to allow the carrier to deliver Ethernet services at any bandwidth level desired by the customer, ranging from 1 Mbit/sec up to 10 Gbits/sec and beyond.
MEF-compliant E-Line (point-to-point), E-LAN (multipoint), and E-Tree (point-to-multipoint) Ethernet services.
Advanced packet-based QoS and performance metrics on packet loss, latency, and jitter to support Ethernet SLAs.
Diverse optical interconnect options including SONET OC-

n

, SDH STM-

n

, and DWDM/CWDM wavelengths.
"Pay as you grow" integration of new technologies/services and bandwidth capacity.
TDM aggregation and service switching (STS-1/3, VC-3/4, VT1.5/VC-12) functionality.
Integrated next-generation SONET and SDH MSPP functionality, including support for GFP, VCAT, and LCAS.
Intelligent generalized multiprotocol label switching (GMPLS)-based control plane to simplify end-to-end Ethernet provisioning and monitoring.
Recognizing that Carrier Ethernet is a relatively young technology, another requirement for a global Ethernet service delivery platform is a roadmap that supports evolving Ethernet-related technologies such as IEEE 802.1ah (Provider Backbone Bridging/Transport), Ethernet network-to-network interfaces (NNIs), pseudowire emulation (PWE), and others as they emerge.
As global carriers move to next-generation Ethernet service-delivery platforms and enter new markets for enterprise and wholesale services, they will need multiservice Carrier Ethernet products that unify advanced switching and transport capabilities in a single system. Such a platform provides significant advantages over the combination of Layer 2 Ethernet switches with traditional SONET and SDH MSPPs.
By deploying multiservice Carrier Ethernet switching platforms, carriers can simplify their networks, increase the range and scalability of their Ethernet service offerings, and smooth the transition to an all-packet network. Integrating any mix of advanced Ethernet/IP and TDM services in a single platform with global optical interconnect/transport flexibility simplifies the network and dramatically reduces costs by eliminating the need for separate Ethernet switches and SONET and SDH MSPPs. It increases the scalability of Ethernet services by delivering bandwidth in ranges from 1 Mbit/sec up to 10 Gbits/sec. Further, a multiservice Carrier Ethernet switching platform's support for GMPLS and (in the future) IEEE 802.1ah, Ethernet NNIs, and PWE creates a futureproof approach that enables the transition to all-packet networks on a global scale.
Kevin Wade is director of product marketing at Turin Networks (www.turinnetworks.com). He can be reached at Kwade@TurinNetworks.com.