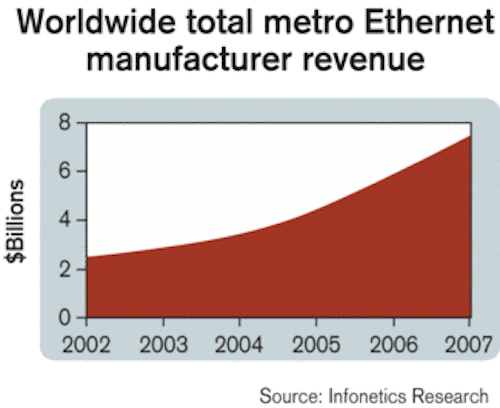 Worldwide revenue for metro Ethernet equipment topped $2.9 billion last year and is expected to net $7.5 billion by 2007, a 27% CAGR, according to a new study from San Jose, CA-based Infonetics Research. Metro Ethernet equipment ports reached 1.1 million worldwide in 2003, up from 906,000 in 2002. Infonetics expects that number to jump 400% to 5.8 million ports in '07, a 52% CAGR.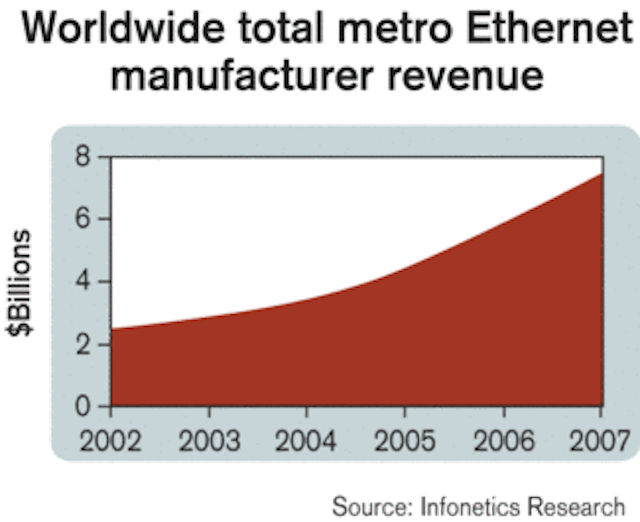 "One of the most interesting trends in this market is what's happening with RPR [resilient packet ring], which is growing at a phenomenal rate," notes Michael Howard, principal analyst of Infonetics Research and lead analyst of the report. "Worldwide RPR revenue hit $323 million in 2003, and we project it to grow 200% to $967 million by 2007, a CAGR of 32%. Service providers are figuring in RPR over SONET/SDH plans much more now than they were even six months ago. In fact, 63% now say they plan to offer Ethernet services over RPR in the next few years."
Between '03 and '07, more than $24 billion will be spent worldwide on metro Ethernet equipment. According to the report, Ethernet will account for a larger portion of metro capital expenditures every year for the next 10 years, driving double-digit growth through 2007. While Ethernet will "inexorably take over the metro," the installed base of SONET/SDH equipment will slow this transition.
For more information on the report, "Metro Ethernet Equipment," visit www.infonetics.com.