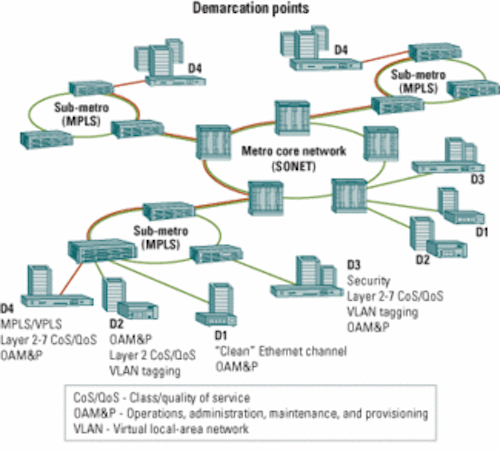 By Troy Larsen, Chen Genossar, and Sergiu Rotenstein
The potential value and advantages of Ethernet service deployment are compelling. Today, the vast majority of data traffic begins and ends as Ethernet.
Using Ethernet as the protocol of access is a natural fit for many enterprise customers-one they understand and can easily integrate into their own networks. For the carrier, Ethernet can be easily and transparently transported across the metro network, whether via SONET/SDH, MPLS, or natively.
The 802.3ah Ethernet in the First Mile (EFM) standard has added the fundamental operations, administration, and maintenance (OAM) controls necessary to make Ethernet a truly viable option for the access network. Other standardization advancements from the IEEE, the Metro Ethernet Forum, and others have further increased the impetus for service providers (SPs) to offer end-to-end Ethernet services. And because the market for Ethernet is so large, Ethernet equipment costs are comparatively low.
As these developments push Ethernet access onto center stage, they also place a spotlight on the Ethernet demarcation device (customer premises Ethernet demarcation device (customer premises equipment, user-network interface, optical termination unit, etc.). The types and level of Ethernet services provided to a subscriber are defined to a significant extent by the box sitting at the edge of the customer premises. Or more appropriately in this consumer-driven market, the types of services that a subscriber requires will determine the type of demarcation deployed.
In a perfect world, one type of demarcation device would suit every application. In reality, however, that's not possible because consumer and business needs are too diverse and dynamic. For SPs then the onus is to deploy a demarcation device that satisfies the immediate and predicted future needs of the individual customer. Equally as important, the services the SP is prepared to offer, the planned evolution of those services, and the current and planned architecture of the provider's network also factor into the demarcation equation.
While it is possible to envision a myriad of intersecting points between the needs of the customer and capabilities of the SP, the demarcation possibilities can be distilled into four general categories.
D1: Simple handoff demarcation. Simple Ethernet handoff demarcation is when the customer is given an open or "clear" Ethernet channel to the carrier network, in essence a point-to-point Layer 1 connection with some Layer 2 intelligence. The allocated bandwidth can be either 100 or 1,000 Mbits/sec or increments thereof if the demarcation device incorporates rate-provisioning capabilities. Such a service may be deployed through a simple 802.3ah-managed converter/demarcation device or through a classical IP/SNMP network with optional 802.3ah single-user port demarcation.
Delivering the most basic level of Ethernet service, this type of demarcation is the easiest for the SP to deploy and manage and the least intrusive to the customer network. The SP assumes minimal service-level-agreement (SLA) responsibility as the customer implements and manages services such as virtual private networks (VPNs), voice over Internet protocol, or videoconferencing and takes full responsibility for issues such as security and class and/or quality of service (CoS/QoS).
For customers with the in-house expertise and resources to manage their own services, simple handoff demarcation may be an ideal solution since it provides maximum flexibility and control. The demarcation device remains essentially invisible to the customer, never interfering with or examining the content of the traffic passing through it.
D2: Demarcation with Layer 2 CoS/QoS and VLAN. Demarcation with Layer 2 CoS/QoS and virtual LAN (VLAN) capabilities is the next level in Ethernet service. In general, the demarcation device offers multiple user access ports with settable CoS/QoS and VLAN tagging, allowing for the delivery of differentiated services (like data, voice, and video) and simple traffic separation. The connection is IP/SNMP-based with optional 802.3ah network line OAM and, of course, line-rate provisioning (OAM&P).
From the customer's point of view, each access port may be used to support a different type of service, and it's their responsibility to provide the underlying infrastructure for providing these services, including security. It's up to the SP to provide differentiated delivery of the classes of service to ensure the end-to-end delivery of data, voice, and video.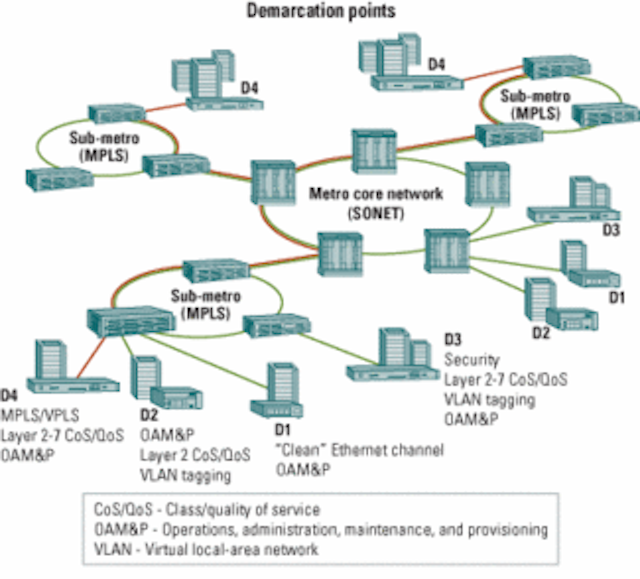 Different levels of Ethernet demarcation can coexist within a service provider's network.
Typically, this level of Ethernet service will involve an SLA that incorporates various performance metrics that the SP must meet, such as response time, data transfer rate, and availability. So while the step up from a simple handoff type of demarcation to a Layer 2 CoS/QoS type is significant in terms of operational demands, the potential revenue is equally significant. SLAs gives providers a way to differentiate themselves in the marketplace since better metrics will draw premium customers. That reinforces the significance of demarcation technology as the need for advanced OAM&P controls device increases according to the goals of a given SLA.
D3: Advanced Ethernet services demarcation. Advanced Ethernet services demarcation represents another step up in the level of commitment by the SP as well as a higher level of potential revenue. While the provider again offers differentiated classes of service, this time those classes are based on higher-layer protocols-not just Layer 2, but also Layers 3-7. Achieving this service differentiation requires a demarcation device capable of looking into the customer's data stream and interpreting protocol data up to and including the application layer to ensure the agreed upon level of service is met.
In addition to greater CoS/QoS, advanced Ethernet services may include the assurance of secure access for the customer. That may take the form of simple Network Address Translation all the way up to full firewall capabilities. Again, implementation of security services like Layer 2-7 CoS/QoS requires a powerful demarcation device.
While SLAs that include security guarantees may represent a high level of responsibility for the SP and require a significant investment in terms of deployment and operation, they can also be a significant source of revenue. For customers with limited resources and without in-house expertise, this type of "turnkey" Ethernet service and demarcation is needed.
D4: MPLS/VPLS demarcation. MPLS and virtual private LAN service (VPLS) Ethernet demarcation appear set to be the longer-term technological movement of the industry. MPLS is an approved standard for stamping each packet in a sequence of packets with an identifying label, which sets a specific network path for the given sequence. This labeling allows the packets to be switched at Layer 2 rather than routed at Layer 3, saving the time needed for router processing and making it easier to manage a network for QoS. MPLS is called "multiprotocol" because it works with IP, ATM, and Frame Relay.
VPLS is a technology that makes it possible to seamlessly connect multiple Ethernet LANs at different locations so they appear as a single LAN. VPLS moves the subscriber's Ethernet traffic from one location to another by using MPLS to transparently tunnel it through the provider network. The effect is to create a VPN at each subscriber location.
For the subscriber, MPLS/VPLS demarcation is easy to use since they connect as if to a standard Ethernet network. VPLS can be used to create a "local" network that's dispersed over a wide geographic area, yet allows subscribers to change locations easily. The technology is also highly scalable and can serve anywhere from a few subscribers up to hundreds of thousands.
As the metro and sub-metro networks adopt more complete MPLS and VPLS implementations, the technology and its implied services will continue moving toward both multitenant-unitdemarcation and enterprise demarcation. It is applicable to both point-to-point services as well as multipoint-to-multipoint LAN/VPN services with a high level of QoS performance.
Demarcation plays an important role in successful and profitable Ethernet services deployment. There are four general types of demarcation, each representing different levels of involvement by the provider in the management of the Ethernet services, from the simple handoff to full end-to-end control via MPLS/VPLS. The higher the level of commitment by the provider is, the greater the potential for revenue.
For the SP, the OAM&P controls provided by a demarcation device determine to a significant extent the metrics that can be used to establish the SLA with the subscriber. Since SLAs are essential to SP differentiation, the selection and deployment of demarcation devices have a direct effect on the overall Ethernet services business strategy.
No one demarcation device will fit the needs of every subscriber. Service providers should be prepared to adopt a strategy that includes a range of demarcation approaches that fit within each category. Doing so will provide the flexibility essential to attract the widest range of subscribers and meet their growing needs.
Troy Larsen is product marketing manager, Chen Genossar is vice president of international strategic marketing, and Sergiu Rotenstein is general manager, Chatsworth division, at MRV Communications (Chatsworth, CA).