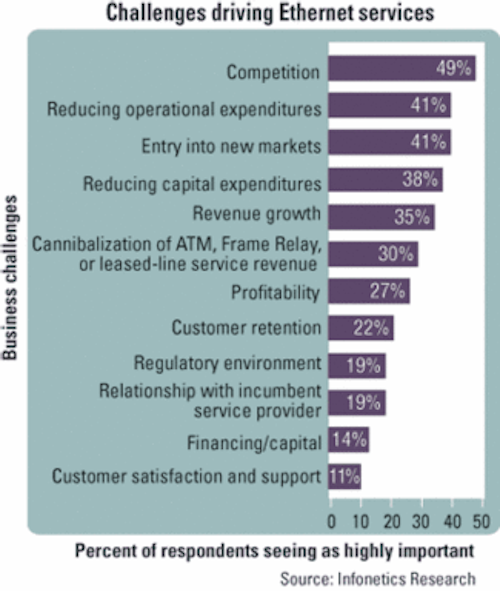 A study of 37 top-tier service providers in North America, Europe, and Asia-Pacific by Infonetics Research (San Jose, CA) indicates they will adopt metro Ethernet technology faster than anticipated; 86% of providers interviewed say demand is high for metro Ethernet services, and about 60% report high demand for replacing legacy services with IP virtual private networks (VPNs) and Ethernet services. The study says that despite pressure to keep capex in check, providers are responding to the demands for fear of losing customers to competitors.
"In many areas, they are definitely moving at a faster clip than predicted, like in delivery of services and adoption of Ethernet technologies-and they're on track in most other measures of Ethernet use," observes Infonetics Research principal analyst Michael Howard. "If manufacturers can deliver carrier class Ethernet products with end-to-end QoS [quality of service], it will speed up the adoption curve even more."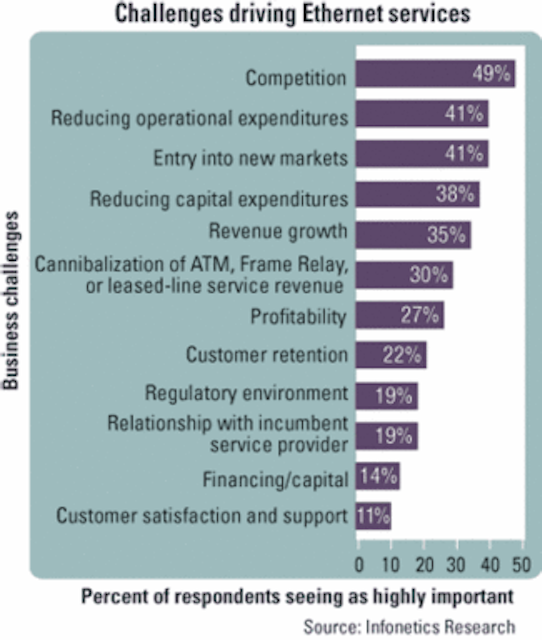 The study says one of the more pressing issues facing providers is how to offer Ethernet services: whether over existing SONET/SDH rings or IP/MPLS networks or by building separate overlay Ethernet networks. The study notes that a variety of technologies are used to deliver Ethernet services, with Ethernet over fiber as the principal method. By next year, according to the study, Ethernet over copper (T1/E1/J1, etc.) will also be in use by two-thirds of respondents, and Ethernet over WiFi or WiMAX technologies will be in use by about one-third.
The study sees a clear migration in DSL networks from ATM to Ethernet services. Of the 70% of respondents with DSLAMs, 92% say they currently use ATM DSLAMs with ATM uplinks, a percentage the study says will drop to 78% next year. Data storage and recovery rate as popular service offerings this year. Security services are also popular. In addition, two-thirds of respondents say they now offer packetized voice Ethernet services, up from one-third last year.
For more on the study, "Service Provider Plans for Metro Optical and Ethernet," visit www.infonetics.com.