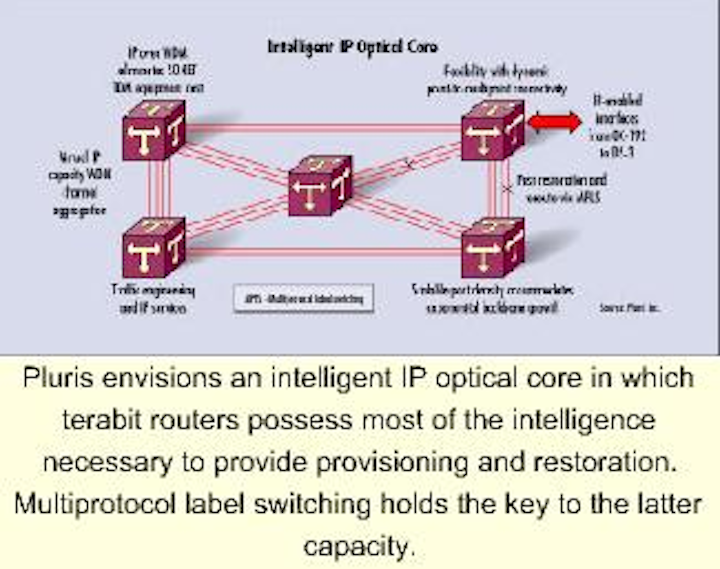 Emboldened with a belief that hundreds of gigabits aren't enough, a pair of equipment vendors announced the imminent arrival of transmission and switching equipment with terabit capacities. Both products will target the requirements of optically based Internet infrastructures, but from different angles.
Nortel Networks (Brampton, ON, Canada) will build on its traditional fiber-optic expertise with its newly announced OPTera 1600G optical-amplifier system. The amplifier will accommodate up to 160 channels of OC-192 (10-Gbit/sec) traffic, which translates to 1.6 Tbits/sec. The amplifier enables Nortel to extend the capacity of its OPTera LH OC-192 multiplexing system to the same 1.6-Tbit/sec level. This capability places the multiplexer in competition with Pirelli's TeraMux system, which previously had been the only available multiplexer with terabit capabilities.
According to Nortel's Greg Mumford, vice president and general manager for SONET and optical networks, the amplifier will accommodate 50-GHz channel spacing over a 60-nm range--effectively moving the amplifier into the L-band. The new system will serve as an enhancement to the company's currently fielded 32-wavelength equipment. Nortel had solved several of the problems associated with 50-GHz spacing of OC-192 channels in developing the 32-channel unit, says Mumford. Most of the hurdles that remained revolved around potential interference among channels due to nonlinear effects and power issues. Mumford declined to detail how the company solved these problems.
One question that remains is how many carriers really need terabit capacity. Mumford predicts that the initial applications of the system will call for 40 channels. Nortel has designed the system to allow carriers to start with 20 channels, add another 20 to reach the 40-channel figure, then increase capacity from there in 40-channel increments until they reach the 160-channel ceiling. Mumford believes that carriers will require one of the newer fiber types such as Corning's LEAF or Lucent's TrueWave RS to take full advantage of the terabit capability.
Nortel will make the system available for beta testing later this year, with commercial availability slated for next year. MCI WorldCom has signed up to be the first carrier to test the system. Mumford says the company hopes for multiple trials of the amplifier, which he expects will have international appeal for carriers hoping to accommodate the high-traffic requirements expected of the Internet.
Meanwhile, several terabit-switch startups expect Internet protocol (IP) networks will drive a demand for their offerings. One of them, Pluris Inc. (Cupertino, CA), announced that its Pluris 20000 Terabit Network Router will be available in the fourth quarter of this year. According to Sam Halabi, the company's vice president of marketing, the switch will be marketed as an IP optical central-office core switch that will provide 184 Tbits/sec of nonblocking switching capacity and 19.2-Tbit/sec line capacity with support for OC-12 (622-Mbit/sec), OC-48 (2.5-Gbit/sec), and OC-192 interfaces. The company has made extensive use of optical technology, says Halabi, noting that in addition to the optical interfaces, the system also uses optical backplanes to interconnect its line cards.
The OpTxNet fiber-optic-based distributed switching fabric serves as the heart of the system. The fabric design will interconnect nearly 2000 line cards across 128 shelves within a single system to support modular growth as traffic demands warrant. The initial card configurations--vailable in the fourth quarter of this year--include 4-port OC-48c (2.4-Gbit/sec) packet over SONET and 4-port OC-48 to 16-port OC-12. Future configurations include 16-port OC-12/OC-3 packet-over-SONET/Asynchronous Transfer Mode (ATM) cards (expected either at year-end or early 2000) and 1-port OC-192c cards (scheduled for availability early next year).
The router will enable service providers to reduce the hardware requirements at their points of presence (PoPs) by obviating the need for multiple gigabit-size routers linked by high-speed thin interconnect. Its modular growth potential--which starts at a minimum switching capacity of 90 Gbits/sec and a minimum line capacity of 10 Gbits/sec--provides a smoother expansion path than current PoP architectures as well, Halabi says. The fiber-optic interconnect between shelves enables these shelves to be distributed among multiple floors of a building.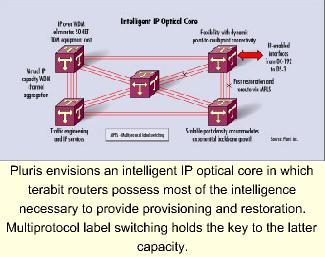 Pluris envisions an intelligent IP optical core in which terabit routers possess most of the intelligence necessary to provide provisioning and restoration. Multiprotocol label switching holds the key to the latter capacity.
Pluris subscribes to the philosophy that future IP core networks will move away from the use of SONET/Synchronous Digital Hierarchy and ATM equipment and toward a combination of an IP switch/router layer and an optical layer. Like many in the optical-networking camp founded by gigabit switch/router manufacturers such as Cisco Systems, Halabi says that switching equipment in the IP layer will provide most of the intelligence necessary to provide restoration and rerouting through the use of multiprotocol label switching (see figure). Future editions of the Terabit Network Router will incorporate wavelength-division multiplexing capabilities to provide even greater flexibility.
According to Halabi, Pluris has already lined up a pair of customers: Deutsche Telekom in Germany and a carrier in Japan. While these two firms represent the latest wave of companies with terabit network equipment, they will shortly find themselves competing with other manufacturers for the attention of next-generation carriers.