Metro Ethernet to total $19B
Oct 1st, 2003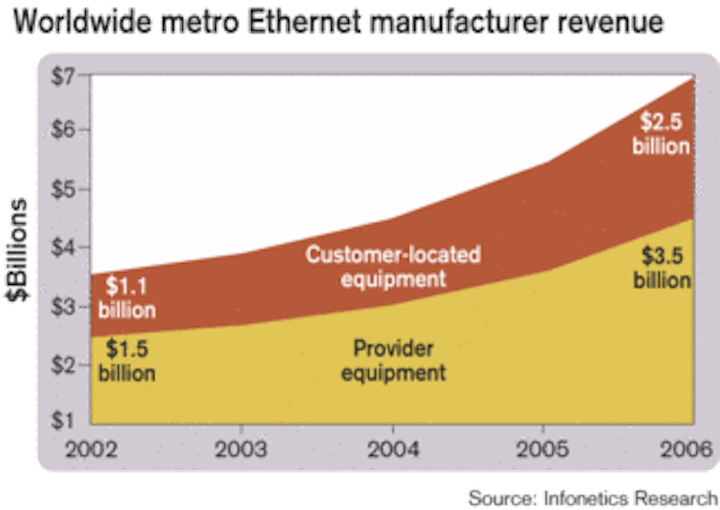 Worldwide metro Ethernet equipment revenue hit $2.5 billion last year and is projected to grow 134% to $5.9 billion by 2006, a compound annual growth rate (CAGR) of 24%, according to a recent study from Infonetics Research (San Jose, CA). Worldwide metro Ethernet equipment ports, meanwhile, reached 906,000 last and are expected to grow 294% to 3.6 million by the end of the forecast period.
Resilient packet ring (RPR), Ethernet over SONET/SDH, Ethernet over WDM, and Ethernet passive optical networking will experience five-year CAGRs over 20%, reports Michael Howard, principal analyst and co-founder of Infonetics Research. "The pace of introduction quickened in the first half of 2003 worldwide for both service provider metro Ethernet services and new manufacturer equipment," he reports.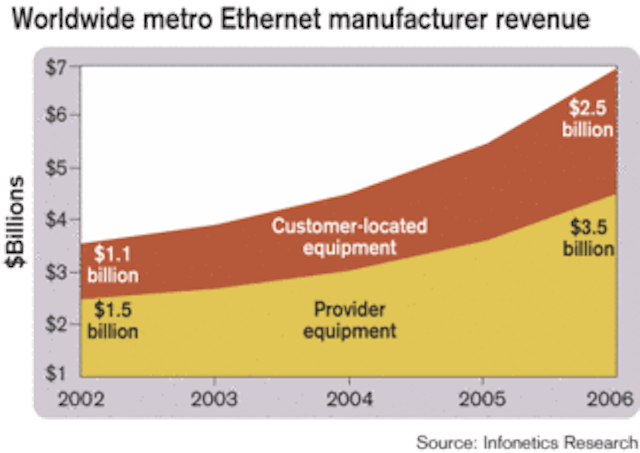 Major service providers are pushing standardization efforts via public interoperability demos and in groups such as the Metro Ethernet Forum, Ethernet in the First Mile Alliance, and Resilient Packet Ring Alliance. Between 2002 and '06, Ethernet will make major inroads into metro telecommunications equipment spending, accumulating $19.4 billion, claims the report.
Ethernet over fiber (switches and routers) accounted for the largest share of worldwide revenues in '02, capturing 65% of the market, followed by Ethernet over SONET/SDH (standard and RPR) at 22%. In terms of equipment type, metro Ethernet provider equipment made up 58% of the total market, while metro Ethernet customer-located equipment accounted for 42%. Asia-Pacific led spending last year with a 42% market share, followed by North America with 35%.
More information about Infonetics's new study, "Metro Ethernet Equipment," can be found at the firm's Website, www.infonetics.com.