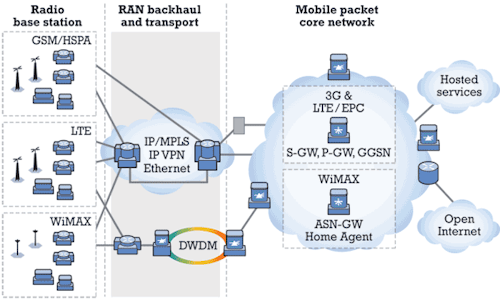 By BILL KAUTZ
To improve productivity and reduce IT costs, enterprises are moving rapidly to mobile cloud computing. Annual revenues derived from all cloud-based mobile applications will jump 88% annually between 2009 and 2014, from $400 million to $9.5 billion, according to Juniper Research. Enterprise networks will account for three-fourths of those applications. That translates into a huge opportunity for mobile operators who already are deploying fiber in their networks–both to their cell towers and in their backhaul segments–to handle the overall user demand for more mobile bandwidth.
However, smart operators recognize that seizing this opportunity requires more than just added fiber capacity. To capture market share and sustain profitability in what promises to be an ultra-competitive marketplace, the successful operator must be able to use pricing and quality-of-service (QoS) levels, along with ample bandwidth, to stand out.
As a result, mobile operators who do not intend to simply provide dumb pipes must add two critical attributes to their networks: the ability to lower their cost per transported bit and the real-time intelligence that will ensure mission-critical enterprise traffic gets priority access to network spectrum and capacity resources.
Packet optical transport reduces costs, increases margins
Companies adopting mobile cloud computing clearly want a mobile network with the broadest possible geographic coverage that also offers competitive pricing and top-notch performance. Competing on price demands that mobile operators find networking approaches that can reduce the cost per transported bit and, thus, strengthen their margins.
For some time now, many in the industry have argued that an operator can reduce the cost per transported bit by building a network consisting primarily of IP routers and dumb optical pipes. By converging all services onto an all-IP infrastructure, so the argument goes, the operator gets a lower-cost network that's easier to maintain than a combination of routers and legacy SONET/SDH and WDM networks.
Although IP networks are very flexible and can support enhanced service features, they also can carry higher total costs of ownership (TCO) in cases where there is a mix of services because of:
unnecessary routing of point-to-point traffic, causing the need for increased router capacity and a greater number of router ports,
longer restoration times, and
higher latency.
Convergence to IP raises the questions of where the network intelligence should reside and what network layers can address certain functions most efficiently. Unfortunately, there is no one-size-fits-all answer to these questions.
Networks deliver multiple services, so the ideal approach must enable the operator to pick the technology–from WDM, Optical Transport Network (OTN), SONET/SDH to Ethernet, MPLS, and IP–that works best for a given function. An integrated packet/optical transport platform that resides beneath an IP infrastructure can enable the operator to make that choice and, in the process, reduce the TCO of the IP network.
Advanced packet/optical transport platforms provide a transport layer that can offload from existing core routers the 60% to 80% of all IP traffic that is actually point-to-point. Because the consumer Internet, IPTV, voice-over-IP (VoIP), and video-on-demand services that compose up to 80% of that traffic typically go to only one or two peering points in a given metropolitan area, that traffic doesn't need to go through transit routers. Carrier Ethernet and optical facilities can handle such traffic equally well, but at a much lower cost, while the IP routers continue to handle Layer 3 service features.
By traversing the integrated platform's packet/optical layers, Internet traffic can take advantage of the lower latency, faster switch times, and more deterministic performance packet/optical transport platforms can provide. Point-to-point traffic destined for cloud services also can benefit from these performance characteristics and lower costs. In other words, by decoupling capacity and network costs, the use of packet/optical transport platforms boosts network capacity and reduces costs.
Packet/optical transport integrates in a single platform two layers. The first is an intelligent services layer that combines multiple service types into 10-Gbps, 40-Gbps, and eventually, 100-Gbps optical wavelengths. The second is a dynamic optical layer that offers reconfigurable, expandable optical switching. By using DWDM, reconfigurable optical add/drop multiplexers (ROADMs), and dynamic control plane technologies, this layer provides service transport and delivery with the lowest capital (capex) and optical expenditure (opex). Specifically, it can reduce network TCO by 50%, capex by 50%, power consumption by 60%, and opex by 85%. These results translate into new revenue streams, more competitive price points, better margins, and a stronger position in the market.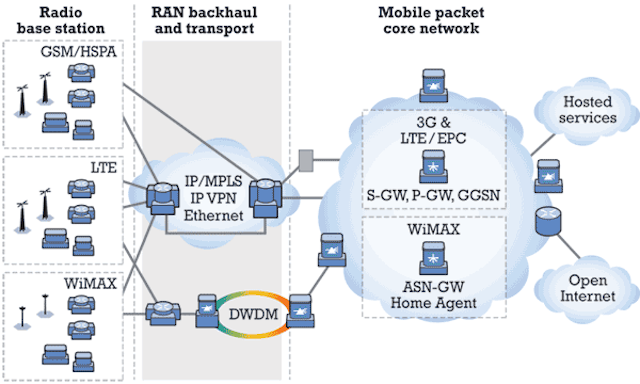 Figure 1. Adding intelligence to the mobile packet core improves network efficiency and SLA support.
The integrated packet/optical approach offers other benefits, too:
nearly unlimited bandwidth expansion;
reduced costs–less hardware means lower space, power, and cooling requirements;
fewer network elements to manage;
less cabling between network elements; and,
fewer interoperability issues.
Premium users demand priority, highest-possible QoS
Operators also need technology that can help them optimize their networks to satisfy the demands of premium enterprise mobile cloud computing customers. In other words, they must be able to establish priorities for different types of mobile traffic, put enterprise mobile cloud computing applications at the head of the line, and guarantee the kinds of QoS levels necessary to honor service-level agreements (SLAs).
Basically, mobile operators want a mobile packet core that has the intelligence to:
learn at line speed about user content,
apply that knowledge in ways that selectively adapt the network,
make possible new revenue-generating opportunities,
dynamically optimize both the network and services, and
support the rapid, flexible delivery of new services.
Advanced mobile packet core platforms can deliver these capabilities (see Figure 1). Supporting 4G, LTE, and WiMAX networks as well as 3G, this type of mobile packet core system reduces capex by aggregating on a common platform several network functions that historically have resided in separate network elements. These functions include QoS/policy enforcement, peer-to-peer traffic management, new charging, filtering, and compression.
Because a converged, intelligent platform can inspect and analyze content, encrypt and decrypt signals, and scale and manage traffic, the operator does not have to purchase additional cards or hardware to deliver these functions. An intelligent mobile packet core platform, thus, trims opex by reducing the number of boxes and cards required and by delivering to a mobile network the real-time intelligence necessary to use backhaul capacity more dynamically and efficiently. Without that intelligence, operators must add more backhaul capacity, which obviously stretches the opex budget.
An advanced mobile packet core platform also delivers comprehensive, real-time intelligence about user requirements and behavior, including where a given user is physically located and the content he/she is using. A network that is aware of both user content and context enables an operator to tailor the rapidly evolving mobile cloud to various users' unique requirements. That ability, in turn, translates into huge competitive advantages that lead to greater market share, higher revenues, and stronger margins.
Among those advantages are differentiated QoS and corresponding price points. Capitalizing on the platform's built-in intelligence, an operator can work with enterprise customers to identify mission-critical mobile applications and assign the appropriate levels of QoS, security, and price points to those applications. As a result, the operator can differentiate its offerings in the ultra-competitive mobile cloud computing marketplace and comply with those all-important SLAs.
Smart mobile packet core platforms offer additional benefits
Advanced mobile packet core platforms feature intelligent content-handling capabilities and flexible service differentiation, as well as massive scalability, non-traditional charging functions, dynamic policy enforcement, mobility management, network optimization, and the enormous bandwidth needed for 4G services.
These platforms combine processing elements and hardware engines designed for the specific tasks and intelligence needed at all levels of functionality. Hundreds of these processing elements and hardware engines collaborate in a fully loaded system and, when combined with a distributed and modular software design, create the massive processing and learning capabilities that operators must have in their mobile networks. All of this, in turn, is done with coexistence of different packet core functionalities to accommodate all 3G and 4G technology permutations.
With fully distributed control, content-processing functions, and carrier-grade software, an intelligent mobile packet core features a robust, massively scalable architecture. Linear scaling enables operators to begin with small, feature-rich deployments and then migrate smoothly toward large-scale networks. The radio links within 4G wireless networks can generate more than 10X the data of 3G radio links, which means the performance demands on the mobile core are far more rigorous. Unlike alternatives evolving from the 3G world, advanced mobile packet core platforms can deliver line-rate services at these higher capacities, making them future-proof systems.
Further, the growing numbers of enterprise mobile users and other wireless customers, along with the proliferation of new mobile-broadband services (including the mobile cloud), mean the next-generation wireless core also must accommodate a much larger number of service flows. Mobile packet core platforms support millions of dynamically created service flows in a single system, including full QoS classification and policing capabilities for each flow.
Create the right network for enterprise mobile cloud computing
Many operators are deploying fiber in their networks, along with the 4G technologies and all-IP infrastructures required to deliver the mobile cloud services that businesses want. However, leading operators know their networks must be able to do more than handle the surging tidal wave of mobile-broadband traffic; they also must help operators protect their margins by lowering capex and opex costs and deliver the high-quality, reliable cloud services that enterprise customers demand. Packet/optical transport systems and intelligent mobile packet core platforms can help operators achieve both objectives.
BILL KAUTZ is staff manager, portfolio planning, in Tellabs' global portfolio marketing group.