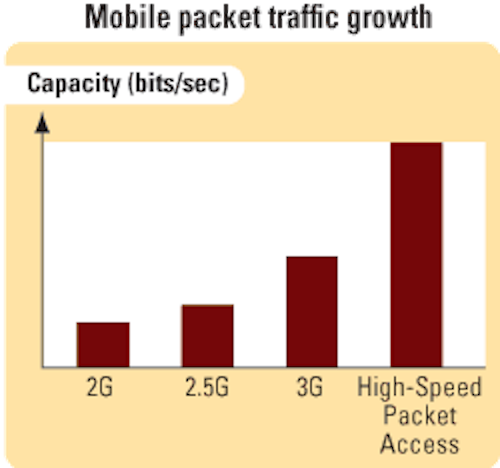 by Meghan Fuller Hanna
This summer's launch of the iPhone represents both the opportunity and the challenge facing today's wireless operators. Consumer devices now support Web browsing, music downloading, video messaging, and mobile TV, creating a bandwidth bottleneck in the wireless backhaul network, or the link from the base station back to the metro/central office.
An unofficial survey of several optical equipment providers reveals some key trends in the wireless backhaul market; all sources interviewed for this story, for example, agree on the following points:
One or two T1s per cell tower, which had been the norm for legacy services, no longer provide sufficient bandwidth to backhaul data-intensive, packet-based 3G and 4G services.
No single access topology will satisfy all mobile operators' requirements, but Ethernet over fiber is emerging as a key technology.
All service providers, be they telcos, cable multiple-system operators (MSOs), or alternative providers, will have an opportunity to participate in the wireless backhaul market.
The problem facing today's wireless operators is two-fold. First, bandwidth demand is increasing; end users can access e-mail, watch mobile videos, and browse the Web with their cell phones, many of which now have built-in MP3 players for music downloading (see Fig. 1).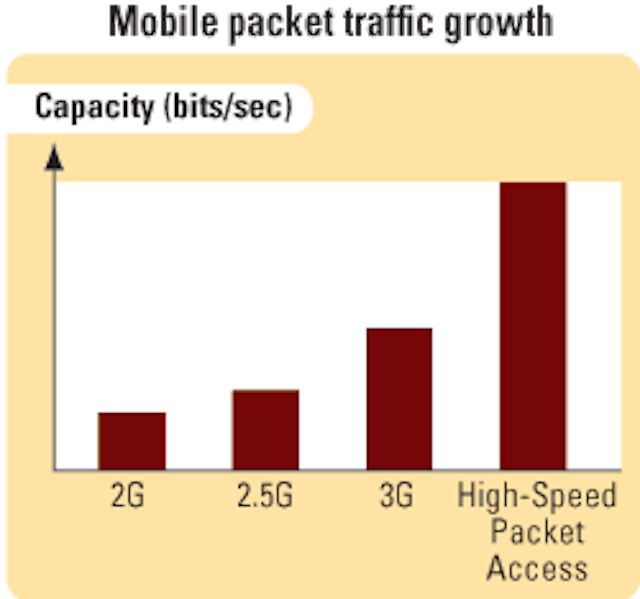 Figure 1. The challenge facing wireless operators today is two-fold: Packet-based traffic is growing exponentially, but average revenue per user (ARPU) is declining.
In North America, the major mobile providers all have plans to upgrade to more data-intensive fourth-generation services. The main providers of Universal Mobile Telephone Systems (UMTS)-based technology, AT&T and T-Mobile, plan to offer a fourth-generation mobile service known as Long-Term Evolution (LTE), reports Taylor Salman, solutions marketing director of mobile backhaul at Ciena (www.ciena.com). Sprint and Verizon, by contrast, offer Code Division Multiple Access (CDMA)-based services, the fourth generation of which is called Evolution-data Optimized (EV-DO). And there are several providers rolling out WiMAX, or Worldwide Interoperability for Microwave Access networks. All three of these technologies bring true, IP-based data services to the mobile network, notes Salman.
"The traditional backhaul for the voice and data services they were providing was a little more than two T1s on average per cell tower, so you're talking about maybe 4 Mbits/sec of total traffic," he explains. "With these new technologies, you're looking at the potential for over 100 Mbits/sec of total traffic coming back from the tower." (See Fig. 2).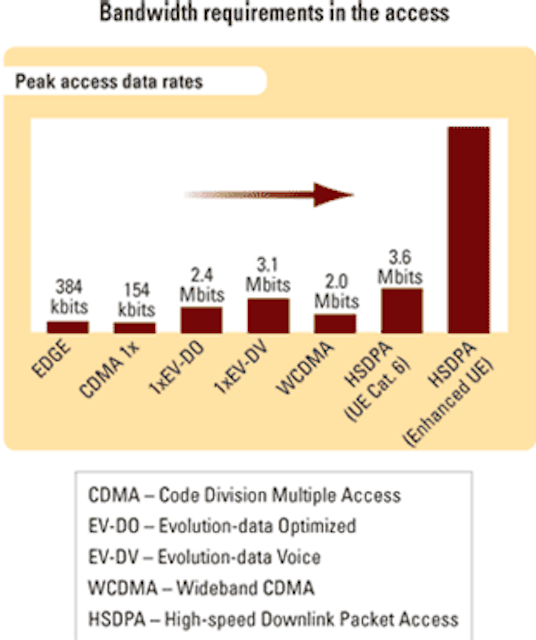 Figure 2. Next-generation services are taxing the backhaul capacity of existing networks, which currently rely on one or two T1s' worth of capacity or around 4 Mbits/sec to support each tower. The resulting bottleneck necessitates a move to Ethernet.
Jim Orr, principal network architect in Fujitsu Network Communications' (www.us.fujitsu.com/telecom) wireless market development group, reports that his company recently tested an LTE base station in Japan, and that single base station generated almost 900 Mbits of traffic. "The average load per user is far higher than what it used to be," he admits. "If my voice call uses 7.5 kbits, my data session could be running 120 kbits or peaks up to a megabit or more now."
In the U.S. mobile backhaul market, bandwidth is largely leased from a third party, and this will continue to be the trend, say Lightwave's sources. But if the mobile operators continue to lease T1s, they will spend tens of thousands of dollars per month just to backhaul that kind of traffic from each tower, says Salman. This model is clearly not sustainable.
Mobile operators are facing a second, equally challenging issue: Their average revenue per user (ARPU) is flat or declining. Together, lower revenue per bit and the high costs associated with leasing T1s are wreaking havoc on the wireless business case. But the mobile operators are now caught in a chicken-and-egg scenario: They believe the only way to reverse this trend is to offer fourth-generation, higher-bandwidth packet-based services, but those services will require more bandwidth than it is economical to support over T1s. And yet they can't invest heavily in an alternate architecture in the face of declining ARPU.
And that gets to the crux of the challenge facing mobile operators and the reason why a backhaul offering is suddenly high on optical equipment vendors' roadmaps: It's costly. Salman estimates that backhaul now accounts for 20% to 40% of mobile operators' total operating expenditures (opex) -- and it's increasing.
"Clearly, the only way you can handle [high-bandwidth, packet-based services] is with fiber," says Salman, "and the way to do that most cost-effectively is with Ethernet."
In its recent "Mobile Backhaul Equipment, Installed Base, and Services" report, Infonetics Research (www.infonetics.com) notes that wireless operators and backhaul transport providers are expected to spend $8.2 billion on mobile first-mile backhaul equipment in 2010, with Ethernet accounting for 21% of the market. And that's up from 1% of the total backhaul equipment revenue in 2006. Michael Howard, principal analyst at Infonetics and lead analyst of the report, has declared 2008 "the year of adoption of IP/Ethernet backhaul," and he says, "2009 will kick off the Ethernet mobile backhaul revolution."
All of which begs the question: Why Ethernet? The answer, it seems, is the same for both wireless and wireline carriers. "Ethernet is everywhere," maintains Errol Binda, senior manager of metro Ethernet marketing at Nortel (www.nortel.com). "It's the lowest common denominator from an interface perspective."
Many wireline operators already are migrating to optical Ethernet in the metro to carry enterprise and residential services. If they want to converge mobile services and existing services onto a single metro network, it makes sense to extend optical Ethernet to the backhaul as well, notes Orr. Wireless backhaul over Ethernet is part of the overall data network, he says, and today's data networks are trending toward Ethernet.
The migration to Ethernet-based wireline networks is driven by an uptick in packet-oriented services, and the same can be said for wireless backhaul networks, says Orr. "TDM is, by its nature, a circuit-switched-type network, whereas data traffic is more packet oriented," he explains. "So we need to move to the technology that transports packets better, and that's an Ethernet backhaul architecture."
Moreover, wireless operators are just as attracted to Ethernet's price points as the wireline operators, says Fred Ellefson, vice president of business development at ADVA Optical Networking (www.advaoptical.com). He notes that mobile operators' monthly costs will continue to increase linearly with the amount of traffic they backhaul, assuming they continue to backhaul via T1s. "But by switching over to Ethernet," he says, "they can get a huge step-reduction in their monthly lease costs. Typically, they can go from a T1 to a 10-Meg Ethernet at about the same price point, with obviously six or seven times the bandwidth."
Tom Goodwin, vice president of marketing and communications at Alcatel-Lucent (www.alcatel-lucent.com), suggests that there are three strategies for offloading data services onto native Ethernet. "You can have a separate Ethernet network, which not many [mobile operators] have," he says. "You can transport Ethernet over SONET or SDH or even directly over fiber, which quite a few of them are looking at right now. Then, if you're getting into the more futuristic and sophisticated, some mobile service providers are talking about transforming their backhaul networks to an all-IP infrastructure, which would be carried on Ethernet and then introducing the ability to transport legacy services through MPLS pseudowires," Goodwin explains.
Ciena's Salman agrees that the ability to support legacy services is critical. Base stations have been built to operate over T1s/E1s and/or Frame Relay and ATM networks, and the operators have too much money invested in these architectures to start over again. "That's why you'll see a lot of talk about pseudowires in the backhaul space," he says. "The purpose of the pseudowires is to emulate a TDM or an ATM or Frame Relay service over optical Ethernet. And that's a big deal in the wireless space so they can protect their existing investment in the base stations."
Provider Backbone Transport (PBT), Provider Backbone Bridging-Traffic Engineering (PBB-TE), and Transport MPLS (T-MPLS) likely will play some role in wireless backhaul networks to help maintain quality of service across the network, though Orr says it remains to be seen exactly how these technologies are used and which operators implement them.
The emergence of Ethernet has also introduced some interesting technical challenges, says ADVA's Ellefson. "When you lease an Ethernet from a third party, how do you verify the quality of service that you're getting, whether it's meeting the SLAs [service-level agreements]?" he muses. "We see the wireless carriers wanting to put in the tools to monitor SLAs, [including] delay, delay variation, frame loss ratio, and service availability, which are the four MEF-recommended SLA parameters."
For his part, Ellefson believes the availability of new standards, such as IEEE 802.1ag and the ITU's Y.1731 to provide SLA monitoring and test capabilities typically found in SONET, Frame Relay, and ATM-type services, has reassured wireless operators that Ethernet is robust enough to meet their performance requirements. "Now that Ethernet has this similar kind of capability," says Ellefson, "I think there's nothing really holding the wireless carriers back."
When asked whether mobile operators were building their own networks or whether they would continue to lease capacity from third-party operators (who are offering Ethernet-based backhaul), all sources indicated that backhaul will continue to comprise both options. For carriers like Verizon and AT&T, for example, "there is a drive to use the existing networks of the wireline mother company as opposed to leasing out a third party's bandwidth," confirms Goodwin. Following the recent consolidation in the carrier space, both Verizon and AT&T boast networks that span at least half of the continental U.S. Sprint and T-Mobile, by contrast, are not big wireline carriers and will likely continue to lease capacity from other sources.
It's important to note that the vast majority of cell towers today have not been passed with fiber, so even the Verizons and AT&Ts of the world will continue to lease capacity as well. As Fujitsu's Orr notes, "No one has all the network everywhere they need it to be."
"In order to deliver Ethernet ubiquitously to the 200,000 cell towers in North America, there's no one technology," Ellefson reiterates. "It's going to be at least three technologies, if not more. But I think the Holy Grail of this space, quite honestly, is fiber."
With mass deployment initiatives like Verizon's FiOS and AT&T's Project Lightspeed promising to blanket 100 million homes with fiber over the next several years, Ellefson believes the vast majority of cell towers eventually will be fibered. "You'd think that along the way, they could fairly easily pick up the 200,000 cell towers that, for the most part, are pretty close to those 100 million homes," he says.
The sources interviewed for this story also believe the WiMAX space is worth watching, since it is the first completely packetized mobile system. While there are some traditional mobile operators looking at WiMAX, many are new entrants -- and those new entrants are not tied to legacy architectures.
Nortel's Binda says he has seen deployments in the U.S., Latin America, and Europe in which WiMAX operators are "taking the very aggressive approach to incorporate backhaul in their initial deployments. In those cases, because the WiMAX base station and equipment is all Ethernet-based, from day one they are saying, 'We're not going to go with legacy backhaul,'" he says. "They are more willing in those cases, obviously, to get on board with a next-generation IP/Ethernet backhaul."
"WiMAX, from an optical Ethernet perspective, is huge because you're talking about a peak capacity at each tower of 150 Mbits/sec, which is just tremendous data rates," adds Ciena's Salman. "You have to have fiber to backhaul those kinds of rates."
For their part, the vendors interviewed for this story are bullish on the mobile backhaul market, in large part because they can sell equipment to a wide variety of operators for this backhaul application. "Everybody has an opportunity to participate here," contends Orr. "Where the networks are is where you are going to see mobile carriers leasing services, whether it be from the telcos, the cable companies, the power folks -- there are a lot of different places that can come from."
Meghan Fuller Hanna is senior editor at Lightwave.