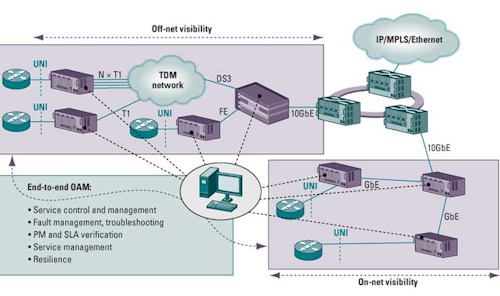 By Serdar Kiykioglu
---
Overview
Network complexity has increased the popularity of managed services offerings. Regardless of who does the managing, however, networks require tools that increase visibility and improve control.
---
Carrier Ethernet is already the technology of choice for broadband applications for a number of reasons. But bandwidth demand continues to grow explosively, and the advent of converged services and service-mapped quality-of-service (QoS) requirements is quickly changing the scene. A transport network is no longer a simple fat traffic pipe as existed not too long ago.
This challenge is being addressed by Carrier Ethernet 2.0, which enables service providers to exert greater control over their networks. Such control allows efficient delivery of bandwidth-intensive services, such as VoIP, and video traffic with predictable QoS metrics over increasingly higher-speed Ethernet services. With its associated advanced operations, administration, and maintenance (OAM), Carrier Ethernet 2.0 also promises the added network visibility required to offer differentiated services with carrier-class reliability and performance while minimizing capital expenditures and precious operational expenditures (opex).
It is not surprising that Carrier Ethernet is expected to enjoy a strong 25% CAGR from 2009 through 2014 according to Insight Research, due to its promise of lowering per-bit cost to about one-third of the cost of legacy technologies, according to Point East Research. However, recent FCC data suggests that carriers are still spending 71% total revenues for opex; nationally, spending on opex was more than $77.1 billion in 2008 alone.
The bottom line: Network operators need new approaches to lower this huge burden. One of the dominating factors of opex is the growing complexity of networks and applications. Not only are there many more knobs to turn to optimize service applications, but there are also many more things that can go wrong.
Whether wireline or wireless, next-generation networks and services have already become too complex for many enterprises to manage themselves. Even those with in-house expertise are seeking help to use their resources on their core business rather than managing networks, which is driving the demand for managed service providers (MSPs). According to research by IDC, the savings associated with outsourcing network service management are significant (see Fig. 1). Even for small businesses, the trend is indicating a growth of managed service outsourcing to reduce operational expenses and gain peace of mind by relying on the expertise of MSPs.
Services market growth is characterized by diverse technologies and applications (see Fig. 2), while networks continue to evolve to support higher bandwidth with service-aware QoS, performance, and service-level agreement (SLA) demands, posing an ever-increasing challenge to enterprises, carriers, and MSPs for quality at lower cost-per-bit delivered. Regardless of who does the management work, one pattern that is emerging is the need to improve network and service visibility while reducing human intervention through remote operations and automation wherever they can be applied.
Outsource drivers shape requirements
From a service provider perspective, growing complexities consume resources quickly, driving up costs, which in turn threatens margins. In short, whether an enterprise or a provider performs the service management, the topic of efficiency and low-cost network and service management calls for a deeper dive into the drivers of outsourced network service management.
In essence, growing network traffic, a multitude of technologies, lack of standards to track problems, and a shortage of skilled workers top the list. Many enterprises also put a higher priority on using internal resources on core business needs rather than network management. For these reasons, enterprise network managers have come to rely on MSPs in areas such as:
monitoring and notification of events
inventory and asset management
fault ticket tracking
coordination with clients' help desks
network equipment (NE) and service configuration management
change management
troubleshooting and root cause analysis
threshold monitoring
producing network performance and compliance reports
routine and on-demand maintenance
network performance analysis and optimization
To meet the managed services requirement, a recent trend is to provide integrated tools with Carrier Ethernet access and transport equipment that is capable of monitoring and reporting network performance in real time and in line with customer traffic flows (see Fig. 3). These flows may be single tagged or service tagged traffic or use more advanced encapsulation schemes such as PBB or PBB-TE for any VPLS or VPWS applications. Built upon Carrier Ethernet OAM standards and equipped with full automation and remote access capabilities, these integrated tools bring back the nonintrusive, real-time network health monitoring capabilities of the legacy TDM networks into the realm of packet networks. They bridge an important gap between older Frame Relay and SONET/SDH monitoring tools and new Layer 2 Ethernet-based OAM.
Certain tools monitor not only the physical network but also the behavior of service applications in enabling real-time, end-to-end visibility into the health of networks in a service-, topology-, and vendor-agnostic manner. Coupled with intelligent threshold monitoring, fault location, and isolation capabilities, these advanced tools enable the implementation of self-healing service and network restoration capabilities. Therefore, any unique requirement of a service application can be fulfilled in a totally automated fashion, which means improved performance and reliability, plus lower cost-of-ownership for any network.
Coupled with multivendor-capable element and network management systems (EMS/NMS), these monitoring tools provide remote and automated network and service turn-up, commissioning, upgrade, and maintenance capabilities (see Fig. 4). This is a powerful, profitable combination for the carrier, service provider, MSP, or enterprise, especially in these recessionary times.
Among the available tools, one current trend is the inclusion of embedded product management (PM) and service-level agreement (SLA) verification tools within the networking equipment. These tools are based on Carrier Ethernet standards and enhancements to other standards via OAM type, length, and value (TLV) extensions and put powerful monitoring capabilities in the hands of carriers, service providers, MSPs, and the enterprises. They offer nonintrusive monitoring of QoS metrics and SLAs in real time for end-to-end network visibility to minimize operator interventions and enhance real-time network protection and fault restoration applications during network degradation.
Many of these new, proactive protection services can be triggered within the equipment in real time and in concert with the EMS/NMS systems. In essence, these newly emerging tools bring TDM-like traffic and network health monitoring capabilities into the realm of IP/packet-based networks—a capability service providers have been taking for granted since the early days of legacy circuit networks.
With the help of these new OAM tools, real-time visibility of network health, and service performance, everyone wins. Integrated performance monitoring tools empower both large enterprises and small businesses through better visibility into their networks. By eliminating the guesswork out of network efficiency and optimization, end users can significantly reduce issues and downtime while improving customer satisfaction regardless of network size.
Carriers, meanwhile, enjoy higher margins while significantly reducing operational expenses through increased automation and remote operations and troubleshooting. Overall improvements in network performance are obtained through greater network resilience via automated self-healing and restoration techniques. Thus, end-to-end real-time network visibility helps carriers optimize networks and services, offering new premium services for higher margins, better customer satisfaction, and increased market traction.
---
Links to more information
LIGHTWAVE: Ethernet OAM Test Applications
LIGHTWAVE:OAM Separates Carrier Ethernet 2.0 Forest from the Trees
LIGHTWAVE: Carrier Ethernet Improves IP Service Delivery
Serdar Kiykioglu is product line management, outbound marketing, at ANDA Networks (www.
andanetworks.com).