According to a report from Infonetics Research, worldwide metro Ethernet equipment revenue nearly doubled between 2004 and 2005, growing from $2.6 billion to more than $4.9 billion, and is expected to reach $15.5 billion by 2009. The firm sees metro Ethernet port shipments "skyrocketing" in the next few years, increasing more than 30 times between 2004 and 2009; the majority of ports sold during this period will be VDSL copper ports, according to the firm.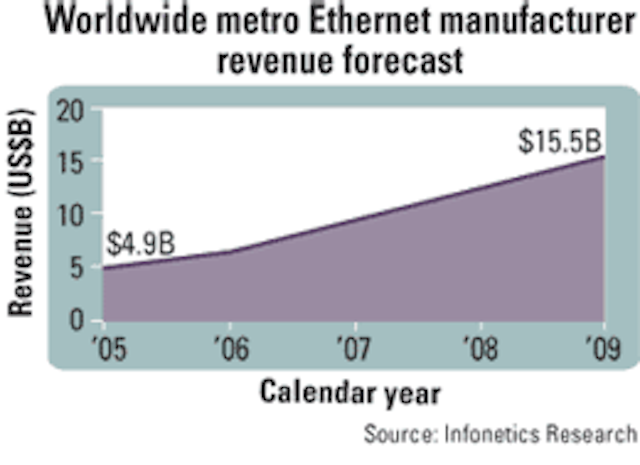 "The universal appeal of Ethernet is that it is less expensive than other technologies," observes Michael Howard, principal analyst and cofounder of Infonetics Research. "Ethernet is becoming an increasingly integral part of metro networks, with equipment spending [amounting to] almost $49 billion over the five-year period between 2005 and 2009."
The report finds that in 2005, revenue in nearly all metro Ethernet equipment categories grew at a fast rate, with Carrier Ethernet switches and routers (CESR), EPON, Ethernet access devices (EADs), and Ethernet over copper/cable posting triple-digit growth rates.
"Every year Ethernet will account for a larger portion of metro capex, led by phenomenal growth in CESR, a growing mainstay for providers to deliver Ethernet services," maintains Howard.
The firm predicts that between 2005 and 2009, global CESR revenue will more than double, representing 32% of the metro Ethernet equipment market by 2009. EADs are expected to grow 647%, "strongly influenced" by Ethernet services uptake. Revenues for Ethernet over copper and cable are seen growing 853%, driven by healthy VDSL deployments in Asia and North America. Resilient packet ring (RPR) revenues are expected to grow 226%.
The report finds that in 2005, North America accounted for 34% of all metro Ethernet equipment revenue, Asia-Pacific for 33%, EMEA for 30%, and CALA for 3%. For more about the "Metro Ethernet Equipment" report, visit www.infonetics.com.