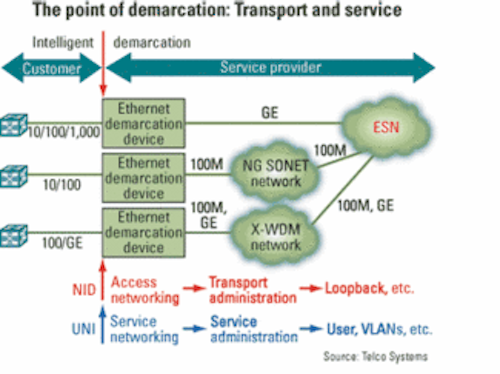 While significant progress has been made in standardizing Carrier Ethernet specifications, customer demarcation remains an uncertain area. For example, while the Metro Ethernet Forum (MEF) has determined what should be measured when monitoring service-level agreements (SLAs), the organization has yet to determine the best way to perform these measurements. Meanwhile, service providers remain split regarding the functions they'd like a demarcation device to provide currently and in the future, which leaves vendors guessing when it comes to what functions and interfaces their demarcation devices should incorporate. The result is a hodgepodge of product offerings and implementations.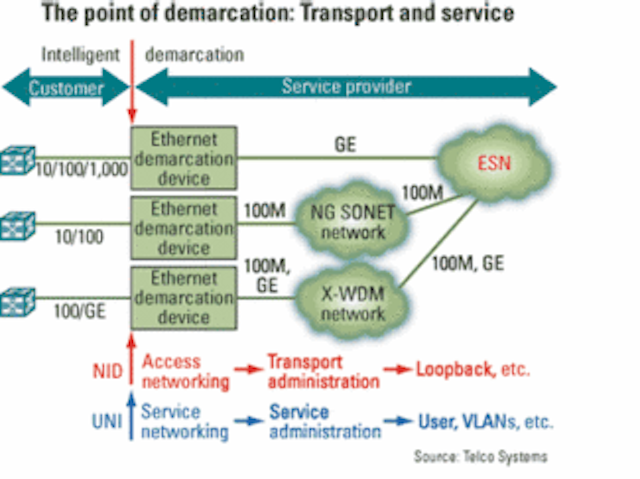 Demarcation devices must support a variety of links on both the carrier and customer sides, as well as both transport and service functions.
As is the case when delivering any type of service, Carrier Ethernet providers need a point of demarcation that delineates where in a link their responsibilities end and those of the customer (or peer, in the case of a wholesale arrangement) begin. Most often, a device at the customer premises marks this handoff point; customers plug into one end and a link back to the service provider's nearest point-of-presence (PoP) exits the other.
But the demarcation device must do more than provide an interface between the service provider and the customer. Industry sources agree that Carrier Ethernet demarcation requires three basic functions. The first is that of a network interface device (NID), which might also be called a network interface unit or network terminal equipment, depending upon where you are in the world and which vendor is involved. NID functions include operations, administration, and maintenance (OAM), as well as facilities for remote testing and monitoring of the link between the demarcation device and the carrier's network. Two IEEE standards, 802.3ah and 802.1ag, outline these functions.
The second basic function is the service user-to-network interface (UNI), which helps define service levels based on IEEE and ITU-T standards. UNI functions enable traffic classification into different types or flows based on the MEF's committed and excess information rate (CIR/EIR) and committed and excess burst size (CBS/EBS) on a port or VLAN/Ethernet virtual circuit (EVC) basis. They also help set traffic priorities and cueing. In essence, the UNI helps define the service a customer will receive based upon an agreed SLA.
The third function is transport from the customer premises device back to the service provider's PoP. This transport could occur using a variety of protocols, from pure Ethernet over fiber to Ethernet over SONET/SDH to some sort of copper-based transmission.
While these three functions must be performed for proper Carrier Ethernet customer demarcation, they don't necessarily have to reside in the customer-located demarcation device, and this is where a lack of standardization starts to muddy the waters. In particular, the UNI function could reside within the edge switch at the service provider's PoP. This arrangement has been fairly common during the transition to Carrier Ethernet. "But more recently, from the likes of Verizon-especially Verizon Business/MCI-and Sprint and others, we do see them moving forward more towards having the service interface or the UNI reside at the customer premises," says Manu Kaycee, vice president, product technology and strategy, at Telco Systems (www.telcosystems.com).
Such a move makes sense, says Fred Ellefson, vice president of Etherjack alliances at ADVA Optical Networking (www.advaoptical.com). "Any time you do rate limiting, you have to have a service UNI in there [at the customer location] that is smart enough to know which traffic is high priority and which traffic is low priority and make sure that if some traffic has to be delayed or discarded that it's the low-priority traffic," he explains. Rating limiting may be necessary if carriers aren't using the full capacity of the link to the customer for a particular service, which would include sharing that link among multiple services or multiple customers. The key is to avoid dropping the wrong traffic at the customer demarcation device. "It doesn't matter how smart the core of your network is; if you've dropped it at the edge, it's gone forever," he says.
The MEF is working on further defining the implementation of UNI functions within a customer-located device, Kaycee says.
Another area where the current state of Carrier Ethernet demarcation specifications invites interpretation is within the NID function. The MEF has specified that for SLA monitoring, the NID should enable the measurement of availability, frame delay, frame jitter, and dropped frames. However, the MEF currently doesn't define how these measurements should be performed, which means that vendors can implement these requirements in whatever way they think is best. The incorporation of test heads to inject test signals into the link between the demarcation device and the edge switch represents one emerging trend.
Ellefson advocates the ability to look at both the customer and carrier ends of the demarcation device as well. "There's so much familiarity with Ethernet by customers that there are a lot more customer-induced issues with Ethernet than with any other service," he remarks. Customers can create connectivity problems by loading their end of the link with too many Ethernet-based devices or increase the number of dropped packets and resulting resends by trying to stuff 50 Mbits/sec of traffic into a 10-Mbit/sec pipe to the PoP.
Even how the demarcation device performs the transport function can vary from vendor to vendor, particularly in the form of which interfaces are provided and how many of them there are on each box. Taking all of the different types of variations in product features into account, carriers can be left with more choices than they might want. "Carriers at this point are pretty much stuck with having to decide what's important to them and go out and find products that are aligned with what they think is important in a demarc device," Ellefson admits.
For some carriers, this deliberation led them to install a Layer 2 switch from such vendors as Cisco Systems and Extreme Networks as the customer demarcation device. "We are seeing less and less of that," reports Kaycee. "Those switches were primarily enterprise-class switches and they did not support OAM." Kaycee and Ellefson believe that carriers in general are moving from large switches to smaller, less expensive, purpose-built demarcation devices for their Carrier Ethernet applications.
But not all carriers are rushing in this direction. For example, Optimum Lightpath (www.optimumlightpath.com)-the MEF's North American Carrier Ethernet Services Provider of the Year for 2006-uses equipment from Atrica (www.atrica.com) in its network, but doesn't use the company's A100 or A210 customer demarcation devices.
According to Brian Fabiano, senior vice president of network services at Optimum Lightpath, the carrier's business model calls for the delivery of E-line, V-line, and E-LAN services in only one very high quality grade. "As we moved from a SONET environment to an Ethernet environment, we weren't going to do anything to compromise the resiliency of the service," Fabiano says. "So our Ethernet demarc devices need to really have all those carrier-grade attributes."
In Fabiano's mind these attributes include dual DC power supplies and redundant interfaces; both need to be modular so they're hot swappable. The demarc device also needs to support optical rings and provide sub-50-msec switching. It also must provide statistics for collection and reporting of such key metrics as jitter, packet loss, round trip delay, and availability, among others. On the line side it needs to support electrical and optical handoff switches, which Fabiano describes as standard throughout the industry.
The requirement for such a bulletproof demarcation device led the carrier to opt for Atrica's 2140, which is a NEBS-compliant Ethernet edge switch. "Like everyone else, we're evaluating an Ethernet NID, if you will-an intelligent device we would place at the prem so that we could then extend our Layer 2 switching further back into the network. But we don't choose to do that today," Fabiano says.
The reason, he explains, is that the devices he's evaluated don't meet his requirements. "I need to have an Ethernet demarc device that will allow me to have my customer scale from our smallest increment of bandwidth, which is 10 meg, up to 1 gig at the prem. And we're getting requirements now for 10 gig. So it won't be long before I need to provide a scalable 10-meg to 10-gig architecture," according to Fabiano. "And right now, the intelligent demarc devices that we've looked at, that really aren't the Layer 2 switches at the prem, really can't sustain that level of scalability."
In addition to scalability, Fabiano also says he has issues with the lack of modular options. "When there is a problem, you end up having to do a wholesale replacement of the device. That in itself could jeopardize your customer service," he continues. "So we look for a device that is hot swappable, that is redundant, a more resilient technology like our Layer 2 switches today. So unless we can get to a point where we have an Ethernet demarc device that can have all of those attributes, we won't move to it."
Umesh Kukreja, director of marketing at Atrica, says that customers such as Optimum Lightpath illustrate that carriers in general will use whatever customer demarcation device enables the end-to-end SLA support that they require. To that end, he reports that customers not only use Atrica's edge switches as demarcation devices, but also ask the company to ensure that its ASPEN network and SLA management system support demarcation devices from other vendors.
"It's a combination of ports, the type of services you can provide on the demarcation device, and also the fact that the product is already standardized on the network," says Kukreja in describing why a carrier might not use an Atrica device for demarcation.
The variety of customer requests for demarcation configurations has led Atrica to investigate partnering with other firms to enable Atrica to offer a wider selection. "On the storage area side, we're actively working with partners to help develop storage-area services for small and medium-sized customers all across the world," Kukreja explains. Such partnerships may lead to the incorporation of gateway functions into its switching systems or the creation of low-cost demarcation devices customized for the specific application.
Kaycee also reports carrier interest in adding gateways to the demarcation device, particularly SIP gateways. Like Kukreja, Kaycee sees his company's demarcation offerings evolving, in Telco Systems' case toward two classes of device: a fixed system and a modular one that would enable easier adaptation to changing requirements.