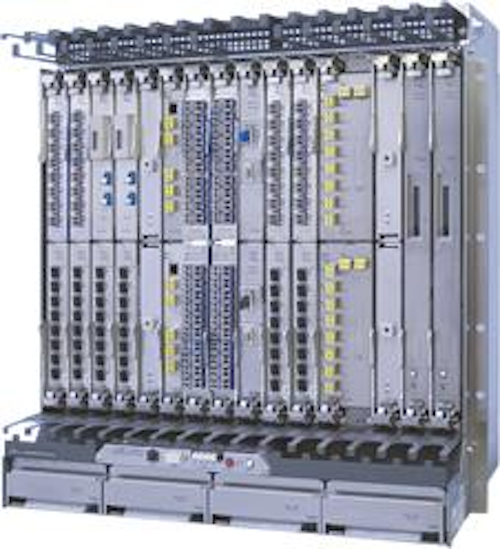 APRIL 28, 2009 -- Fujitsu Network Communications (search Lightwave for Fujitsu Network Communications), a supplier of optical and wireless networking equipment, has announced that SDN Communications, a regional fiber-optic networking provider owned by 18 South Dakota independent telephone companies, has selected the Fujitsu FLASHWAVE 9500 packet optical networking platform (PONP) for its statewide networking requirements. SDN is using the platform for high-capacity SONET and Ethernet transport and crossconnecting between interexchange carriers and its member companies.
"Even in these economic times, SDN is finding great growth opportunities into new markets," says Tom Durfee, director of network operations at SDN Communications. "We're using the FLASHWAVE 9500 to expand our network and reach new business customers. Our experience with Fujitsu has been so good that we're considering additional units to enhance our network delivery."
According to Fujitsu, SDN deployed its first FLASHWAVE 9500 system to take advantage of the platform's density improvements over competing systems. Others reasons cited for SDN's selection of the platform include ease of turn-up and integration with its existing metro network, as well as its experience with Fujitsu and product quality.
"SDN Communications has been working with Fujitsu for over 10 years, and has deployed several generations of our optical networking equipment, including our FLM 2400 SONET ADMs and FLASHWAVE 4500 Multiservice Provisioning Platforms (MSPPs)," says Doug Moore, senior vice president of marketing at Fujitsu Network Communications. "With their selection of our FLASHWAVE 9500 platform they are deploying the next generation of optical networking technology -- packet optical networking. Packet ONPs leverage the proven benefits of ADMs and MSPPs, but also incorporate connection-oriented Ethernet and ROADM capabilities that will allow SDN to bridge the digital divide in South Dakota with truly innovative services."
The FLASHWAVE 9500 Packet ONP provides the modular integration of Ethernet, ROADM, and SONET transport technologies in a single addressable optical networking class element. The platform's pluggable ROADM option and patent-pending universal switch fabric allow both SONET/SDH and Ethernet traffic to be transported in its native format to create a universal optical infrastructure. Integrated connection-oriented Ethernet transport technology delivers private-line quality packet aggregation and connectivity services with the operational robustness of optical networking, including transport-class software and database management, management interface functionality, and precision fault sectionalization.
SDN will continue to use the Fujitsu NETSMART 1500 element management system (EMS) to manage its network of Fujitsu network elements. This software allows SDN to use features such as end-to-end SONET/SDH and Ethernet service provisioning, real-time fault isolation and resolution, and distributed network element software updates.