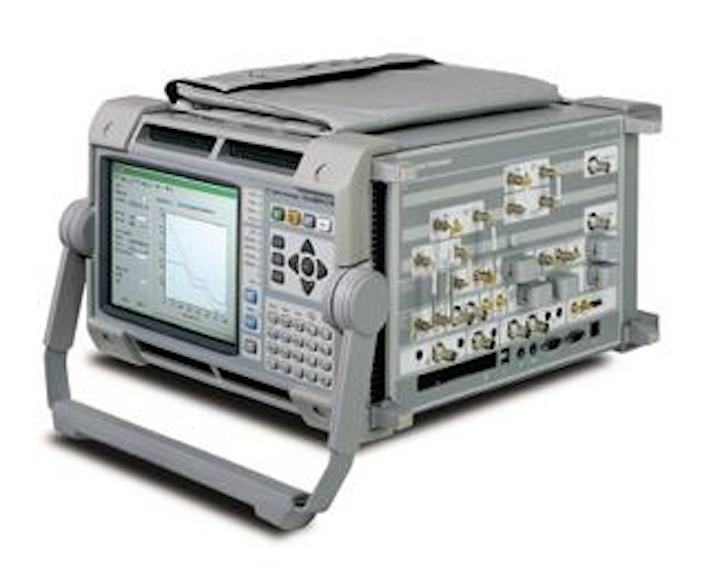 August 2, 2004 Palo Alto, CA -- Agilent Technologies Inc. today announced what it claims is the most accurate and repeatable solution available for measuring 10-Gbit/sec SONET/SDH and G.709 OTN jitter. Enhancements to the Agilent OmniBER OTN communications performance analyzer ensure a receiver-only fixed accuracy error of less than 15 mUI at 10 Gbits/sec. This high accuracy and repeatability reduces jitter measurement uncertainty by more than 50%, contends the company, giving component suppliers and network equipment manufacturers (NEMs) much greater assurance of design conformance to the 100-mUI industry standard.
Along with the hardware enhancements to the OmniBER OTN, a new International Telecommunication Union (ITU) O.172 Appendix VII-based calibration procedure, developed by Agilent, provides a guaranteed accuracy specification. In combination, these new measurement advances make the Agilent OmniBER OTN the most accurate and repeatable SONET/SDH and G.709 jitter measurement solution available, say company representatives.
Service providers are upgrading their existing networks to 10 Gbits/sec to accommodate continued growth in high-bandwidth data traffic. Jitter can be a significant problem at 10 Gbits/sec, and the drive to reduce component costs has made design conformance a challenge. Other methods for measuring jitter accuracy specification can provide accuracy of only 35 mUI for a transmitter-plus-receiver combination. Compared with a 10-Gbit/sec jitter limit of 100 mUI (specified in ANSI GR-253), this level of accuracy makes design conformance difficult. Furthermore, these results are not guaranteed, and the lack of repeatability increases measurement uncertainty. The end result can be passing devices that fail to meet the standard, and failing devices that should actually pass.
New procedure for performance verification
Until recently, the existing ITU recommendation for jitter-measurement equipment performance (Rec. O.172) did not include a procedure for verifying receiver accuracy. Working with leading NEMs, component suppliers, and other test equipment suppliers, Agilent proposed such a procedure to the ITU: The O.172 Appendix VII, "Method for Verification of Measurement Result Accuracy."
"Since its inception, Recommendation O.172 has specified what measurement accuracy jitter instruments must meet without detailing how to verify this performance," explains David Taylor, Agilent R&D project manager. "The new O.172 appendix fills this gap and provides the basis for a receiver-only performance calibration and specification, enhancing absolute accuracy and box-to-box consistency."
The O.172 Appendix VII-based enhancements are now standard on the OmniBER OTN jitter products and provide a receiver-only, fixed jitter accuracy specification of 15 mUI. Recommendation O.172 Appendix VII "accuracy maps" (for both 2.5- and 10-Gbit/sec rates) are supplied with every new OmniBER OTN unit shipped. These maps provide a detailed indication of the individual receiver accuracy performance.
The Agilent OmniBER OTN J7231B, ITU-T O.172 Guaranteed Receiver Specification (Option 210), is available now at a price of $12,338. The price of the OmniBER OTN J7231B base unit starts at $181,929.