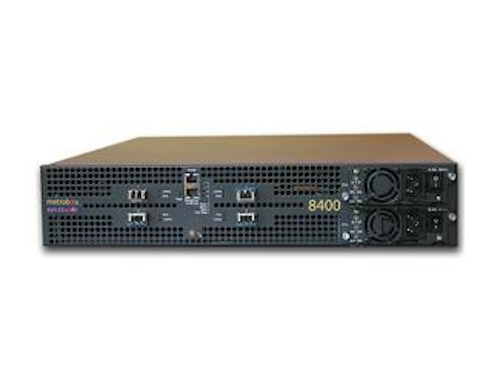 July 28, 2004 Hsinchu, Taiwan, and Andover, MA -- Accton Technology Corp. of Taiwan, global outsourcing partner for networking and communications solutions, and Sandburst Corp., provider of silicon solutions for advanced packet systems, have announced the introduction and general availability of the MetroBox switching platform. Accton and Sandburst jointly developed the MetroBox to power the next generation of Ethernet and IP services for the enterprise and service provider switching market.
To meet the surging customer demand for a robust, feature-rich switching solution that can scale from the edge to the core of metro area and enterprise networks, Accton and Sandburst claim they are delivering MetroBox substantially ahead of their original development schedule. The growing demand for Ethernet services in carrier networks and the growth of advanced quality of service (QoS) and IPv6 requirements in both sophisticated enterprise networks and metro area networks has driven far higher than anticipated initial demand for the MetroBox, say company representatives.
"While we projected the revived demand for Metro Ethernet services, the demand among enterprises for IPv6 forwarding at line rate and among carriers for a powerful and cost-effective platform in the edge of carrier networks has been surprising," reports Cashew Chan, vice president of marketing at Accton. "We're delighted that customer demand for MetroBox has exceeded our expectations, and we anticipate it to be the first of several products jointly developed with Sandburst."
Designed by Accton, the MetroBox features Sandburst's HiBeam chipset, a robust and feature-rich packet switching chipset, and supports 20 ports of Gigabit Ethernet and two 10-Gigabit uplinks. The 40-Gigabit platform delivers packet-forwarding capabilities, including IPv4 and IPv6 forwarding and Ethernet bridging. The high capacity non-blocking architecture of the MetroBox is complemented by a set of carrier-class features, including MPLS, VPLS, stacked VLANs, and VLAN translation.
Sandburst's HiBeam chipset enables powerful packet processing and switch fabric architectures that tightly define and fundamentally accelerate the packet forwarding process, say Sandburst representatives. The HiBeam-based MetroBox utilizes this architecture to set what the company contends is a new standard for performance and features in the fixed footprint packet switch/router market.
HiBeam's packet-optimized approach to context resolution immediately determines the packet's destination, bandwidth and behavioral rules, without succumbing to the software intensive packet analysis and look-up functions that degrade the performance of conventional network processors, says the company. The MetroBox illustrates the ability of Sandburst's HiBeam chipset to enable at-wire-speed decisions on different parts of the packet (such as L2 and L3) simultaneously. This robust packet processing performance of enables the MetroBox to deliver what Sandburst believes is the industry's only simultaneous IPv6, IPv4, and MPLS support at line rate.
As a result, MetroBox delivers rich traffic management and traffic engineering capabilities that make line-speed application of QoS newly feasible, economical, and programmable. MetroBox has an integrated fabric capacity of 80 Gbits/sec and supports aggregate forwarding of 60 Mpps with address tables capable of supporting up to 128K MAC addresses, 128K IPv4 prefixes/hosts, or 32K IPv6 prefixes/hosts. Additionally, the HiBeam chipset can scale to support architectures with an aggregate system capacity of nearly 1 billion packets per second, with up to 1.28 Tbits/sec of cross-connect bandwidth.