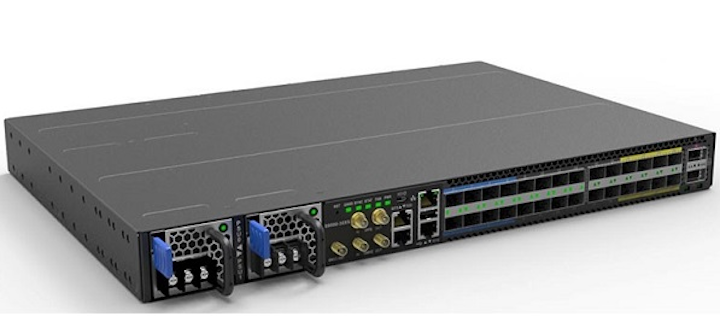 Continuing its move toward increased use of open, white box hardware, AT&T says it will release specifications for a white box cell site gateway router to the Open Compute Project (OCP) this week. The service provider says it intends to use such systems "at tens of thousands of cell towers over the next several years," according to a press release. Hardware developer Edgecore Networks announced a platform based on the specifications today as well.
Features of the open router include:
Support of several client-side interfaces, including 100 Mbps and 1 Gbps to support legacy baseband unit systems as well 10 and 25 Gbps for 5G baseband unit systems. It also will support backhaul rates up to 100 Gbps.
Operation at industrial temperature ranges (-40C to +65C).
Use of the Broadcom Qumran-AX switching chip with deep buffers as well as what AT&T called "a powerful CPU for network operating software."
A baseboard management controller (BMC) for platform health status monitoring and recovery.
Timing circuitry that supports a variety of inputs and outputs to accommodate evolving timing requirements and implementations toward 5G.
AT&T is developing a network operating system for the boxes, based on expertise it gained when it acquired Vyatta. At least some elements of the operating system will be released to open source.
Edgecore Networks has jumped on the specifications, announcing the development of the AS7316-26XB cell site gateway. The gateway targets outside plant and cell site deployment for 4G and 5G base stations. It offers IEEE 1588 timing and GPS functions as well as backhaul uplinks at 25 or 100 Gigabit Ethernet. It is available immediately, the company says.
The cell site router specifications are part of AT&T's overall evolution toward the use of open hardware specifications, particularly through OCP, that the service provider believes enables more flexible and customized technology that can be acquired more quickly than conventional means (see "AT&T: Operators should take more responsibility for their network technology").
"This transformation is about meeting the surging data demands of our customers as we head into this 5G world," said Chris Rice, senior vice president, Network Cloud and Infrastructure at AT&T. "Data traffic on our wireless network has grown 360,000% since 2007. We now carry more than 222 petabytes of data on an average business day. The old hardware model simply can't keep up, and we need to get faster and more efficient. We believe this white box approach helps us meet that demand while allowing us and others now to innovate faster than ever before."
The company has already taken similar approaches with ROADM hardware via the Open ROADM MSA and with OCP-generated XGS-PON platform specifications (see "AT&T finishes open source XGS-PON field trials").
For related articles, visit the Network Design Topic Center.
For more information on high-speed transmission systems and suppliers, visit the Lightwave Buyer's Guide.