Renaissance MAN
Jun 1st, 2001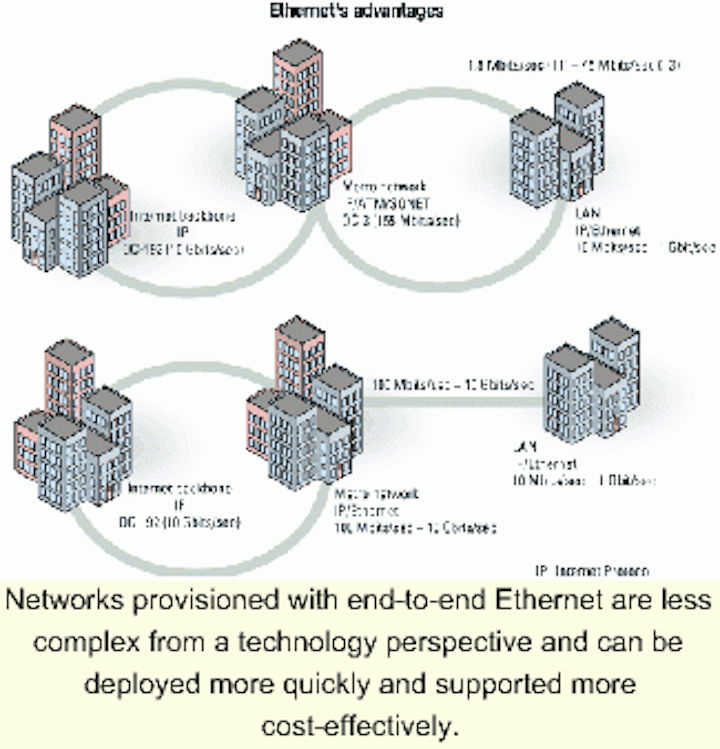 Metro Networks
Today's metropolitan-area network must bridge the bottleneck and provide cost-effective 'first mile' connectivity.
NEIL SWENDSBOE, Aura Networks Inc.
Metropolitan-area networks (MANs) have been around for a long time, linking intra-enterprise business campuses, enabling communications between LANs in different areas of a city to share regional resources and even offer shared connection to other networks over a wide-area link.
Billions of dollars have been invested in fiber-optic infrastructure to make it possible for any business customer to have access to MANs. Until recently, however, leasing costly SONET-based infrastructure made it difficult for service providers to offer competitive MAN access pricing to their customers. The question now should be: Is it still too costly, or are there new, more cost-effective ways for new-breed local-exchange carriers to provide that "first mile" connectivity from their customers' premises to the metro network?
To make the issue more complex, cost is not the only factor carriers face in trying to overcome the challenge of deploying networks that are growing a million-fold over five-year periods. Ease and speed of deployment, sufficient capacity, high performance, dynamic provisioning, serviceability, and reliability are what local carriers need to provide services competitively. The "first mile"-bridging the gap between the local- and wide-area networks-is where bottlenecks in capacity, performance, and cost must be eliminated.
Today's MAN is typically based on SONET rings. But in looking back at the backbone solutions deployed over the last decade, we see that SONET, ATM, frame relay, and time-division multiplexing (TDM) transport technologies haven't eliminated the bottleneck problem.
With data traffic having exceeded voice over these networks, SONET is not the answer. While very efficient for transporting voice traffic, SONET was not designed for packet-switched data traffic, which requires a "fat pipe" and a native Internet Protocol (IP) interface. A TDM transport, SONET also lacks the scalability required for high volumes of data traffic.
So what is the answer? A combination of new and not-so-new technologies is coming together to meet the challenge of affordable metro access.
In terms of the physical medium, the answer is obvious. Fiber-optic networking has tremendous advantages in data-driven New Economy metro networks. It provides the bandwidth, extended distances, security, and reliability demanded by 24-hour/7-day businesses-and the costs are coming down.
Techniques, such as WDM, allow the capacity of the fiber to be used more effectively. With dense and coarse WDM, equipment can be deployed to increase efficiencies in the use of fiber-optic capacity by transporting multiple data streams simultaneously over a single fiber strand.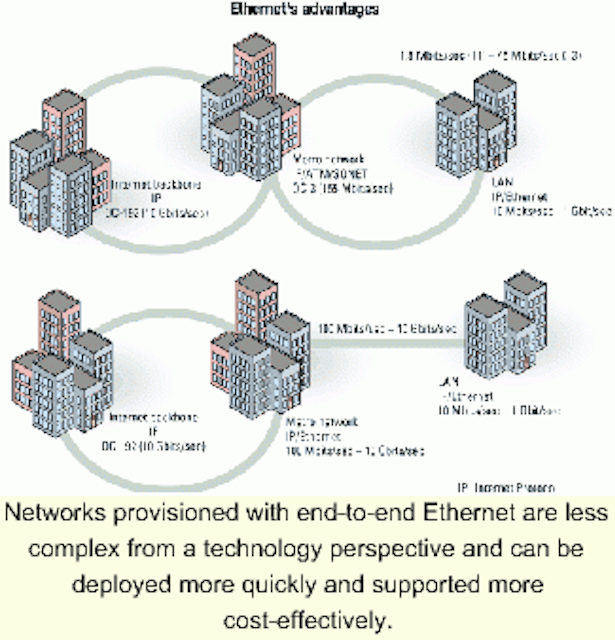 Networks provisioned with end-to-end Ethernet are less complex from a technology perspective and can be deployed more quickly and supported more cost-effectively.
So what else is required for data to be transported efficiently and cost-effectively? The answer lies in solutions that have been around for a long time and were designed specifically to deal with the efficient transport of data traffic-Ethernet and IP.
IP is used to transport virtually all data traffic, through both the LAN and WAN, and Ethernet has been the LAN protocol of choice for decades. But the question remains in the minds of many: Does Ethernet still have a role to play in the networks of the 21st century? What unique benefits can it bring to solving the problems in the first mile? Can it really support next-generation IP-based data services that are more affordable, easier to deploy and more easily scaled than the SONET alternatives?
First, it must be realized that the Ethernet that will reshape the MAN is not the Ethernet of days gone by. The simple, contention-based LAN scheme that characterized first-generation Ethernet has evolved significantly over the years.
Today's Ethernet supports far higher speeds than its original 10 Mbits/sec. Even 100-Mbit/sec Ethernet is twice as fast as T3 (44.736-Mbit/sec) ATM service in transporting data. Today, transfers up to 1 Gbit/sec are supported.
It is really the advent of Gigabit Ethernet that will meet the needs of next-generation IP applications and services in the metro network by providing full-duplex, switched operations over fiber-optic networks. Gigabit Ethernet is simple, scalable (from 10/100 Mbits/sec through gigabit speeds), and lower in cost than alternatives like ATM.
With Gigabit Ethernet, this familiar and ubiquitous protocol has finally become a carrier-class solution that offers many advantages over alternative implementations:
Because Ethernet is already running on the networks on either side of the WAN, provisioning times are reduced as the LAN-WAN connection becomes far simpler.
Both bandwidth and support costs are substantially lower. Voice-oriented infrastructure bandwidth is very expensive and resource-intensive to deploy.
With Ethernet, the bandwidth can be allocated far more easily and quickly whenever and wherever a customer needs it. There's no more waiting weeks or months for a T1 (1.554-Mbit/sec) or SONET line to be deployed.
Access-contention issues have long since been resolved through micro-segmentation.
Today's Ethernet supports full-duplex operation and allocation of dedicated bandwidth as needed.
Ethernet also lowers operational and administrative overhead with substantially reduced staff training times.
Ease of deployment and no technology learning curve make this technology combination an obvious choice for New Economy providers.
WAN service costs also can be substantially reduced at the same time network flexibility is increased, thereby making future growth easy.
Seamless integration of LAN and WAN over the metro network is ensured because the same protocols (Ethernet and IP) are employed end-to-end.
Dynamic bandwidth allocation saves on costs while ensuring the needed performance levels.
The advent of 10-Gigabit Ethernet will once again make bandwidth available at lower cost, roughly half the cost of Gigabit Ethernet and one-fifth the cost of Fast Ethernet. Consistent, integrated management can be obtained using the same simple network-management protocol already in use to manage local- and wide-area networks.
Transparent transfer of management information gives customers the assurance of high quality of service without unnecessary consumption of valuable bandwidth. Remote diagnostics, maintenance, and updates simplify life for both service providers and customers, while at the same time reducing the costs of maintaining a high-quality network.
Incremental bandwidth provisioning options give customers exactly the right solution at the right price and performance levels. Remote maintenance and provisioning provides significant cost savings for both service providers and enterprise customers. New-breed service providers, including building, data, and now Ethernet local-exchange carriers, require the new optical Ethernet solutions being developed today that can deliver all these benefits and more.
Although there are many benefits available with today's optical Ethernet, a host of new Ethernet-related standards are still underway. As the solutions based on these new standards emerge, even greater things will come from Ethernet.
The Institute of Electrical and Electronics Engineers, with its committee for basic Gigabit Ethernet standards, IEEE 802.3, is working on the 10-Gigabit Ethernet standard, which will bring Ethernet out into the WAN over 10-Gbit lengths. Compatible with SONET and at equivalent data rates, operations centers, high-speed central office equipment, and major cities can be networked across these links. The IEEE P802.3ae (10-Gigabit Ethernet) Task Force anticipates ratification of the standard in early 2002.
At the same time, the T-1.5 standards committee and other organized efforts are addressing several proposals for the deployment of Ethernet over existing SONET infrastructures, at data rates ranging from OC-3 (155 Mbits/sec) through OC-192 (10 Gbits/sec). The Internet Engineering Task Force is defining a standard for IP-over-packet transport rings for running Ethernet/IP traffic.
Ethernet's future in metro access is evidenced by the formation last November of the IEEE 802.3 Ethernet to the First Mile Study Group. This group is developing a standard that would specifically address metro access challenges. If a standard emerges from this work, cost-effective end-to-end Ethernet will truly become ubiquitous in the MAN.
The mission-critical applications running over today's metropolitan IP networks require scalability of bandwidth, performance, manageability, and cost-and they require it at the network edge where the service provider and the business user meet. The unique confluence of regulatory policy, technical capability, and market demand heralds an extraordinary and productive era of optical Ethernet networking built around MANs.
Although skeptics won't be proven wrong until the 10-Gigabit Ethernet standard is finalized, Ethernet is poised to become the predominant technology in WANs of the next decade. There is, however, still work to be done. The need for a radical overhaul of the current network infrastructure is clear. The bottleneck in metro access, where inflexible TDM and non-IP technologies presently dominate, has to be eliminated.
As increasingly larger amounts of online data are accessed 24/7, the need to provide ever-higher bandwidth at faster and faster speeds will only be matched by the need to do so while simultaneously reducing costs. Ethernet already supports full-duplex operation over 10 Mbits/sec, 100 Mbits/sec, Gigabit Ethernet, and 10-Gigabit Ethernet. It already supports virtual-LAN tagging, prioritization, and flow control-and it runs on fiber-optic networks over distances of 100 km.
In the end, there are so many benefits in deploying Ethernet end-to-end solutions throughout the LAN, MAN, and WAN that it will almost certainly prevail. The evolution of Ethernet to ever-higher speeds supports the scalability required in today's networks.
Using Ethernet/IP ensures consistency, interoperability, and manageability of the MAN, LAN, and WAN (see Figure). Networks provisioned with end-to-end Ethernet are less complex from a technology perspective, can be deployed more quickly, and are supported more cost-effectively. Management of the network and dynamic provisioning of added bandwidth is far simpler than with voice-based technologies so widely deployed in the MAN today.
We live and do business in "Internet time." To support the growing data traffic demands of 21st century businesses, service providers will need instant service provisioning, remote test capability, flexible bandwidth management, and unrivaled performance for first-mile metro access.
And who knows what other changes are ahead in both business models and technologies? That's why vendors need to develop open, standards-based designs that can easily adapt as new protocols and standards appear and as evolving e-world business practices emerge.


---
Neil Swendsboe is the product marketing manager for Aura Networks Inc. (Nashua, NH). He can be reached via the company's Website, www.auranetinc.com.