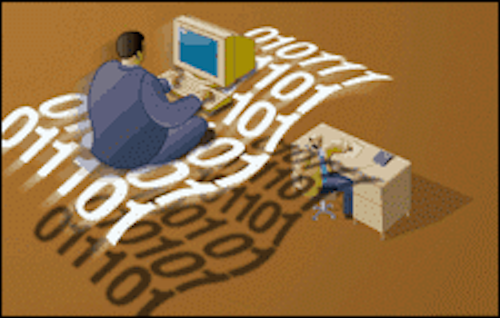 Optical Data Networks
Network architects are determined to introduce the benefits of Ethernet to a traditionally SONET all-optical-networking space.
Darrell Furlong, Aura Networks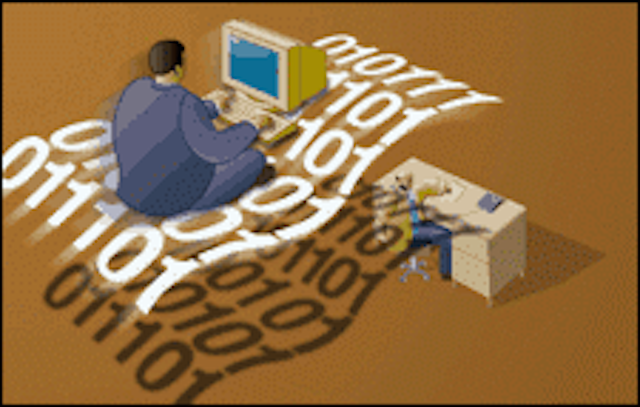 Apostles of all-optical networking (AON), already true believers in the bandwidth generosity of fiber and efficiency of Internet Protocol (IP), should be prepared to embrace the "new" transport mechanism of the coming AON era. One of the most cost-effective, hardy, and scalable networking technologies, Ethernet, is the commodity technology that will take the industry by storm.
For an optical network, Ethernet offers scalable bandwidth, lower cost, and simplicity, compared to traditional time-division multiplexing (TDM) technologies like SONET. Optical engineers now face the challenge of building Ethernet-centric devices-from transceivers to switches and fiber-optic cable to crossconnects-that can bring Ethernet out into the metropolitan area network (MAN). But it will need a number of enhancements to be carrier-ready, and at least four standards bodies are focusing on how to get Ethernet frames and Layer 2 switching out into the metro area as a transport mechanism.
The case for optical Ethernet is powerful on many fronts. Those who have looked closely at deploying Ethernet in the metro area have pegged it at about one-tenth the cost of deploying an ATM infrastructure, for instance, and about one-quarter the cost of running SONET. While SONET is excellent for transporting voice, it is inefficient for data because it offers time slots for individual streams of incoming traffic and lacks a native IP interface.
By contrast, Ethernet-based access is a cost-effective topology able to slice costs by eliminating network elements associated with the SONET world. An OC-48 (2.5-Gbit/sec) SONET port, for instance, costs about $30,000. That compares to about $1,200 for a 1-Gigabit Ethernet port, which would have a dramatic impact on the cost of new services.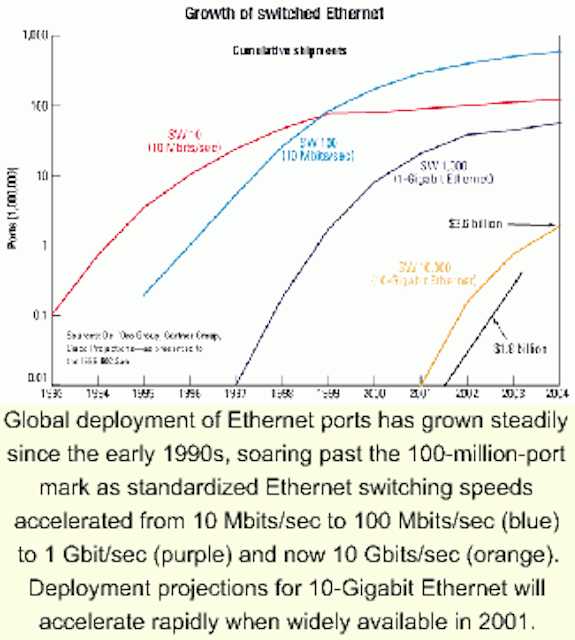 Global deployment of Ethernet ports has grown steadily since the early 1990s, soaring past the 100-million-port mark as standardized Ethernet switching speeds accelerated from 10 Mbits/sec to 100 Mbits/sec (blue) to 1 Gbit/sec (purple) and now 10 Gbits/sec (orange). Deployment projections for 10-Gigabit Ethernet will accelerate rapidly when widely available in 2001.
SONET architecture is also inherently more costly because there is more equipment consuming more power and taking up more space. With new-breed service providers frequently having to collocate, the cost of space is at a premium.
Ethernet's simplicity and familiarity means service provisioning time can be trimmed to hours or days, compared to months in the SONET realm-a huge competitive incentive. With Ethernet, it's also easier to measure service levels to meet the carriers' service-level-agreement needs.
Given the price advantage and significant reduction in complexity, teaming Ethernet transport with fiber-optic technology is expected to emerge as the competitively winning combination for the inevitable era of all-optical networking. First, however, there must be standards activities in this space to pave the way, enabling many vendors to quickly roll out Ethernet-centric networking products.
Optical engineers should watch for agreement on an array of new Ethernet-related standards. To introduce Ethernet into the metropolitan area, for example, there must be a mechanism to manage it at the physical layer without the burden of simple network-management protocol and presumably with some form of tagging. Carriers want to provide transport pipes strung through the network, similar to TDM, using a single tag on traffic for control throughout the whole infrastructure. That allows them to provide Ethernet transparent LAN service between buildings-as with frame relay-while also offering a transparent LAN service out to an Internet connection or Internet service provider.
Among the challenges to the standards setters, the IEEE 802.3 committee is working on a 10-Gigabit Ethernet standard primarily aimed at the metro area over 10-Gbit lengths. To be compatible with SONET, this data rate will be competitive with OC-192 (10 Gbits/sec) currently used by carriers.
Meantime, an IEEE study group on ring packet technology is developing a standard to allow Ethernet to operate on a ring architecture without using expensive SONET framing. This potential standard is being promoted specifically for the metro rings by a number of well-established and startup companies.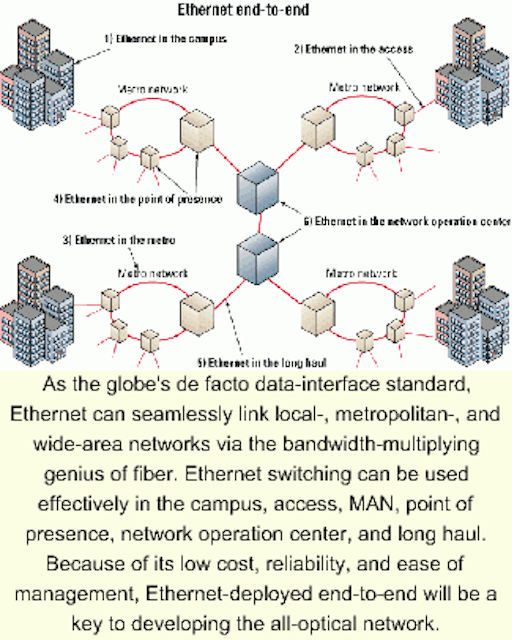 As the globe's de facto data-interface standard, Ethernet can seamlessly link local-, metropolitan-, and wide-area networks via the bandwidth-multiplying genius of fiber. Ethernet switching can be used effectively in the campus, access, MAN, point of presence, network operation center, and long haul. Because of its low cost, reliability, and ease of management, Ethernet-deployed end-to-end will be a key to developing the all-optical network.
Another committee, the T1.5 standards body, is addressing several proposals from Nortel Networks (Brampton, Ontario), Lucent Technologies (Murray Hill, NJ), and others looking to deploy Ethernet over existing SONET rings for data rates ranging down to OC-3 (155 Mbits/sec) through OC-192. Yet another body, the Optical Internetworking Forum (OIF), is probing similar proposals. The OIF is also forming a standards group to determine how to administer and manage a Layer 2 meshed network in the metro space, based on Ethernet switching technology.
Lastly, the Internet Engineering Task Force is defining a standard for IP-over-packet transport rings, being promoted by an array of companies seeking a mechanism to run Ethernet traffic or, more importantly, IP traffic, over rings. Meantime, there has been an IEEE call for interest by companies interested in dealing specifically with Ethernet in the "last mile" and the need for potentially developing a standard in this space.
The other factor to be addressed is quality-of-service traffic classification. There are eight priority levels built within the virtual local-area-network (VLAN) tag of Ethernet today that need to be mapped over to the priority levels used with IP-differentiated services, similar to ATM. Other than defining the 3 bits within the header for prioritization, there is no standards mechanism defined for traffic classification and how to administer priority levels. A standard must be set to identify traffic as constant bit rate, available bit rate, and extended bandwidth request.
From these emerging standards, engineers can enhance Ethernet capabilities needed in the optical metropolitan- and wide-area space. Current Ethernet switches, for instance, typically do not have the ability to get at transmit/receive levels. Likewise, Ethernet must be enabled to handle basic input/output system currents on transmit lasers so they can be diagnosed preemptively before failing. Additionally, the current Ethernet does not support putting a remote device into loopback mode to run tests.
While AON is the goal, there will still be plenty of legacy copper installed in the field for the foreseeable future. DSL is being used today to get broadband out into the marketplace. But running Ethernet over these links makes a lot more sense from a cost-of-deployment perspective than does running ATM cells over DSL.
Finally, in the near future, Ethernet will be the predominant technology in the metro- and wide-area network. To get Ethernet ready for prime time in the carrier markets, there is still work to be done within the standards organizations and the companies deploying products within this space.
Ethernet should have a coming-out party in 2001 with the emergence of a 10-Gigabit Ethernet standard and products beginning to roll out to market, probably during the mid-summer time frame. It already supports full-duplex operation over 10-Mbit Ethernet, 100-Mbit Ether net, Gigabit Ethernet, and 10-Gigabit Ethernet. It already supports VLAN tagging, prioritization, and flow control, and runs over fiber to distances up to 100 km.
In an elegant move, 2001 can be networking's "year of the Ethernet." Designers of fiber-optic components and switches for the SONET-based world must understand this new wave is coming-and it's based on a familiar old "new" technology.
Darrell Furlong is senior vice president of research and development and chief technology office at Aura Networks (formerly LANCast Corp.) in Nashua, NH.