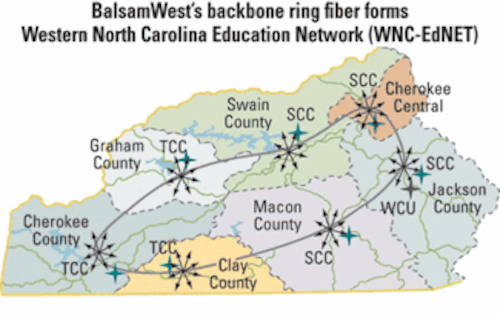 By Stephen Hardy
The rugged western end of North Carolina is a good place to get away from it all. However, this isn't always a good thing; what the nearby Great Smoky Mountains offer in beauty is offset by the obstacles they pose to the efforts of the region's relatively sparse population to keep up with the economic and social advances the residents in many urban areas take for granted. Such difficulties are particularly apparent when it comes to communications technology; granite-encrusted mountains generally don't provide a hospitable environment for trenching optical cable-or any cable, for that matter. However, K-12 schools, charter schools, and local community college and university campuses in seven area school districts will soon enjoy the benefits of optical communications thanks to the Western North Carolina Education Network (WNC-EdNET). The network owes its foundation to a collaboration of government, private sector, education, and other local groups-including an Indian tribe-that demonstrates what communities can accomplish when they band together.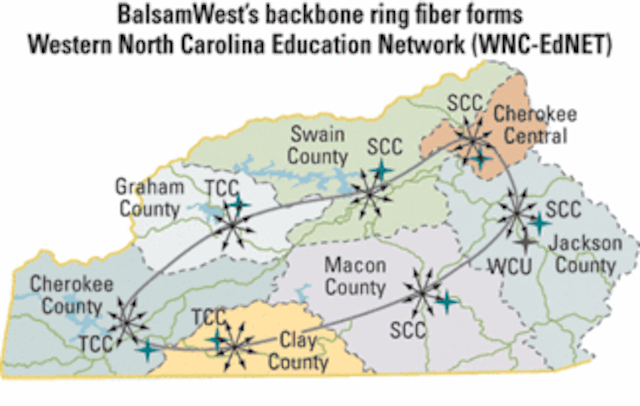 The WNC-EdNET connects seven star hubs via a 10-Gbit/sec backbone. The individual school districts will own and operate their own star networks.
BalsamWest FiberNET (www.balsamwest.com), a local company that operates primarily as a carrier's carrier, will provide much of the network's backbone and distribution fiber. "The premise has been that there's not enough demand here for the private sector to invest in," says Sherry McCuller, BalsamWest's chief financial officer, of the region's communications dilemma. "The truth is that the populations are sparse and the terrain is difficult-but the demand is high if the price is right."
Getting the right price meant a fair amount of community-centric "do it yourself" efforts-starting with BalsamWest itself. The company was originally conceived as a collaboration among several nonprofit and private sector groups, spurred to a large degree by a broadband feasibility study conducted by the local Southwestern Community College. The organization eventually evolved into a private equity company funded by a large local business-Drake Enterprises, which has made most of its money in electronic tax filing-and the Eastern Band of Cherokee Indians. The company provides dark fiber, collocation, and SONET and Ethernet communication circuits across a tristate area that includes eastern Tennessee and northern Georgia as well as western North Carolina.
Even though the company went private, its vision remained public. "We still have a philanthropic objective. The object is community redevelopment and enhancements to quality of life," McCuller says. "It's just that we are free, basically, to give away a lot of money if we want to without having to worry about holding collaborations that are really huge together."
By "giving away a lot of money," McCuller means that BalsamWest can offer its resources-in the case of WNC-EdNET, dark fiber-at cut-rate prices when the right project comes along. So when the school districts in the counties of Clay, Cherokee, Graham, Jackson, Macon, and Swain, as well as the Qualla Boundary of the Eastern Band of Cherokee Indians, banded together to form the Western Region Education Service Alliance (WRESA) with the idea of creating WNC-EdNET, BalsamWest easily submitted the lowest bid in response to WRESA's request for proposals.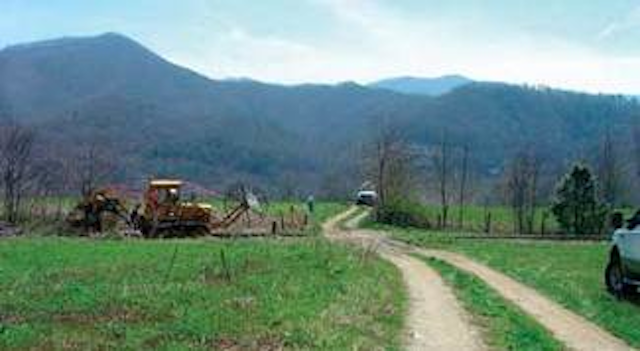 Schools in rural western North Carolina will soon have access to high-bandwidth fiber, thanks to a collaborative effort.
WRESA describes WNC-EdNET as a "ring of stars." The open-access network comprises seven star networks, one in each school district, connected to each other via a backbone ring (see figure). Each star will be owned, lit, and operated by the local school district; the backbone ring will be owned and operated by a consortium that includes representatives from each school district as well as the collegiate institutions-Southwestern Community College, Tri-County Community College, and Western Carolina University-whose campuses will provide content and collaboration via their own links to the network. According to McCuller, BalsamWest will provide such functions as duct maintenance, cut restoration, fault location, among others, that are typical with dark fiber deals.
The WRESA group signed a 20-year contract for the network, for which the schools will be responsible for buying transmission equipment. BalsamWest is using Cisco Systems (www.cisco.com) RPR-enabled SONET equipment for its 300-mi tristate backbone; McCuller says that her company convinced Cisco to enable the WRESA school districts to participate in the volume pricing BalsamWest enjoys. McCuller says the network is engineered so that the backbone starts with a capacity of 10 Gbits/sec, with 1-Gbit/sec handoffs at each hub.
Once WRESA accepted its bid, BalsamWest quickly learned that its collaborative activities weren't done. While the company had a lot of fiber in the area, it didn't reach everywhere WRESA needed it to go. Thus, the company had to find other community-spirited organizations willing to help out.
Fortunately, this effort proved successful. For example, Blue Ridge Mountain Electric Membership Cooperative, a nonprofit electricity co-op, offered a local loop on which it was providing Internet services to citizens in Cherokee County for use as part of WNC-EdNET. Southwestern Community College offered two of its backbone strands as maintenance fiber. Southern Pipeline Utility of Hayesville, NC, is providing construction services where necessary at low rates.
But perhaps the most unusual story comes from Jackson County, home of the communities of Cashiers and Highlands. The Carltons, a family from Cashiers that is active in the local real estate market, inquired whether WNC-EdNET would reach Cashiers and Highlands in a timely fashion. Unfortunately, the main access to the towns is a road "almost straight up a mountain," in McCuller's words, that would make building a lateral to the communities cost prohibitive. Undaunted, the Carltons decided to build the lateral themselves and donate some of the fiber to connect their local schools to WNC-EdNET.
The total collaborative effort will save the school systems more than $60 million over the next 20 years. "I was in the nonprofit sector for 4 years. And the hardest thing usually is to build a collaboration," offers McCuller. "So I think it's a testament to this whole region that we've been able to pull this off. And I think it demonstrates the need that we had that we were able to do this. People have worked altruistically; self interest has not gotten in the way."
When Phase II of the network build is completed this year, BalsamWest expects to have reached more than 70 K-12 public and charter school, community college, and university sites. "This is really just incredible for rural schools that might graduate eight children a year who were being forced to use 2,400-baud dial-up," McCuller concludes.
Stephen Hardy is the editorial director and associate publisher of Lightwave.