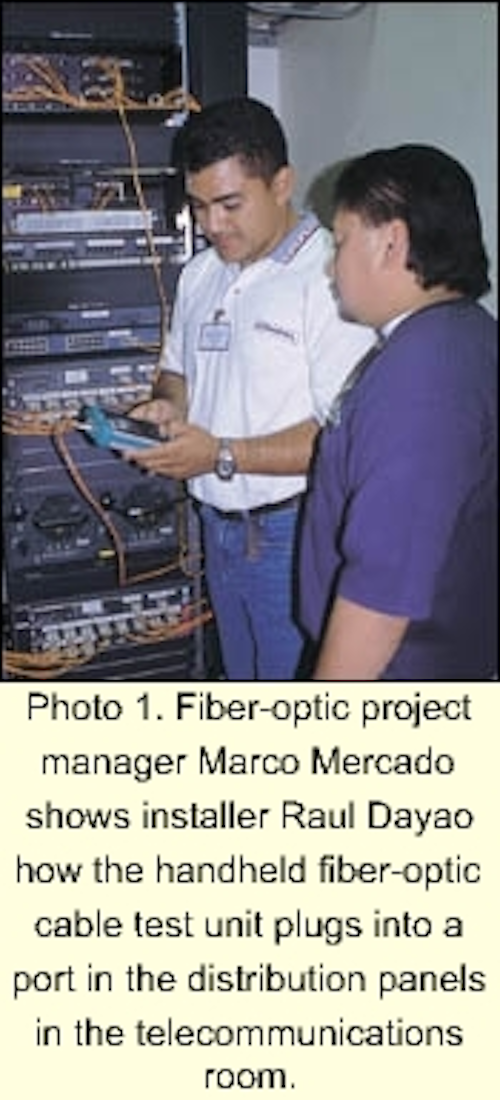 As the Internet revolutionizes the travel industry, America West Airlines opts for a fiber-optic backbone at its new administrative facility.
Carol Everett Oliver
Everett Communications
The Internet is changing the way we do business, from the buying and selling of goods and services to gathering information. Among the industries dramatically affected by the Internet is the airline industry.
Today, airlines compete for business over the Internet and keep travelers abreast of fares, flight patterns, weather conditions, and other activities. All information requires high-bandwidth, high-speed transmission, so many airlines are installing near-mach-speed communications equipment within their facilities and terminals. Earlier this year, America West Airlines (Phoenix) installed a fiber-optic cabling infrastructure at its headquarters to support outside as well as internal communications.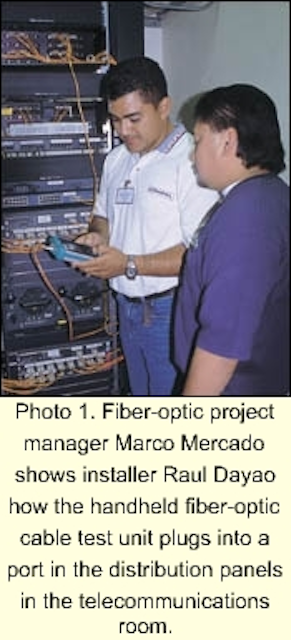 Photo 1. Fiber-optic project manager Marco Mercado shows installer Raul Dayao how the handheld fiber-optic cable test unit plugs into a port in the distribution panels in the telecommunications room.
America West, which also services Canada and Mexico, is currently the ninth largest carrier in the United States and schedules a total of 861 flights a day. One of the fastest-growing U.S.-based airlines, America West averages 220 daily departures at its main hub, the Sky Harbor Airport in Phoenix; these flights carry 13 million passengers a year. To keep pace with growth, America West recently opened a new 335,000-square-foot concourse at Sky Harbor, becoming the airport's largest tenant with three dedicated concourses.

The airline occupies an additional 900,000 square feet of office, administrative, and operational space, including aircraft hangers for maintenance. The new fiber-optic backbone was installed there to support data communications within this location between the telecommunications closets as well as with other America West facilities. The technical team at America West selected the fiber backbone based on a need for Gigabit Ethernet speeds, high bandwidth, and lengthy distances between the telecommunications closets (TCs), where the longest run is 1,800 ft. The choice of a fiber installation was also governed by existing closet-space limitations. Fiber-optic cables save at least 40% in space over copper cables.
The installation was swift due to careful planning and expedient final testing of the fiber-optic cable and links. "This project was under some very stringent timelines, and we needed to be able to quickly and accurately test the fiber and produce test results for documentation in order to accomplish them. We completed the project in two-and-a-half weeks," says Marco Mercado, fiber-optic project manager with systems integrator Compel (Phoenix).
Although Compel has installed 62.5-micron multimode and singlemode fiber at other America West locations, including onsite at the airport, the systems integrator installed Pirelli 50-micron multimode 12-fiber cable between the TCs at the administration facility. This smaller-core fiber has lower loss and higher bandwidth.
"Most of the complex was divided into four areas called 'pods.' From the main server room out to the pods, there was a total of 11 existing telecommunication closets in which we installed distribution panels," notes Scott McKeon, RCDD, account executive for Compel. T1 lines feed into a Cisco Systems hub in the main server room.
The 50-micron fiber is especially well-suited to take advantage of 850-nm vertical-cavity surface-emitting laser (VCSEL) high-speed sources. In addition, with the 50-micron core size, Gigabit Ethernet's maximum length requirements, as specified by IEEE 802.3z, can run up to 500 m at 850 nm with a modal bandwidth of 400 MHz-km, or 550 m with a modal bandwidth of 500 MHz-km. These lengths outdistance 62.5-micron fiber, which has a 220-m limit.
The 50-micron fiber was a good choice, because it can use the same connectors as 62.5-micron fiber. America West opted to use ST connectors in its distribution frames in the new network. "Since we selected an AMP-Pirelli warranted end-to-end solution, we coupled Pirelli's cable with AMP's 48-port fiber distribution panels and AMP's ST+ LightCrimp connectors in each closet for fiber termination," explains Mercado.
Installers are primarily concerned with link testing and not with the electronics, such as hubs or workstations that drive and receive the cable's power. Cabling in the wiring closet or behind the wall is the installer's domain. Certification is done on the link level. If the link passes, component or channel-level testing at the component is not necessary. But if the cable fails, further tests are made at the component level since return loss is highest at fiber-to-fiber interconnections.
"Fiber-optic cable is much more reliable than copper," says Eric Anderson, senior product manager for Microtest (Phoenix). "Where 50% to 75% of all copper-based network outages are caused by cable and connectivity hardware failure, fiber is stronger and more reliable. Crosstalk, impedance mismatches, and electromagnetic interference [EMI] susceptibility are major factors in noise and errors in copper cabling. Optical fiber's electrical immunity eliminates concerns about EMI, radio-frequency interference, ground loops, and electrical emissions, which are all factors at this [America West] installation location."
Most cable manufacturers test and certify (guarantee) the cable's performance prior to shipment using optical time-domain reflectometers (OTDRs). These testers are fine for the lab and troubleshooting environments but not practical for field use, because they are bulky, more expensive, slow, and require specially trained operators.
Although the cable is inspected before it leaves the factory floor, many factors during installation can affect cable performance. Therefore, system installers need to re-certify the cabling once it is installed. "Our job is not done until we turn in our testing reports," says Compel's Mercado. "No matter how careful we are with the cable installation, we must meet the current industry standards and provide good test results. This makes testing and certification the most crucial steps in any system installation."
Basic testing of continuity used to be shining a flashlight in one end and seeing the light at the other-testing at the speed of light. Today, technicians need to know the loss of each fiber at the appropriate wavelengths and whether the measured loss is in compliance with current industry standards such as TIA/EIA-568A and ISO/IEC-11801.
"At this America West job site, we were testing the fiber-optic cable to both 850-nm and 1,300-nm standards," says Mercado. "For 850 nm, we guarantee a loss of less than 2 dB/km, and for 1,300 nm, a loss of 1.5 dB/km, which meets or exceeds the ANSI/TIA/EIA-568B industry standards."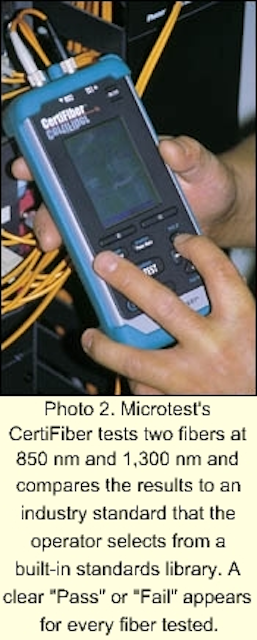 Photo 2. Microtest's CertiFiber tests two fibers at 850 nm and 1,300 nm and compares the results to an industry standard that the operator selects from a built-in standards library. A clear "Pass" or "Fail" appears for every fiber tested.
Compel tested 200 fiber links within the 11 TCs on the America West network. The Compel technicians used a handheld, stand-alone tool from Microtest called CertiFiber, which is designed to certify multimode networks (see Photo 1). The device was used to test the fibers at 850 nm and 1,300 nm, and the results were compared against an industry standard that the operator selected from the tester's built-in standards library. The tester provides a "Pass" or "Fail" indication for each fiber tested (see Photo 2). It also performs these tests in one operation without requiring the operator to change any connections. According to Mercado, the test setup took less than five minutes and the actual testing per fiber, less than 30 sec. Overall, the systems installers estimated that the testing took three days less than it would have with traditional OTDR test methods.

Once all the cables were tested, Compel recorded the tests and presented the certification reports on hard copy and CD. "Network professionals require that test results are presented in easy-to-read, easy-to-interpret formats," explains Microtest's Anderson. "Results from the CertiFiber are downloaded to a PC through Microtest's Scanlink Tools software. Test documentation includes the actual measured loss and length, the standards-based loss and length limits, and the margin between the two."
With the Scanlink Tools software, test results can be reviewed and sorted. Certain fields can be selected and edited to provide America West with project-specific details. Summary certification reports are automatically generated for immediate printing, or the results can be exported in spreadsheet and database-compatible formats.
Once the America West fiber installation was completed and tested, America West's information-technology department did not have to touch the fiber-optic cable. The horizontal unshielded twisted-pair copper cable that runs between the TCs and workstations is monitored, however, when there are moves, adds, or changes on the network.
America West continues to build-out its facilities. The airline has broken ground for a 150,000-square-foot flight training center and systems operation control facility on a nearby 13-acre site at Sky Harbor. This facility will accommodate introductory and recurrent training for America West's 1,700 pilots and 2,300 flight attendants. The new center will consolidate the airline's flight simulators and training under one roof and incorporate the same fiber-optic cabling infrastructure for its computerized training and flight management tools.
The investment in a fiber-optic-based networking system will allow America West to continue to advance its internal and external communications capabilities-critical in an industry where Internet information on flights and services is a direct link to customers.
Carol Everett Oliver is the principal at Everett Communications (Holliston, MA).