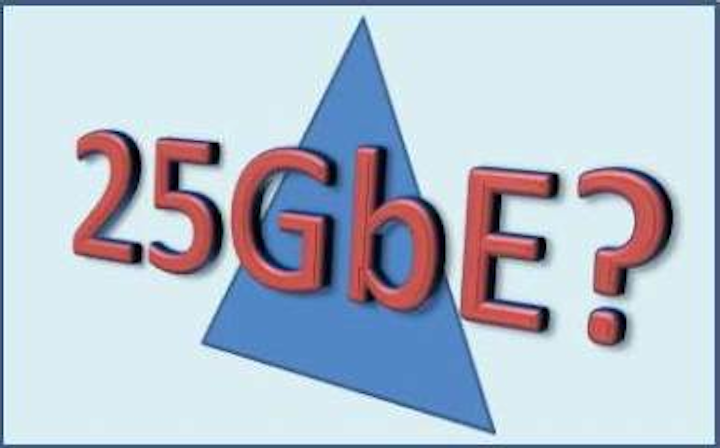 Frustrated in their attempts to get the IEEE to take up their cause, a group of five companies have formed a consortium aimed at creating specifications for both 25 Gigabit Ethernet and 50 Gigabit Ethernet. The new 25 Gigabit Ethernet Consortium includes Arista Networks (NYSE: ANET), Broadcom Corp. (NASDAQ: BRCM), Google Inc. (NASDAQ: GOOG, GOOGL), Mellanox Technologies, Ltd. (NASDAQ: MLNX), and Microsoft Corp. (NASDAQ: MSFT).

The consortium has announced royalty-free availability of initial specifications for both a single-lane 25-Gbps Ethernet and dual-lane 50-Gbps Ethernet link protocol. The specifications aim to support Ethernet-based transmission between server network interface controllers (NICs) and top-of-rack (ToR) switches. They cover Ethernet physical layer (PHY) and media access control layer (MAC) behavior, including virtual lane alignment, autonegotiation, and forward error correction characteristics.

The consortium members, as well as others in the data center world, had sought the ability to leverage the 25-Gbps-per-lane attributes now available for 100 Gigabit Ethernet, as well as the 50-Gbps per lane expected to be part of the 400 Gigabit Ethernet specifications, to create connections at higher data rates than 10 Gbps that could be aggregated neatly into 100 and 400 Gigabit Ethernet pipes. The topic of creating official IEEE specifications along these lines was brought up during the IEEE plenary meeting this past March, but was not forwarded for a vote due a perceived lack of support (see "Efforts toward 25 Gigabit Ethernet specs stall at IEEE plenary").

So, as expected, 25G Ethernet proponents have taken matters into their own hands.

"The companies joining the 25 Gigabit Ethernet Consortium are taking a major step forward in increasing the performance of data center networks," said Anshul Sadana, senior vice president, customer engineering at Arista Networks. "With ever-increasing server performance and with the uplinks from the leaf to the spine layer migrating to 100 Gbps in the near future, it makes sense to increase the access speed from 10 Gbps to 25 and 50 Gbps."

"The new Ethernet speeds proposed by the consortium give superior flexibility in matching future workloads with network equipment and cabling, with the option to 'scale-as-you-go,'" added Yousef Khalidi, a distinguished engineer at Microsoft. "In essence, the specification published by the 25 Gigabit Ethernet Consortium maximizes the radix and bandwidth flexibility of the data center network while leveraging many of the same fundamental technologies and behaviors already defined by the IEEE 802.3 standard."

Consortium members predict that technology based on the new specifications could reach the market in the next 12 to 18 months.

Information on the specification is available at the consortium's website.

For more information on high-speed transmission systems and suppliers, visit the Lightwave Buyer's Guide.

Want to learn more about Ethernet innovation? Attend the Lightwave Optical Innovation Summit
The Lightwave Optical Innovation Summit will feature panels and presentations that will illuminate where optical innovation is required in carrier and enterprise/data center networks, what it should look like, and when it might appear. A wide range of experts from the user, technology development, academic, and analyst communities will offer their views on innovation in a variety of areas, including optical Ethernet. Find out more about the Summit, which will be held in Austin, TX, July 14-16, at the Lightwave Optical Innovation Summit website.