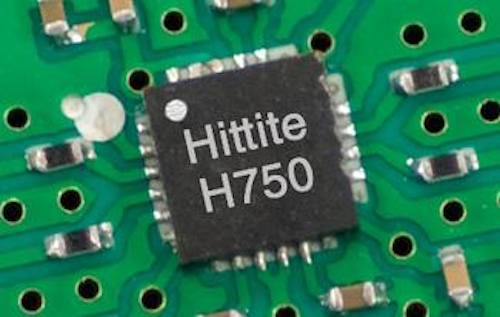 MARCH 13, 2009 -- Hittite Microwave Corp. (search Lightwave for Hittite), a supplier of MMIC-based solutions for communications and military markets, has introduced its new limiting amplifier product line with the HMC750LP4E limiting amplifier.
The device is designed to support data transmission rates up to 12.5 Gbps and can operate over a range of input voltage levels while providing a constant-level differential output-voltage swing. Suitable for OC-192 receivers, 10-Gbps Ethernet, and Fibre Channel receivers, the amplifier also performs in broadband test and measurement applications.
The amplifier features 44 dB of differential gain and a 3-dB bandwidth of 11 GHz, making it ideal for use as a general purpose broadband amplifier. An output level control pin permits adjustments to compensate for cable losses or to optimize signal levels. Input signals greater than 3 mV pp may be amplified to the fully saturated 880 mV pp differential signal level. Appropriate for use as a post amplifier in OC-192 and STM-64 optical receivers, the HMC750LP4E features RMS jitter degradation of 0.2 ps and rise and fall times of 23 and 21 ps, respectively. The amplifier also features 2 mV pp of input sensitivity, which enables the device to be used at the output of a transimpedance amplifier (TIA), such as the company's recently released HMC690.
An integrated DC offset cancellation loop automatically adjusts the output offset of the device to 0 V, an advantage compared with other limiting amplifiers that must accommodate offset cancellation with two additional external DC control points.
All single-ended input signals to the HMC750LP4E are terminated with 50 Ω to +5 V on-chip and may be either AC or DC coupled. The outputs of the amplifier support single-ended or differential operation and may be connected directly to a 50-Ω terminated system referenced to + 5V; DC blocking capacitors may be used if the terminating system is 50 Ω to a non-+5-V supply. The amplifier is specified for operation from -40 to +85 degrees Celsius, operates from a single +5-V supply, and is housed in a plastic RoHS-compliant 4x4-mm SMT package.
Samples and evaluation PC boards for all SMT packaged products are available from stock and can be ordered via the company's e-commerce site or direct purchase order.

Visit Hittite