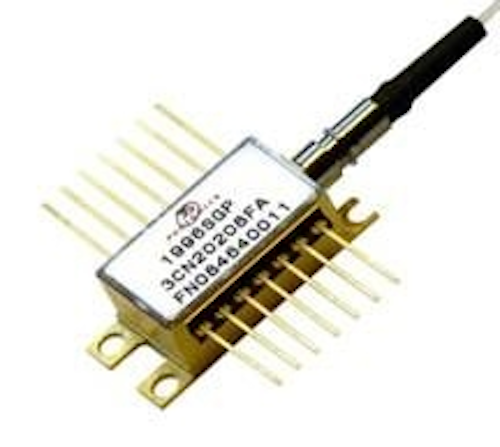 SEPTEMBER 18, 2009 -- 3S PHOTONICS, a French manufacturer of optical and optoelectronic components for telecom networks, will unveil its next-generation 1996 SGP Series 980-nm submarine-grade pump modules at ECOC 2009 in Vienna (Sept. 21-23) at booth #117.

Capable of providing 600-mW of ex-fiber optical power, the manufacturer says its 1996 SGP Series is the industry's most powerful 980-nm pump laser module available for submarine optical networking applications. It has been developed to enable cost-effective designs for the deployment of next-generation 10G and 40G optical amplifiers into the submerged repeaters that are distributed along submarine intercontinental cables.

The new pump module complements the current high-power pump generation -- 1994 SGP -- under field deployment for more than three years and addresses customer needs for increased power.


"NEC is extremely pleased to deploy 3S PHOTONICS submarine pumps that contribute to the successful deployment of state-of-the-art submarine cable systems," says Osamu Harada, general manager of NEC's Submarine Networks Division. "New submarine systems will require much higher power levels and NEC has actively been collaborating with 3S PHOTONICS for the successful development and manufacturing of next-generation submarine cable systems."

The company says state-of-the-art performance has been realized with optimized chip structures allowing reduced internal losses down to values as low as 0.55-0.60 cm-1 while maintaining high external efficiencies. New designs also allow low junction temperatures and injection current densities, which 3S PHOTONICS says translate to increased operating power in excess of 600 mW at the module level while meeting stringent reliability requirements.

The pump module construction is based on the double-lens coupling platform; active components have been field deployed for more than a decade in quantities greater than 20,000 worldwide with no failures. Long-term aging tests have demonstrated high stability of the construction, and typical expected end-of-life (EOL) power drifts are less than 2% over a 25-year lifetime.

"This platform is today the most deployed in the world, so we can proudly and solidly refer to our submarine experience without the need to consolidate reliability information captured from a terrestrial platform as our competitors do," claims Yannick Bailly, vice president, marketing and product management at 3S PHOTONICS. "Terrestrial information does not take into account the extended warranty periods requested by submarine customers and the imperative obligation of traceability for the product lifetime," he adds.

3S PHOTONICS relies on well-mastered assembly technologies and processes, extensive quality checks from kitting up to the final control before shipping, as well as dedicated chip and module pedigree reviews.

"These are the key elements to guarantee to our customers the quality and reliability levels required by the submarine community," said Michel Privat, chief operating officer and vice president, sales, for 3S PHOTONICS. "This new product enlarges our product portfolio for submarine applications and strengthens our position of strategic supplier with regard to submarine system makers."


Visit 3S PHOTONICS