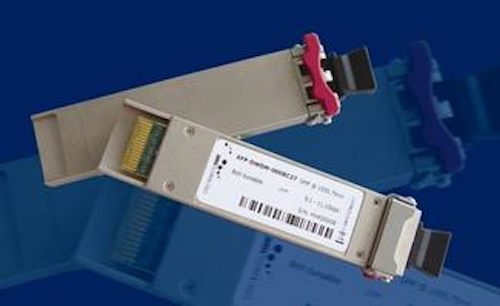 JULY 31, 2009 -- AMS Technologies (search Lightwave for AMS Technologies) has expanded its transceiver product range to include tunable DWDM XFPs. Designed to support data rates from 9.95 to 11.3 Gbps and distances up to 80 km, the tunable DWDM XFP supports eight consecutive channels in the 100-GHz ITU grid for DWDM transmission.
An externally modulated laser (EML; 1,550-nm, ITU channel specific laser), a laser driver, and the supporting circuits constitute the transmit section; an avalanche photodiode (APD) or PIN receive optical subassembly (ROSA) and the supporting circuits form the receive section. A microcontroller handles communications between the module and host board as well as the control and monitoring functions for both transmit and receive sections. A clock and data recovery circuit (CDR) functions for both transmitter and receiver.
The transceiver module is fully compliant to the XFP multiservice agreement (MSA) and can be hot-plugged into the 30-pin XFP connector on the host board. The high-speed electrical interface is fully compliant with the XFI standard, providing transmission paths for the 10G signals.
The new transceivers will be exhibited at the AMS Technologies booth at ECOC 2009, Vienna, Austria, Sept. 21-23 2009, stand #307 in Hall X.

Visit AMS Technologies