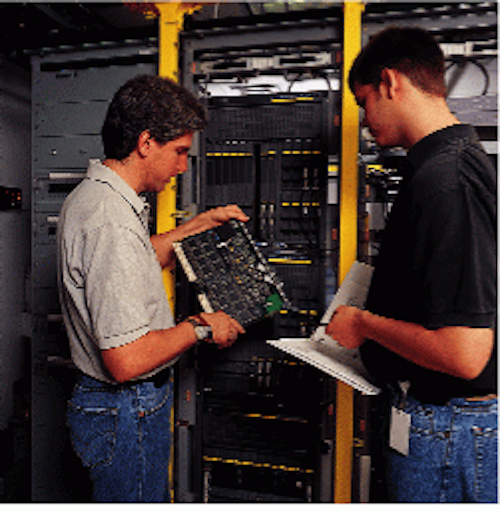 Interoperability laboratory leads double life
The carrier`s equipment-evaluation facility also functions as an in-house training lab for employees, new hires, and potential recruits.
By MICHAEL GUESS
The IXC Communications Inc. (Austin, TX) working laboratory is a state-of-the-art facility for interoperability testing. IXC uses it to evaluate new technologies and speed their integration into the company`s coast-to-coast fiber-optic network without risking the network`s integrity (see Lightwave, December 1998, page 26). But the lab has another life as well--the company`s real-world training center, where IXC engineers, field personnel, and new hires gain an edge in meeting customer needs and heading off potential problems.
The lab is a scale reproduction of IXC`s fiber-optic network. While most carriers operate separate data, voice, and transport labs, sometimes even in different cities or states, that`s not the case at IXC. The company`s lab combines data, voice, and transport capabilities.
The fact that the network is new and unburdened by bulky legacy systems has made it possible for the company to build one lab containing all the significant components of the IXC operational network. The lab sports 1200 km of fiber and leading-edge equipment, including a voice switch, gigabit and edge routers, dense wavelength-division multiplexing fiber-transport gear, Asynchronous Transfer Mode frame relay switches, and the company`s digital access and crossconnect system (DACS) platforms.
The lab is for testers and trainees alike. As an interoperability lab, the facility provides an environment in which IXC can verify that new equipment and technology will operate properly with what is already functioning in the network--without jeopardizing services. Products tested may be integrated into the network or interfaced to it and can run the gamut from new optical technologies and equipment, such as terabit routers, to existing equipment in a customer facility.
In addition to being used as a staging and testing facility, the interoperability lab can be used as a technical training venue as well. IXC is growing rapidly, regularly adding engineering and operations personnel. The lab lets the company provide these new employees with hands-on training typically not available in a field environment where the risk of interrupting service would be too great in a fiber network handling tens of millions of telephone calls and data sessions.
In the lab, the trainees get first-hand experience in detecting and correcting fault conditions. They can see the modes in which components work and the modes in which they don`t--and they can do it all without jeopardizing service while they learn. The trainees go to their field locations with an understanding of potential issues that only actual hands-on experience provides.
The lab is also an ideal place for new hires, whether experienced or not, to learn the company`s equipment and operational procedures. Everything is located in one place, so there is no need to ship people off to field sites to show them how components interface and perform in the real world. Having this kind of access accelerates the training process and reduces expenses. Because the lab is located in Austin, trainees get the added benefit of face-to-face discussions with people who understand the system thoroughly and can provide expert tutelage in the intricacies of the IXC network.
In addition, the interoperability lab has had an unexpected impact on recruiting. Recruits, both newly graduated and experienced, are enthusiastic about the training being offered and about the environment in which it is delivered. Sophisticated labs simply don`t exist everywhere. The prospect of training on actual, working, state-of-the-art technology in this lab has proven to be a big selling point in IXC recruiting efforts.
As uses for the lab have expanded, so has the amount of equipment it will house. This project is growing so quickly that expansion plans are underway to accommodate new technologies, provide new opportunities to train technical employees, and meet customer needs more effectively. u
Michael Guess is vice president of engineering for IXC Communications Inc. (Austin, TX).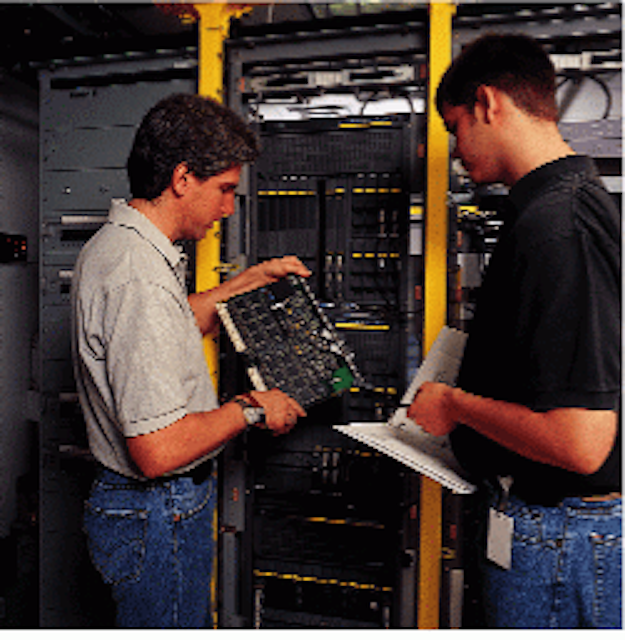 IXC`s interoperability lab provides in-house training opportunities on a wide range of telecommunications equipment and technologies without jeopardizing network service.