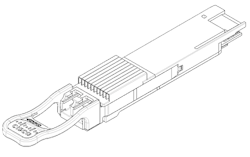 Cisco
NeoPhotonics Corp. (NYSE: NPTN) says it has begun shipping its new line of 53-Gbaud linear driver ICs in limited volumes. The GaAs devices are intended to complement silicon photonics based Mach-Zehnder modulator chips in single-lambda 100G optical transceiver designs. The application range includes 4x100G approaches to 400 Gigabit Ethernet, as the chips are available in single and quad formats.
The company notes that the 53-Gbaud silicon photonics modulator chips at the heart of PAM4-based DR1 and DR4 optical transceiver designs generally require a larger voltage swing than is typically produced by the CMOS electronics used in the PAM4 DSP chip. So the linear driver IC amplifies the electrical signal to enable the desired operation. NeoPhotonics says the quad driver chip meets the size and low power requirements of such pluggable modules as the OSFP and QSFP-DD. The company adds that its high-power, non-hermetic lasers DFB lasers for such applications, which comply with Telcordia GR-468-CORE Issue 2, have already reach volume shipments.
The company will display these devices and others at the Fiber Optic Expo (FOE) at Aomi Hall in Tokyo, Japan, on Stand 12-43 in Hall B, July 17 to 19.
"We are pleased to announce the initial shipments and availability of our 53-Gbaud GaAs driver ICs just before the Fiber Optic Expo in Tokyo, as these products have been designed and manufactured at our NeoPhotonics Semiconductor GK division in Hachioji City of Tokyo," said Tim Jenks, chairman and CEO of NeoPhotonics. "Our 53-Gbaud driver ICs and our high-power, non-hermetic DFB lasers, high-speed photodetectors, transimpedance amplifiers, and EML lasers provide designers with several of the key optical components required for the highest speed data center transceivers."
For related articles, visit the Optical Technologies Topic Center.
For more information on communications ICs and suppliers, visit the Lightwave Buyer's Guide.