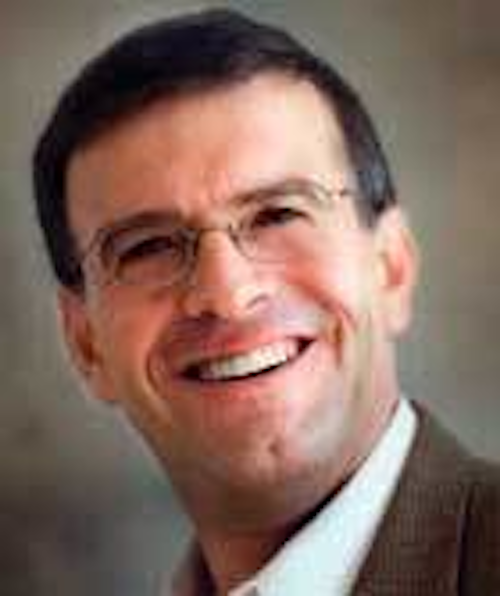 by Stephen Hardy
Sometimes, it just makes sense to start over. Whether you're playing a video game or operating a business, occasionally the progress you've made hasn't matched your expectations or you've found yourself far down a path you wish you hadn't taken. Maybe there isn't a "restart" function you can access in the business world, but iTerra Communications LLC (www.iterrac.com) will do its best to emulate one when it uses this month's European Conference on Optical Communications (ECOC) in Berlin to unveil a new name and product strategy.
Palo Alto-based iTerra opened for business in 2000 to provide microwave and high-speed digital components to the communications, test and measurement, and defense electronics markets. The company rode out the telecommunications downturn thanks to success in the test and measurement niche as well as with modulator drivers and related components for 10-Gbit/sec ultralong-haul applications, particularly undersea.
However, the company's major investor, DBSI/Stellar Technologies, concluded that its current activities didn't offer adequate growth opportunities. Therefore, DBSI president Doug Swenson, along with iTerra board chairman Lyle Jordan and board member Paul Judge, launched a search for a new chief executive officer, which eventually led to the hire of Avi Katz, PhD, as president and CEO this past April. Katz, whose experience included "tough restructuring and turnaround situations," according to the press release that announced his hiring, was asked to reexamine corporate strategy and, if necessary, shake things up.
As he described in an interview with Lightwave in late July, shaking things up is exactly what Katz has done. After dealing with the company's debt through what he would only describe as "creative financial engineering," Katz brought in Marc Correa as director of operations to oversee the company's transition to a fabless production model. He then enlisted executive team members such as new chief technology officer Andrea Betti-Berutto and director of global sales Ken Robertson to aid in a review of the company's entire product line, current new product development efforts, and future prospects. The review evolved into the development of a five-year strategic plan. New vice president of marketing Julie Tipton joined the executive team during the final stages of the process.
The company also added two new strategic board members, Kimberly D.C. Trapp, industry liaison officer at Lehigh University's Center of Optical Technologies and formerly of Agere Systems and Bell Labs, and Steve Johnson, founder of disk media technology developer Komag and managing partner of The Slingshot Group, where he provides expertise to emerging companies and acts as an angel investor.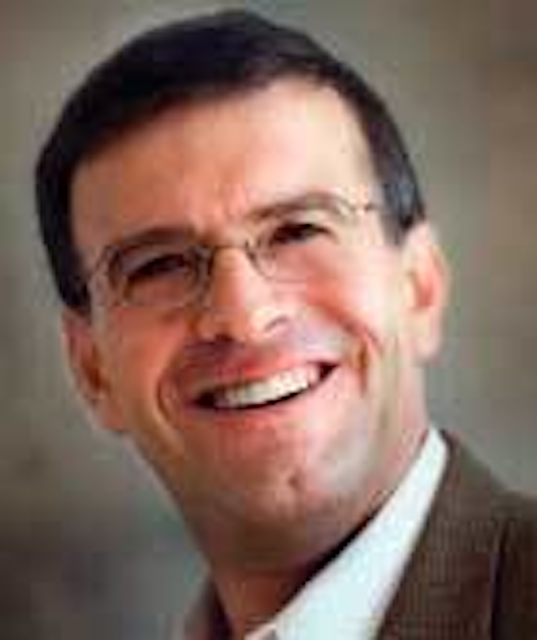 Since being hired as president and CEO this past April, Avi Katz has restructured iTerra Communications' management team and strategy. He's about to launch new products and a new company name.
Meanwhile, Katz also got DBSI/Stellar to buy into the new focus-literally, by granting approval for $25 million in capitalization for restructuring, the first tranche of which it kicked in itself.
With these pieces in place and August 1 approval from the new board, Katz has begun to implement the company's new strategy, which focuses on expanding its optical communications footprint. To center the company's resources on this goal, Katz has decided to leave the test and measurement and defense markets; he's currently evaluating end-of-life options for these legacy products, with license agreements with one or more vendors a likely outcome.
The iTerra Communications name also has reached end-of-life along with these legacy products, Katz says. The company plans to officially announce its new name, GigOptix, to the media October 1. GigOptix will take iTerra's existing expertise in 10-Gbit/sec ultralong-haul technology and apply it to shorter reaches-including regional, metro, and applications of less than 2 km-as well as 40- and 100-Gbit/sec transmission rates. The company plans to leverage both III-V and silicon germanium materials and processes, he says.
The 10-Gbit/sec work will build on the success of existing drivers, in particular the iT6155 NRZ optical modulator driver for both metro and long-haul applications. GigOptix will announce at ECOC that the iT6155 has recently garnered several transponder design wins, including one at a company described as "a leading 10G/40G subsystem company with a unique MLSE EDC solution." (Companies that fit that description include Finisar, thanks to its acquisition of Kodeos Communications, and CoreOptics.) GigOptix touts the device's high performance and low cost (less than comparable offerings from Triquint Semiconductor, Katz states) and less than 1.1-W power consumption. Its output amplitude range of 3 to 6 Vpp enables the device to drive both electroabsorptive (EA) and Mach-Zehnder 10-Gbit/sec modulators.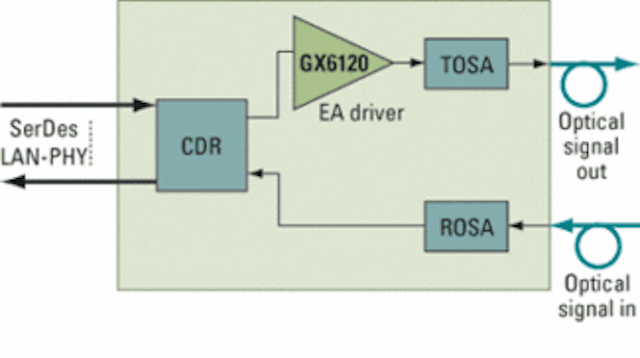 The new GX6120 10-Gbit/sec modulator driver is designed for a variety of transceiver packages, including XENPAK, XFP, XPAK, and X2.
ECOC also will see the first 10-Gbit/sec product rolled out under the GigOptix name. The GX6120 EA modulator driver amplifier will come in two versions. The 3×3-mm QFN-packaged M device will drive electroabsorption modulators, while the D version will come as a die for use with highly integrated EML TOSAs. Targeted at XFP, XENPAK, XPAK, and X2 transceivers, the RoHS-compliant three-stage modulator driver chip operates on 0.5 W of power and offers a dynamic range of 1 to 3 Vpp. The device is sampling now, along with an evaluation board. Katz expects to begin production during the first quarter of next year.
Down the road, Katz foresees drivers for 10-Gbit/sec laser diodes and VCSELs as well as a transimpedance amplifier (TIA) product. The company also has its eye on electronics for SFP+ transceivers.
Meanwhile, GigOptix also will resurrect its work in 40-Gbit/sec electronics, an avenue iTerra had explored early in its history. Katz points to a pair of patents from that era-one for a high-gain wideband driver amplifier and another for an InP 75-GHz current mode logic static frequency divider demonstrated in 2004-as examples of the foundation on which GigOptix hopes to build. He also mentioned product designs such as GaAs pHEMT drivers and receiver devices based on InP SHBT technology.
Current products include the iT3042 limiter and the iT5025 modulator driver. Products on the roadmap include EA and EO drivers, as well as drivers that can accommodate both NRZ and duobinary modulation formats. The company has legacy clock drivers and encoder/drivers for differential phase-shift keying as well; according to Betti-Berutto, the company is keeping its options open as far as further support of this modulation format. Katz added that the company is co-developing a 45-Gbit/sec TIA with "strategic partners" and has engineering samples of the EA driver available.
Moving forward, Katz expects to leverage the company's expertise and fabless business model to strengthen existing partnerships as well as create new ones. The management team expects to pursue Series A funding to raise the rest of the $25 million from strategic investors, with a close targeted for the middle of the year. Tipton says that some of the new funds will be spent on expansion into optically connected storage applications. New product development will certainly be directed at this expansion, but both Katz and Tipton say the company doesn't rule out acquisitions or partnerships to achieve its goal. Katz, in fact, says he hopes to make at least one acquisition before the end of the year.
Since being hired as president and CEO this past April, Avi Katz has restructured iTerra Communications' management team and strategy. He's about to launch new products and a new company name.
Stephen Hardy is the editorial director and associate publisher of Lightwave.