Optical modulators to net $1.3 billion by 2007
Apr 1st, 2003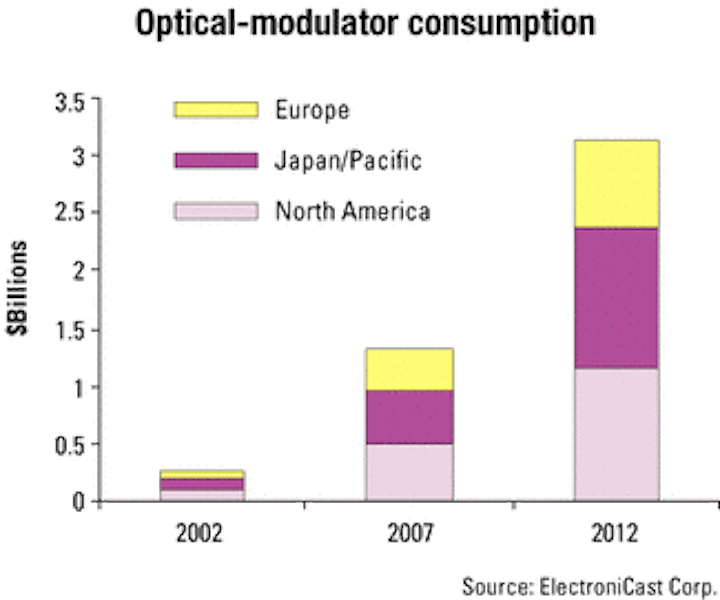 Global consumption of optical modulators is expected to increase 38% per year over the next five years, jumping from its $266-million mark in 2002 to more than $1.3 billion by 2007, reports a new study from ElectroniCast (San Mateo, CA). Underlying this expansion, rapidly rising quantity growth will be offset by falling average prices. Meanwhile, over the 2007-12 time frame, the consumption value growth should continue at an average annual rate of nearly 19% to reach beyond $3 billion.
North America led global consumption of optical modulators in 2002 with a 40% market share. Eventually, however, the lion's share of long-haul and high-data-rate links will migrate to Asia from North America. At the end of the 2012 forecast period, optical modulators used in the Japan/Pacific region will account for 40% of the global market.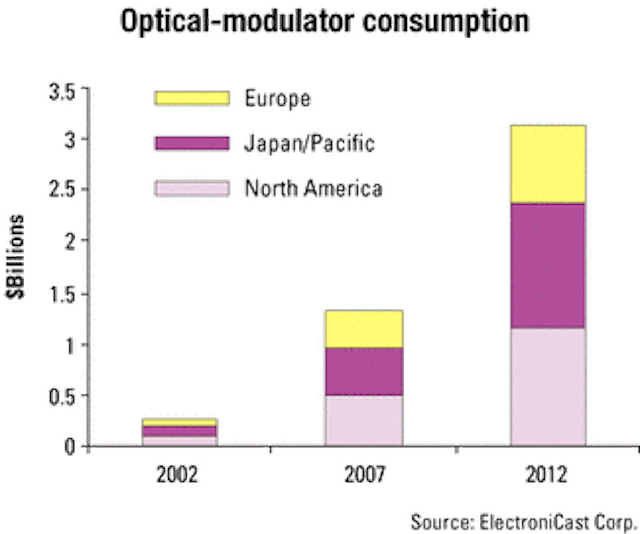 "Modulators serving the 10-Gbit/sec space will not be the only products needed," contends ElectroniCast president Stephen Montgomery. "The 2.5-Gbit/sec space is very attractive, with 40 Gbits/ sec to make an appearance this year. The main application dynamics, drivers, are optical modulators used with high-speed transmitters that are required to transmit longer distances. The actual assembly of transmitters and boards will trend to the Asian region over the forecast period."
Manufacturers have started developing integrated laser diodes with modulators and optical waveguides fabricated on a single die. Both electro-optic and electro-absorption modulators are undergoing R&D processes. The main driver for integration is, of course, economics, though there are other application drivers, including smaller packaging, less loss, and more control (particularly temperature) of the package.
For more information about ElectroniCast's report, "Optical Modulator Global Market and Technology Forecast Consulting Service," call 650-343-1398 or visit the firm's Website, www.electronicast.com.