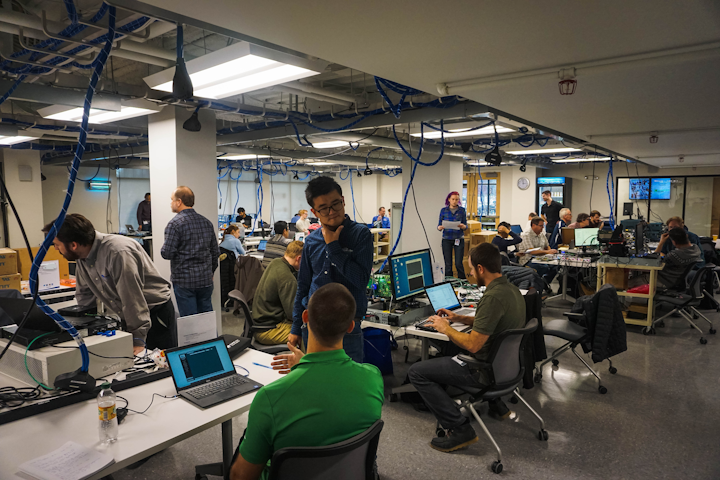 Ethernet works. It just works.
Ultimately, that is the hallmark of Ethernet's success: It works. Across the wide variety of Ethernet products from hundreds of suppliers—across literally billions of ports shipped—Ethernet is renowned for delivering a dependable and predictable user experience.
You do not have to be an engineer or PhD in this space. With only a very modest amount of training and know-how, a customer can buy a standards-based Ethernet product and know it will interoperate with other standards-based offerings.
It's a simple statement—plug it in, and it works—but that doesn't mean, of course, that it's simple to accomplish. Ensuring multi-vendor interoperability in a space as rapidly growing as Ethernet in terms of speeds, features, and application spaces takes substantial effort and investment. Even with the well-written Ethernet specifications developed by the IEEE 802.3™ standards committee, interoperability in the real world of implementing next-generation technology systems is hardly automatic. This is one of the key places where the Ethernet Alliance gets involved.
A global consortium dedicated to the continued success and advancement of Ethernet technologies, the Ethernet Alliance sponsors distinct types of events to promote multi-vendor interoperability. Demonstrations and technical-feasibility events play their important roles. Ethernet Alliance demonstrations—typically held at trade shows such as OFC, ECOC, or SuperComputing—give companies a valuable public opportunity to show their innovative switches, network interface cards (NICs), field programmable gate arrays (FPGA), test and measurement solutions, copper and optical interconnects, etc., are actually capable of running live traffic. The private technical-feasibility events, meanwhile, enable multi-vendor testing early in periods of technology transitions—when standards and product development are in their infancies, for example—and the output from these events can be cycled back into standards-development processes.
But it is the Ethernet Alliance's interoperability test event—the "plugfest"—where the technology's global reputation for seamless, multi-vendor interoperability is definitively earned. Plugfests provide unparalleled opportunities for testing and debugging a diverse array of Ethernet equipment in a secure, non-competitive environment.
What Happens and Why That Matters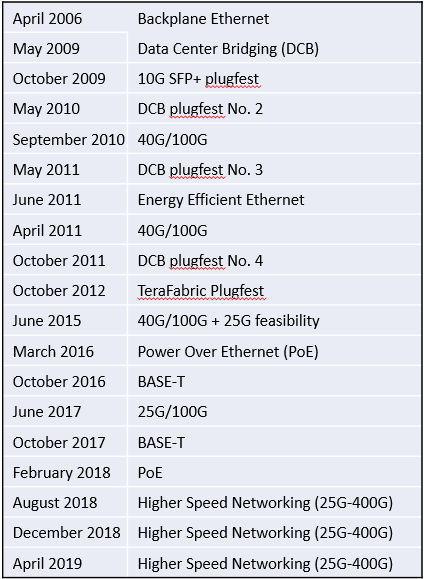 Among the "plugfest" interoperability test events sponsored by the Ethernet Alliance, 2006-19The plugfest is a development environment.  
Developers from multiple companies—often, competitors—come together in a neutral, confidential space to test new technologies, methodologies, and often pre-release products against both existing and forthcoming IEEE Ethernet standards. The plugfests typically take place at the University of New Hampshire Interoperability Lab (UNH-IOL), a neutral, third-party laboratory with more than 30 years in Ethernet testing.
Implementation surprises frequently present themselves at the plugfests, and the companies participating get the valuable opportunity to fix issues before their products hit the market. (This is why the confidentiality is so important to everyone involved, and, indeed, companies sign a multi-party non-disclosure agreement to participate.) Plugfests enable the opportunity for real-time course corrections—and, in turn, greater protection of a company's research-and-development investments. Sometimes, committing to a week of interoperability testing at a plugfest can help a vendor avert months of product debugging in isolation.
At the plugfest, functional interoperability is tested across multiple dimensions: every combination of compatible equipment, crossed with applicable media types (copper and optical), over all of the various port speeds and modes the products have in common. It's not an overstatement to say a single Ethernet Alliance plugfest can result in tests across hundreds of combinations of connections.
The first question to be addressed is, can we get a connection established between the two pieces of equipment? Does the link light come on, and can traffic be passed? Then, do two disparate pieces of equipment, where appropriate, activate a feature called "auto negotiation" to achieve the best or fastest-possible operating speed between them? Participants run traffic and check results to verify bit error rate/frame error rate (BER/FER) requirements of the specification being tested against.
Physical-layer conformance is a second area of testing at the plugfest. Here is where we bust out the scopes, vector network analyzers (VNAs), and other esoteric equipment, to go very deep into Ethernet technology and to evaluate the electrical/optical parameters of host ports and interconnect to applicable specifications. What are the actual voltage levels? What is the timing? What is the jitter? These are the types of questions confronted in the physical-layer conformance tests. They also enable the plugfest participants to work through highly technical concerns such as new specification methods; the new transmitter dispersion eye closure (TDECQ) test parameter in optical networking was a focus of a recent Ethernet Alliance plugfest, for example. No user should have to understand or monitor these highly arcane details of the technology to enjoy the benefits of Ethernet, but such details actually are critical to delivering the high-quality experience that users worldwide expect of Ethernet.
Two types of reports are produced from the plugfest. There is an anonymous version that goes out to all participants, and it shows the types of failures that were observed—but not with correlation to the specific pieces of vendor equipment involved with those failures. Each participant in a plugfest also receives a report with its own equipment's specific test results.
The scope of each Ethernet Alliance plugfest is focused on a technology family—for example, higher-speed networking, Power over Ethernet (PoE), or BASE-T. The same technology family is typically revisited multiple times over the course of the Ethernet Alliance plugfest schedule, which is important because not all members of the industry are at the same point simultaneously in development of their products.
For example, the Ethernet Alliance's latest Higher Speed Networking (HSN) Plugfest—conducted the week of April 29, 2019, at UNH-IOL—was the third HSN event in less than a year. That April plugfest included equipment spanning port speeds of 25 Gigabit Ethernet (GbE) up to 400GbE, tested in various form factors such as SFP, OSFP, QSFP, and QSFP-DD. Equipment undergoing testing included both electrical and optical interconnects, new signaling and modulation technologies, switches and NICs, cabling, and test and measurement solutions and methodologies. The recorded pass rates of greater than 97% were up over previous events and speak to Ethernet's enduring legacy of continuous improvement.
Next up
The next HSN Plugfest at UNH-IOL is being planned for October 2019 and will be open exclusively to Ethernet Alliance members. The Ethernet Alliance is moving toward a predictable cadence of plugfests each April and October (second quarter/fourth quarter, and so on), to enable industry members to more easily align with and plan around the schedule. You can stay up to date on details through the Ethernet Alliance.
Ensuring multi-vendor interoperability is critical to building market confidence and facilitating widespread industry adoption for Ethernet, and that task grows increasingly complicated given the sprawling expansion of the technology's landscape. Ethernet Alliance plugfests play an indispensable role in making certain that Ethernet's hallmark of multi-vendor interoperability is sustained.
David Chalupsky is a member of the board of directors of the Ethernet Alliance as well as a principal engineer for Intel's Network Division. With Intel since 1988, Dave has been on the leading edge of Ethernet transitions, from 10-Mbps to 100-Gbps Ethernet products, and has made key contributions to Ethernet technology, holding roles in board development, ASIC design, applications, and validation. A contributor to the advancement of the Ethernet ecosystem, Dave is actively involved in the IEEE and the Ethernet Alliance. Dave holds a BS in Computer Engineering from California State University, Chico, a Master's in EE/CE from Portland State University, and eight U.S. patents.