Tunable laser markets to reach $870 million in 2005
Oct 1st, 2001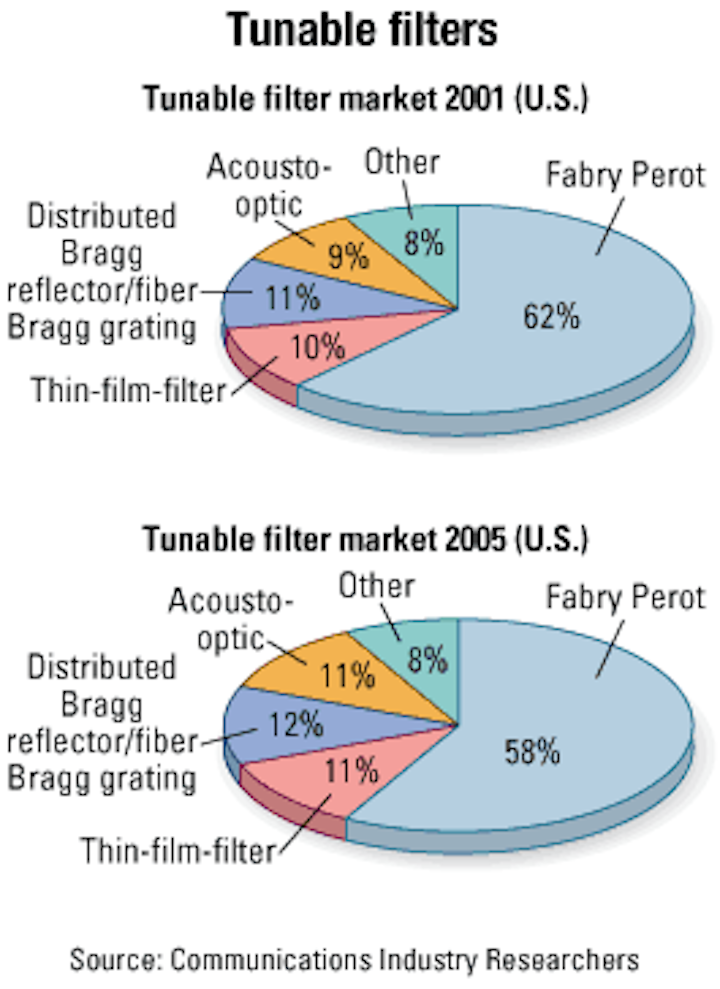 The U.S. market for tunable optical technologies will surpass $1.3 billion by 2005, driven by the needs of service providers and equipment manufacturers to reduce the costs associated with building, operating, and maintaining networks, says a new report from Communications Industry Researchers (CIR-Herndon, VA). According to CIR, the next few years will present some potentially lean times for tunable components, however.
Tunable laser markets will reach $870 million in 2005 driven initially by their growing capability to offer "sparing" and eventually by other applications such as wavelength routing. Tunable filters will have a market potential of almost half a billion dollars in 2005 as the result of several applications, but primarily performance monitoring and wavelength selectivity. Tunable dispersion compensators and receivers will not, however, see much of a market opportunity before 2004 as equipment manufacturers see little use for them until components manufacturers first address the issues of stability, reliability, and volume production of lasers and filters.
Service providers remain cautious about capital expenditure issues. Their current focus is on maximizing current infrastructures and deferring spending on more esoteric and even risky technologies, according to CIR. Equipment manufacturers affected by the slowdowns and delays in service provider orders are still working through components inventories ordered under the assumption of better times. It will be six months to a year before they start ordering tunable components to re place the conventional products that are now piled up in their factories, says the report.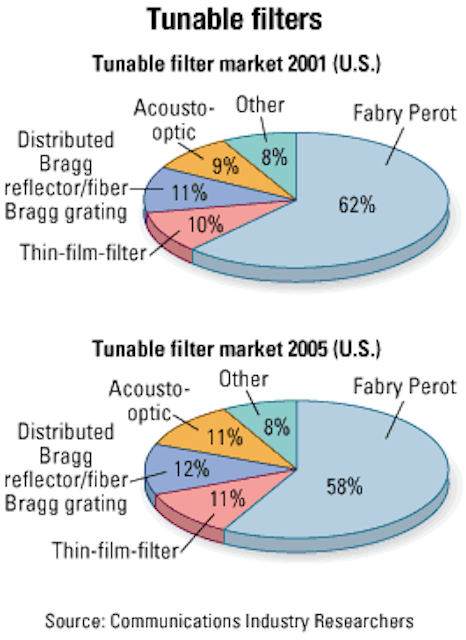 The ability to manufacture required technologies at price points that manufacturers and service providers would find attractive remains elusive, says CIR. Vendors also cannot yet ship in sufficient volume to make most tunable technology products economical.
CIR believes that components manufacturers that follow certain formulas will be able to steer around the hurdles just described.
CIR suggests that companies with strong manufacturing facilities that concentrate on producing devices that reduce costs when integrated into existing systems architectures will hold an advantage.
While the major components supply companies such as Alcatel, JDS Uniphase, and Corning can never be counted out, tunable startups with significant funding levels or supply agreements with large systems manufacturers stand a good chance of success.
Companies targeting the more established long-haul network segment will see results sooner than those banking on the growth of the metro market. Components suppliers with revenue streams from nontunable products are more likely to sustain themselves until the market for tunable devices emerges.
For more information, or to purchase "Tunable Optical Components," call 804-984-0245, ext. 15 or visit CIR's Website at www.cir-inc.com.