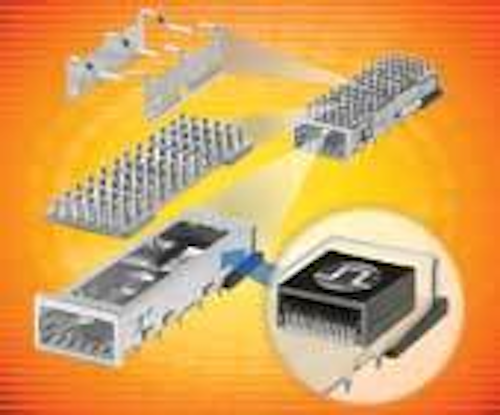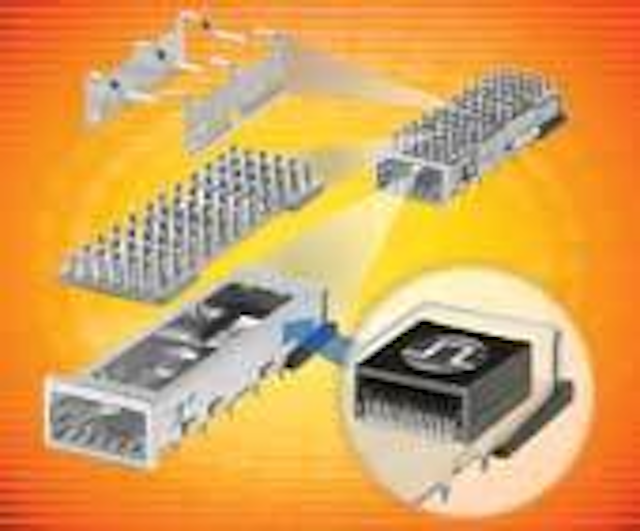 XFP connector modules
The XFP001/2/3-L line of 10-Gbit XFP modules is designed for use with 10-Gbit hot-pluggable optical transceiver modules. The cage and connector comply with the Multisource Agreement 3.0 (MSA 3.0) standard and support OC-192/STM-64, 10-Gigabit Fibre Channel, G.709, and 10-Gigabit Ethernet (10GbE) protocols in applications such as blade servers, routers, add/drop multiplexers, and remote base stations and central office equipment. They supply enhanced electromagnetic interference (EMI) protection for 10GbE applications. The module series is versatile and can handle optical transceiver links as well as transceivers configured to operate as traditional copper RJ-45 type connectors.
Pulse, a Technitrol company,
www.pulseeng.com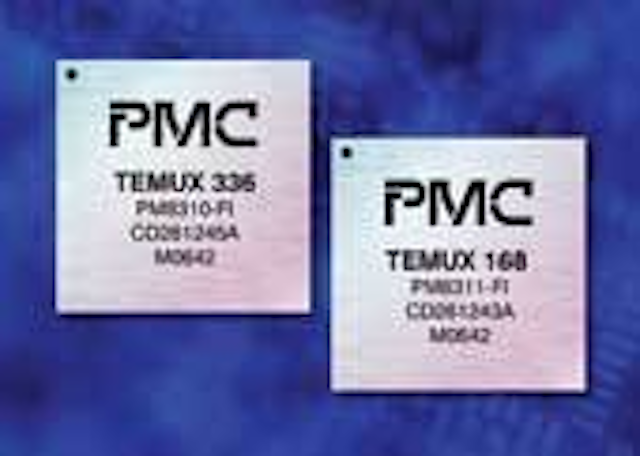 The TEMUX 336 is a single-chip device integrating OC-12/STM-4 or 4xOC-3/STM-1 SONET/SDH framers for working and protect links, 336/252 T1/E1 framers, 12 DS3/E3 framers, 12 M13/G.747 multiplexers, and 12 VT/TU mappers. The device features excellent clock control and jitter performance required by 3G wireless, TDM over packet (PWE3), and circuit emulation applications. The PM8311 TEMUX 168 is available for lower-density designs and is fully hardware-and software-compatible with the TEMUX 336. The devices are packaged in 31×31-mm, 896-pin FCBGA packages, utilizing low-power 1-V CMOS, and are rated for industrial temperature range operation (-40° to +85°C).
PMC-Sierra, www.pmc-sierra.com
The AM6-940A-20-408 is a multimode 940-nm diode laser in a high-reliability, uncooled, electrically isolated package suitable for cable TV and telecom applications. It has a 105-µm fiber output with 0.15 numerical aperture (NA) and meets all the requirements of Telcordia GR-468. It is fully hermetic, operates over a wide operating temperature range, and provides a path for customers to extend the performance and value of their optical amplifiers. The uncooled laser is the latest addition to a family of thermoelectrically cooled, Telcordia-qualified multimode pump lasers offering up to 2.5 W.
Alfalight Inc., www.alfalight.com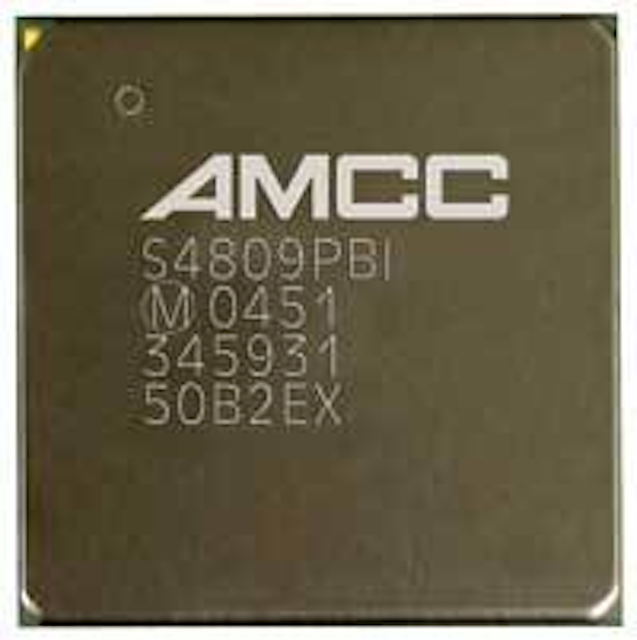 Drava (S4809) and Mura (S4819) SONET/SDH framer/pointer processor devices feature a level of integration that can reduce overall system costs by as much as 50%, made possible by eliminating the need for an external SerDes and an FPGA device that provides user-programmable client transparency services. Analog macros and complex digital functions have been incorporated into these systems-on-a-chip (SoCs). The chips are ideally designed for 5G and lower line card applications requiring framer/pointer processing functions, specifically the multiservice provisioning platform (MSPP) and optical crossconnect markets.
AMCC, www.amcc.com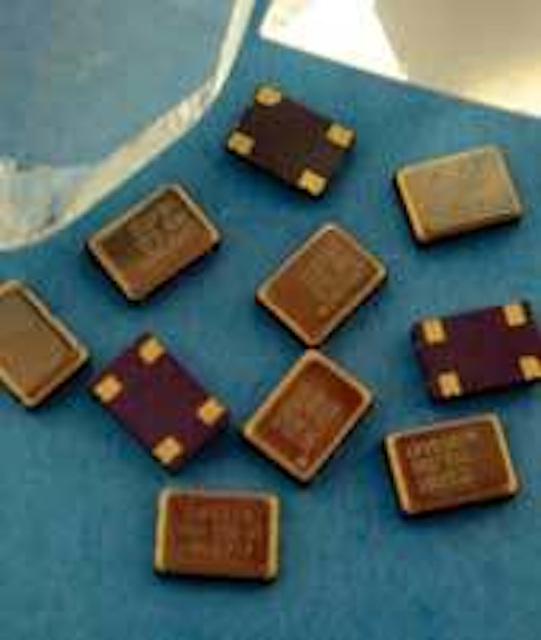 A family of high-frequency clock oscillators consists of types CS9 (3.3 V, LVPECL), CLD (3.3 V, LVDS), CSP (2.5 V, LVEPCL), and CLP (2.5 V, LVDS). The lead-free, RoHS-compliant products are designed for use in mass storage networks and Fibre Channel and Ethernet applications. For Fibre Channel usage, frequencies of 106.25 and 425 MHz are available; for GbE, frequencies are 125 and 312.5 MHz; for 10GbE, frequencies are 156.25, 250, and 644.5312 MHz; and for SONET frequencies are available at 155.52, 311.04, and 622.08 MHz-all with a low jitter less than 1 psec rms. Units are packaged in a case size of 7×5 mm and are rated with an operating temperature range from -40° to +85°C.
Raltron Electronics Corp.,
www.raltron.com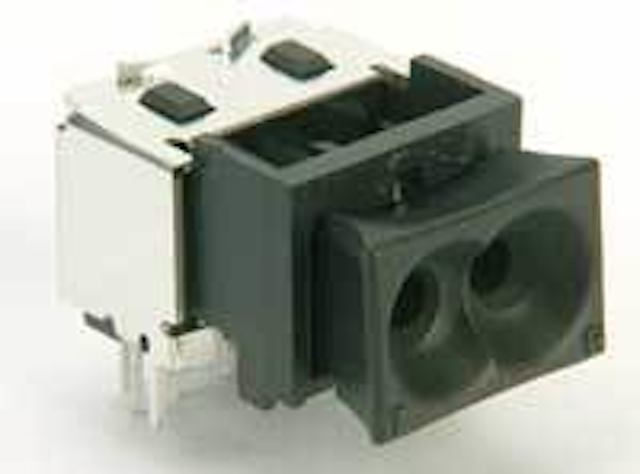 Proprietary Fast Ethernet fiber-optic transceiver technology is available in an easy-to-use, low-cost housing that provides instant termination of bare plastic optical fiber (POF), a low-cost optical alternative to copper cabling. The new OptoLock POF port speeds and simplifies the connection of devices in communications and infotainment networks. Combined with EDL300 transceivers, OptoLock enables 100-Mbit Ethernet applications with strict quality-of-service requirements such as IPTV gateways, set-top boxes, and hubs. The port design enables the fiber to be cut and terminated to the exact required length on-site, allowing consumers to quickly and easily terminate the bare optical fiber.
Firecomms, www.firecomms.com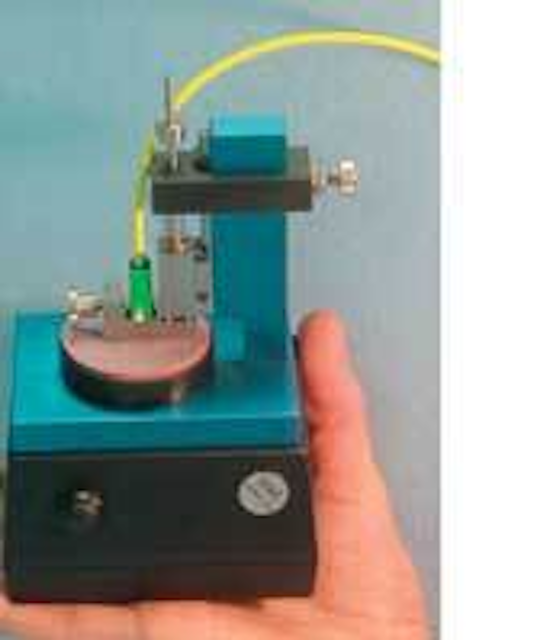 Micro fiber-optic polisher
Rev polishes connectors and optical components to singlemode performance in a compact and economical package. UPC and angled fixtures are available for industry-standard and custom components as well as for bare fiber applications. The polisher is suitable for R&D, cable repair, and field installation kits. High-speed processing is powered via AC and battery operation.
Krell Technologies,
www.krelltech.com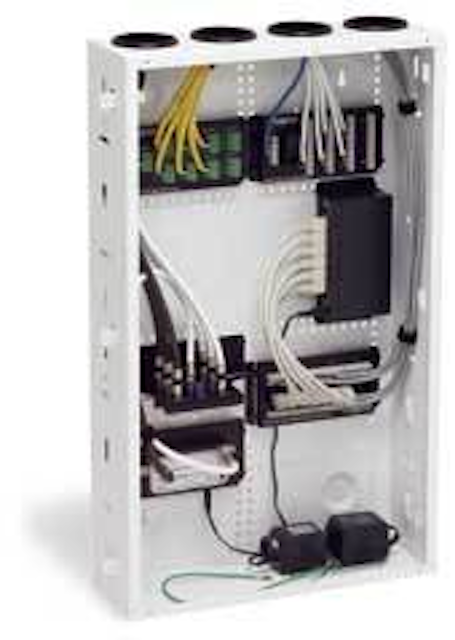 The Residential Cabling Distribution Center provides simultaneous distribution of high-speed data, voice, and video signals throughout the home, multifamily dwelling, or small commercial building. An eight-port switch gives users the ability to network up to seven computers. Other features include complete automation capabilities and central control of multiple applications, including telephone, video, data, cable TV, satellite, audio distribution, HDTV, cable modem, and even security systems. The fiber-based system accepts all connector types (SC, ST, and LC) and is easily upgradeable with flexible patch-panel modularity.
CommScope Inc.,
www.commscope.com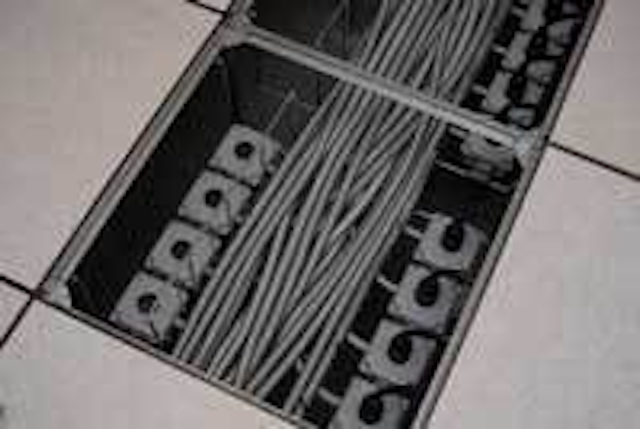 Power Snake Canyon is a patented under-floor cable tray with an integrated power module. The all-in-one component provides not only a cable path but also up to eight pre-installed power receptacles to meet power needs while reducing the electrical construction costs of a project. The universal cable tray instantly installs to any access floor with a 30-sec attachment system, without requiring tools or hardware. The modular cable trays can be reused for changes and retrofits. The Snake Canyon design allows for proper airflow under the access floor and does not void the floor manufacturer's warranty.
Snake Tray, www.snaketray.com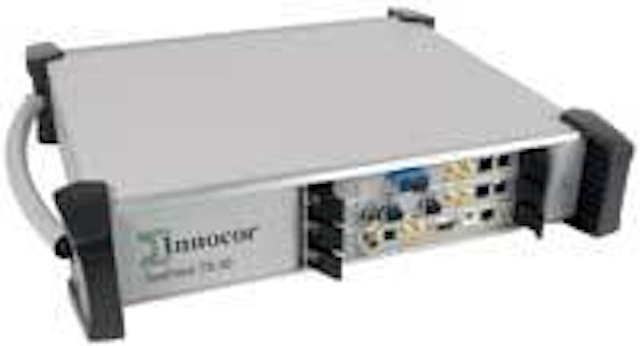 40/43-Gbit test platform
The modular TestPoint product line now features 40- and 43-Gbit/sec test capabilities. The 40-Gbit/sec module is the industry's first OC-768/STM-256 and OTU3 test interface specifically designed for manufacturing and system test applications. The 40-Gbit/sec module is available in both the three-slot TS-30 and 17-slot TS-170 chassis configurations. The TestPoint platform provides versatility in configuring interface types, transmission rates, protocols, and port density.
Innocor, www.innocor.com
The multiflow capability for XGEM, a line-rate 10GbE network emulator, allows test engineers to define up to 64 network profiles, effectively emulating 64 network clouds per emulator in the test lab. Network emulators are used to validate the functionality and performance under real-world network conditions during hardware/software development, network planning, network design, and acceptance testing to assure service reliability and reduce support costs. The emulator operates at full line-rate up to 11.3 Gbits/sec and support multiple protocols, including IP, Ethernet, Fibre Channel, SONET/SDH, OTN, and CPRI.
Anue Systems,
www.anuesystems.com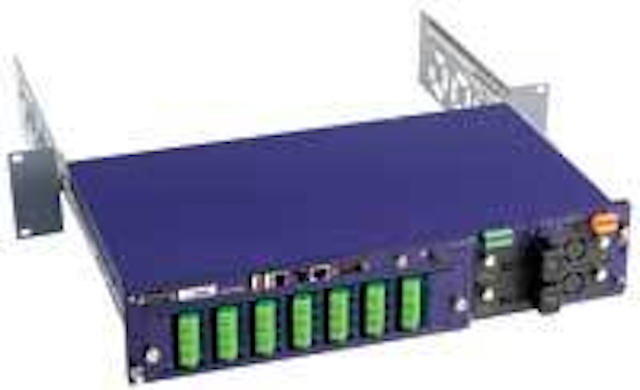 The OTU-8000, a rack-mounted, remote test unit for the optical network management system (ONMS) that integrates the latest optical time-domain reflectometry (OTDR) and optical switch technologies. A single OTU-8000 can test hundreds of fiber links within a large (40,000 km2) area and report any faults relative to the nearest physical landmark. The unit's wide range of applications helps eliminate erroneous field technician dispatches, reduce mean-time-to-repair, and anticipate service disruption by detecting ­fiber degradation before service is affected. The product also monitors the long-term performance of installed fibers and detects and locates fiber tapping for network ­security purposes.
JDSU, www.jdsu.com

New versions of the Intelligent Optical Switch are available, with features designed to facilitate remote and automatic creation, monitoring, and protection of fiber connections. The new switches deliver fully nonblocking transparent connectivity in the industry's smallest form factor. A 3.5-inch (2-U) package houses as many as 190 fibers and a 7-inch (4-U) package supports as many as 380 fibers. The Release 4.0 management console enables multiple switches to be linked and managed with a single control interface. Physical-layer fiber connections are managed from the desktop instead of driving to multiple network locations to manually patch and test fiber connections.
Glimmerglass,
www.glimmerglass.com
Software release 4.5 for the J-BERT N4903A serial BERT enables test engineers to retrieve the fastest jitter tolerance test results. The software provides one-click jitter tolerance test insight, faster device debug with restore of jitter setup, among other enhancements. A one-screen result display shows all passed and failed tested conditions as well as specification limits. For quicker test documentation, J-BERT now generates all-inclusive jitter tolerance compliance test reports in HTML format. To support all emerging and proprietary data rates, the built-in clock and data recovery operates over the complete range of 1 to 12.5 Gbits/sec.
Agilent Technologies,
www.agilent.com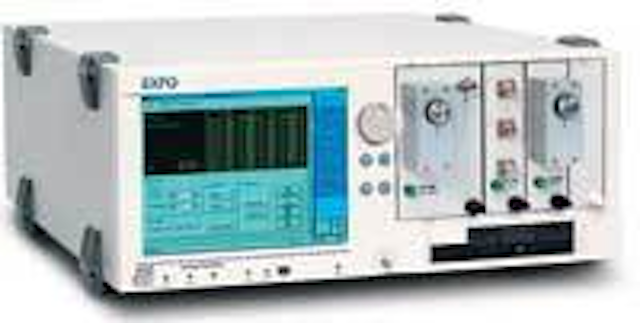 The new IQS-12001B cable assembly and component test system is designed for production testing of short fiber assemblies and FTTX components. The updated system delivers three new functionalities: FTTX component testing capabilities, improved reflectance measurement range, and a new test wavelength for FTTX applications (at 1,490 nm). This automated test system characterizes singlemode FTTX components such as PLC splitters and fiber arrays. The system also comes equipped with the IQS-3250B loss test module, enabling the system to carry out mandrel-free measurements of ultralow reflectance (down to -75 dB).
EXFO Electro-Optical Engineering Inc., www.exfo.com

Metro Ethernet demarcation deviceThe OptiSwitch 900 (OS900) series, a compact, carrier-class Metro Ethernet demarcation device, is designed to deliver managed Fast Ethernet or Gigabit Ethernet carrier services with advanced service-level agreement (SLA) for network demarcation. The OS900 series is compliant with MEF services, receiving MEF 14 certification for Ethernet Private Line, Ethernet Virtual Private Line, and Ethernet LAN. The device allows for the future extension of an MPLS domain to the demarc point via the tunneling of Layer 2 pseudowire VPNs or hierarchical virtual private LAN services for MTUs. The currently available OS910 has eight 10/100/1,000 Ethernet ports and two SFP slots; the OS912 model offers two additional optical ports.
MRV Communications Inc.,
www.mrv.com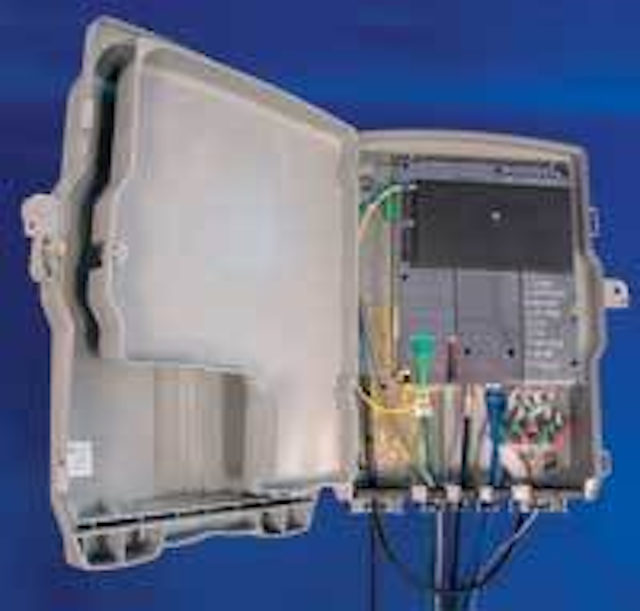 Enabling not just voice, data, and IPTV, but high-definition programming, video-on-demand, and advanced interactive communications, 2.4-Gbit/sec dual- and quad-port optical line terminal (OLT) cards are fully hardened, making them suitable for both central office and remote deployments. The GPON link can natively carry both Ethernet and traditional time-division multiplexed (TDM) traffic with strict quality of service with GPON Encapsulation Mode (GEM). The 2.4-Gbit/sec optical network terminals (ONTs) feature a mix of two or four POTS lines combined with Ethernet only, or combined with Ethernet and cable TV. Field-installable expansion modules provide additional support for Ethernet, Home Phoneline Network Alliance (HPNA V.3), and T1/Async-T1 interfaces, making it simple to plug in future additional interfaces.
TelStrat, www.telstrat.com
10-Gbit/sec DWDM transceiver moduleThe first DWDM transceiver that complies with the 10-Gbit/sec form-factor pluggable extended multisource agreement (XFP-E MSA) features a transmission range of 9.95 to 11.1 Gbits/sec using a high-performance phase-locked loop (PLL) circuit. This simplifies construction of optical communication systems with varying transmission rates, such as SONET/SDH, 10-Gigabit Ethernet, 10-Gbit/sec Fibre Channel, etc. Using a newly developed electronic absorption laser allows operating temperatures up to 20°C higher than existing lasers. Because the new laser can operate in higher temperatures, it has reduced the power consumption costs for cooling by more than half compared to 300-pin MSA-­compliant modules.
Mitsubishi Electric Corp., http://global.mitsubishielectric.com
The LightLEADER 6100 rack-mountable erbium-doped fiber amplifier (EDFA) system boosts optical signals within fiber networks. Telco and cable operators can now extend the distance traffic can be carried by placing the LL6100 along the fiber path, reducing the need for expensive signal-regeneration equipment in long-haul links. The system is particularly cost effective when used in conjunction with DWDM links; it can be used in regional and metro networks as well. Cable-TV networks use EDFAs to boost video signals, allowing distribution to more users at longer distances, reducing network cost per subscriber. The wide operating temperature range makes the product suitable for deployment in outdoor conditions.
Lynx Photonic Networks,
www.lynxpn.com
Based on multiple configurations of manageable dispersion compensators, M-DCM modules can enhance fiber capacity at up to 40-Gbit/sec data rates. Designed for submarine and terrestrial applications, M-DCM subsystems are currently available in two shelf sizes to fit seamlessly into existing networks. The M-DCM DPU is a 1-U shelf DFC standalone replacement for a small number of metro DWDM line networks, allowing any combination of up to two single- and/or multichannel ports. The M-DCM MPU is a scalable 3-U architecture that allows up to 16 independent ports to be managed as a single network element. With remote manageability of dispersion via IP or SNMP protocol and RS232 maintenance port, it can be used for several applications as multi-/single-channel for In-line and/or pre- and post-compensation.
Civcom, www.civcom.com