Premier Products
Feb 1st, 2007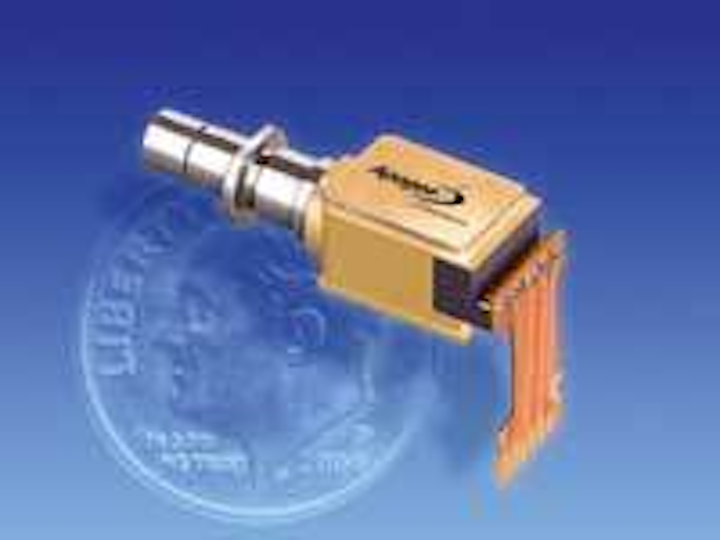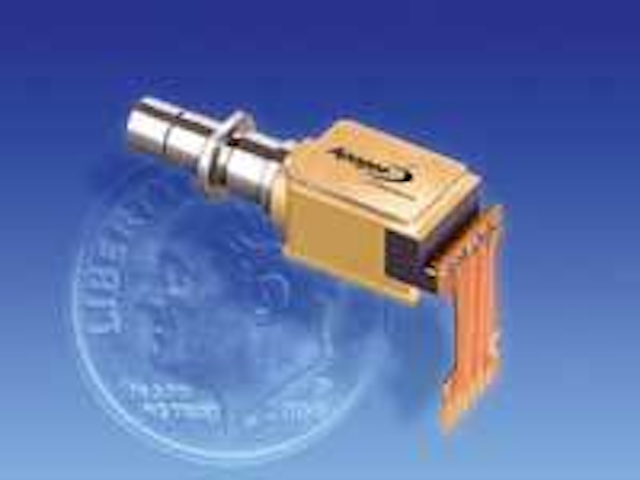 Transceiver development platform
A single platform for creating 10-Gbit/sec transceivers allows customers to adopt a standardized platform to serve multiple transceiver interfaces (such as LR, SR1, IR1, ER, IR2 and LR2) with a single XFP board and case. The 1,310- and 1,550-nm 10-Gbit/sec laser sources are both EML based and mechanically and pinning compatible. To support this single-platform approach, the company offers a T10-0120-021 evaluation board using the Vitesse VSC7982 driver that supports both the 1,310- and 1,550-nm TOSA. Similarly, an evaluation board (T10-0120-022) is available using the OKI 4195 driver.
Apogee Photonics,
www.apogeephotonics.com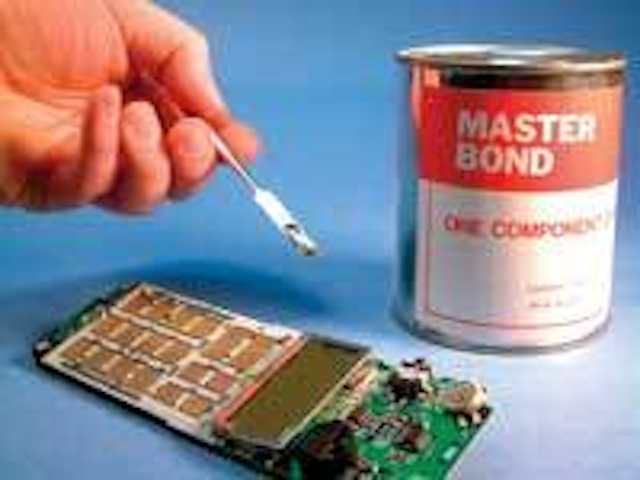 MasterSil 415, a single-component silicone elastomer, has high transparency and is well suited for bonding, sealing, and coating in optical and display applications. It cures at ambient temperatures to a flexible, rubbery solid when exposed to atmospheric moisture. The material can be used over a wide service temperature range from -185° to +400°F. MasterSil 415 has excellent resistance to vibration, impact, and shock. It also offers high moisture resistance and weatherability. Tensile strength is 325 psi.
Master Bond Inc.,
www.masterbond.com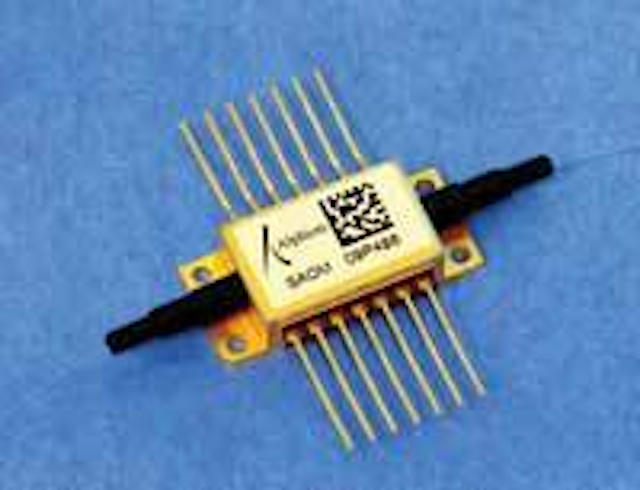 Semiconductor optical amplifiers
Based on the proprietary QLight photonic technology platform, two semiconductor optical amplifiers (SOAs), specifically designed to address amplification in FTTX networks, are available in industry-standard 14-pin butterfly packages. The QLight 1,310-nm amplifier is designed to amplify upstream traffic while the QLight 1,490-nm amplifier amplifies downstream traffic. Both devices are protocol- and data-rate-independent and can be used as transmitter power amplifiers, receiver preamplifiers, or as in-line amplifiers. They allow PON systems to support increased numbers of users per node and faster data rates.
Alphion Corp., www.alphion.com
New 180- and 200-km OC48/STM-16 DWDM small-form-factor pluggable (SFP) transceivers support high-density, long-distance metropolitan area networking (MAN) applications. The TRPW48 DWDM product line is compliant with the G.692 ITU-T standard, offering 44 wavelengths on 100-GHz C-band spacing with an optical link budget of 26 dB. The DFB lasers used in these transceivers feature an integrated optical isolator for stable transmitter operation under the varying back-reflection conditions that exist in installed cable plants. The modules are designed for multirate applications, supporting data rates from 2.67 Gbits/sec down to 125 Mbits/sec. The DDM functionality adheres to the SFP DWDM MSA, enabling the end user to monitor key areas in the performance of the SFP transceiver: internal temperature, DC supply voltage, transmitter bias current, transmitter output power, receive optical signal level, laser wavelength, and TEC current. Integrated DDM functionality also incorporates warnings and alarms to monitor these parameters.
Optical Communications Products Inc., www.ocp-inc.com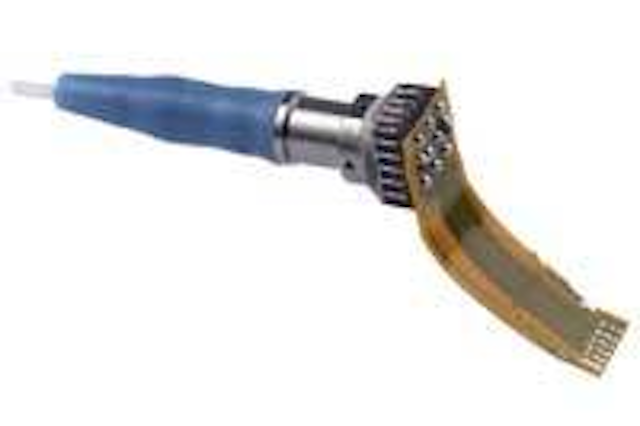 An XMD MSA-compatible receiver optical subassembly (ROSA) with fiber tail assembly (FTA)-which is claimed to be one of the first of its kind-consists of an avalanche photodiode (APD), a low-noise preamplifier, and a precision NTZ thermistor in an XMD MSA-compliant hermetic package, and is available with or without a connectorized fiber pigtail. The addition of the FTA opens the ROSA up to new markets, specifically long-reach transceivers and 300-pin transponders. The product has a wide linear operating region of -26.5 to -6 dBm, and high sensitivity (-26.5 dBm typical), and supports FEC rates up to 11.1 Gbits/sec. The ROSA is fully ROHS compliant.
Bookham Inc.,
www.bookham.com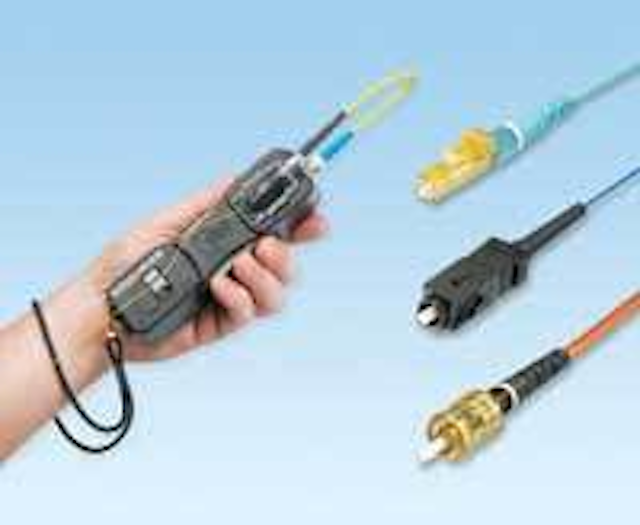 PANDUIT ST Opticam prepolished fiber-optic connectors provide field termination in less than half the time of field-polish connectors. With patent-pending retermination capability, the connectors provide yield rates approaching 100%, offering flexibility in behind-the-wall (BTW) and main and intermediate crossconnect installations. The factory prepolished fiber stub endface eliminates time-consuming field polishing to reduce installation costs, labor, scrap, and the number of tools required. All Opticam connectors utilize the same termination tool, which uses an integrated visual termination indicator for identification of proper termination after the cam step has been completed.
PANDUIT, www.panduit.com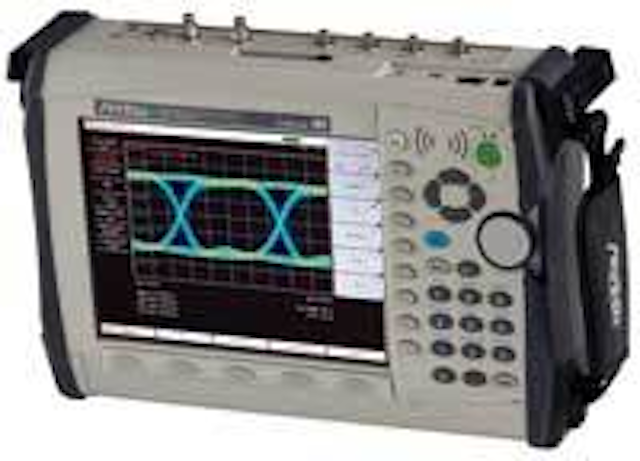 Eye pattern analyzer
The Bit Master MP1026A eye pattern analyzer is the first handheld device for conducting physical layer (PHY) eye pattern measurements on high-speed interfaces at OC-192/STM-64, 10-Gigabit Fibre Channel, and 10-Gigabit Ethernet data rates. With two electrical channel inputs of 25-GHz bandwidth each, the analyzer offers eye pattern, pulse pattern, and mask compliance measurements for rates from 0.1 to 12.5 Gbits/sec in a handheld, rugged, and battery-powered instrument. Bit Master has low jitter of 1 psec rms and low electrical noise of 1 mV rms (typical), and a sampling rate up to 100k samples/sec.
Anritsu, www.anritsu.com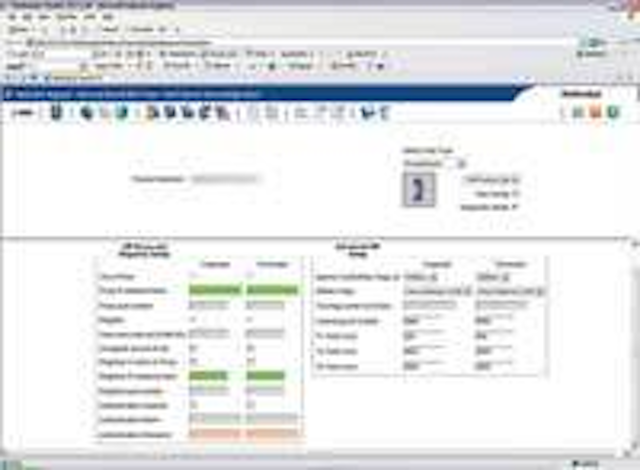 A software agent that improves quality of service (QoS) for providers supporting the large-scale transition of their business customers to voice-over-IP (VoIP) service, the QT-50 helps providers proactively monitor and troubleshoot issues and evaluate metrics that can affect voice quality by simulating the IP call experience as if at the customer premises. It places and receives active test calls between other software agents and QT probes (such as the QT-600 Ethernet and triple-play probe) deployed across a provider's network. By creating meshes of synthetic VoIP calls throughout the network, it identifies potential degradations end-to-end for continuous and active monitoring of VoIP quality.
JDSU, www.jdsu.com