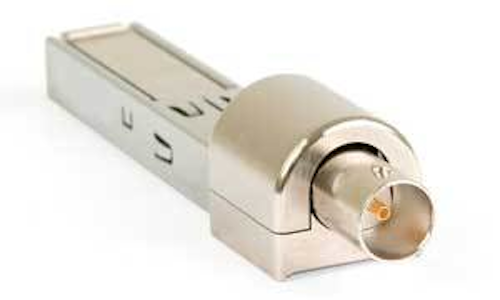 By Meghan Fuller
The University of Southern California's (USC) School of Cinematic Arts has a long history of success in the entertainment industry; the school has produced at least one Academy Award nominee every year since 1973. Famous alumni include directors George Lucas and Ron Howard, composer James Horner, and actor Will Ferrell.
To continue to attract such talent, however, the school must keep pace with technological advances in the field, including the advent of high-definition video. Though the school deployed a private optical network 5 years ago, it was unable to leverage that network to transport uncompressed high-definition serial digital interface (HD-SDI) signals-until now.
USC's School of Cinematic Arts recently selected MRV Communications' (www.mrv.com) optical digital transport technology to light its existing dark fiber network between the main School of Cinematic Arts complex and the off-campus Robert Zemeckis Center for Digital Arts, a distance of approximately one fiber-mile.
USC research associate professor Richard Weinberg says the MRV technology was chosen for its modularity as well as its flexibility; the new link is compatible with other networking projects on campus.
In fact, adds Sergiu Rotenstein, vice president of MRV, "the general campus of USC contains several other optical networks, with very similar MRV equipment carrying Gigabit Ethernet [GbE], 10-GbE, and Fibre Channel data. And these networks probably contain 80% exactly the same equipment, and that is the beauty of this solution," he asserts.
MRV has accomplished what Rotenstein calls "the commoditization of HDTV transport over fiber." The key is the company's patent-pending digital video small-form-factor pluggable (SFP) optical transceivers, which enable the transport of uncompressed video over existing optical infrastructures, both wireline and wireless (via free-space optics). In theory, says Rotenstein, you could take 20-year-old optical fiber plant and directly support high-definition video transport.
While HD-SDI transport sounds simple enough on paper, it is actually quite a formidable challenge, admits Rotenstein. Both SDI and HD-SDI exhibit pathological problems that render them unsuitable for traditional optical transport. More specifically, those pathological problems affect the optical transceiver and the clock and data recovery (CDR) circuitry.
MRV's digital video SFPs enable the transmission of uncompressed SDI/HD-SDI signals, using standard optical transceivers, over existing fiber links of 120 km or more.
The standard optical transceiver requires a signal to be DC-balanced, meaning it has the same number of zeros and ones in a series of bits. An SDI/HD-SDI signal, by contrast, is unbalanced; it contains a long series of bits of the same polarity, which negatively affects both the signal-to-noise ratio and the bit-error rate of the signal. An unbalanced signal also can cause intersymbol interference and waveform distortion, which prevents the CDR mechanism from locking onto the incoming signal.
MRV's digital video SFPs use an encoding algorithm based on the Society of Motion Picture and Television Engineers' (SMPTE) EG-34 standard, which defines a method for selectively rescrambling the SDI signal. The system requires a pair of coaxial SFPs. The receiver creates a balanced signal using the EG-34 algorithm. That balanced signal is then transported over a standard optical network, until it reaches the second transceiver, which reverses the rescrambling algorithm and recreates the original SDI/HD-SDI signal.
"By doing this, we enable any traditional transponder, using completely regular, off-the-shelf components, to carry HDTV in the same way it previously carried Fibre Channel, Gigabit Ethernet, SONET, or any other telecom protocol," explains Rotenstein. In fact, HD-SDI signals now can be transported on the same network as GbE, 10-GbE, SONET, DS3, or T1 traffic.
For Weinberg, the system's compatibility with WDM technology was also a key selling point. The MRV network enables the School of Cinematic Arts to transport four 1.5-Gbit/sec HD-SDI signals, via WDM, back and forth between the main campus and the Robert Zemeckis Center for Digital Arts to support a number of experimental applications.
"We are doing more and more HD productions here," says Weinberg, "and this gives us a way to work in a distributed production environment." He reports that the school recently began experimenting with a production method that combines images from HD sources across the optical network. For example, one camera could film an actor in front of a "green screen," while another camera films a backdrop in a separate location. Using the uncompressed HD-SDI capabilities of the optical network, those images can be combined in real time.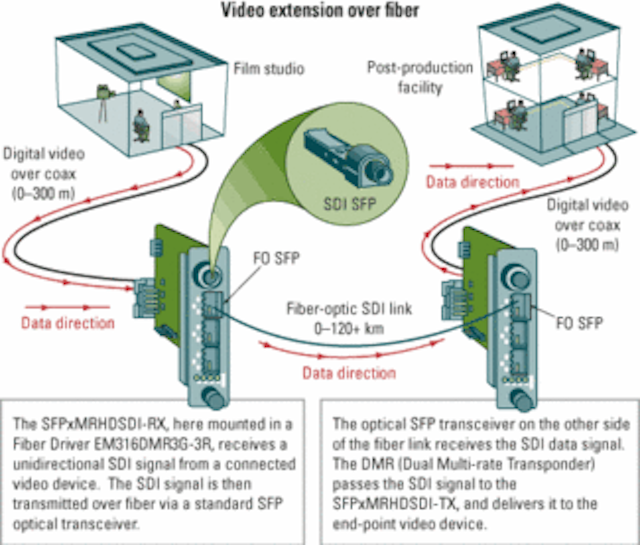 MRV's multirate coaxial receiver SFP accepts the HD-SDI stream from a film studio, for example, and converts it into a data signal compatible with existing optical data networks. At the end of the link, a second SFP takes the rescrambled signal and recreates the original HD-SDI signal for use at a post-production facility.
Moreover, adds Weinberg, the high-bandwidth and low-latency of optical fiber facilitates higher-quality video conferencing. "We've been involved in some HD teleconferencing applications with other locations, but usually there's a computer in the middle that is encoding the signal and adding so much delay, it makes real-time response problematic," he admits. The capabilities of the new network, by contrast, enable "a more immediate high-definition video conferencing experience," he confirms.
For his part, Rotenstein believes the USC School of Cinematic Arts' HD-SDI network is just one example in a growing field of mixed data and video transport networks. While MRV is principally focused on telecom protocol transfer, the company's digital video SFPs enable it to play in emerging mixed-protocol environments.
"We see a lot of uptrend in the industry for the mixture of these protocols because, in general, production houses do transport digital video, but they have also storage based on Fibre Channel, Gigabit Ethernet, or 10-Gig Ethernet," Rotenstein notes. "It's important to be able to seamlessly transport all these protocols in the same system." Rotenstein reports continuing interest in the digital video transceivers as a result of this trend.
Meghan Fuller is senior editor at Lightwave.