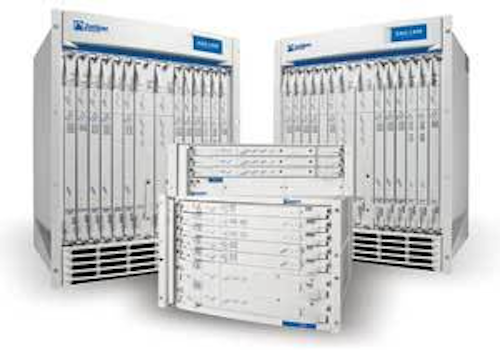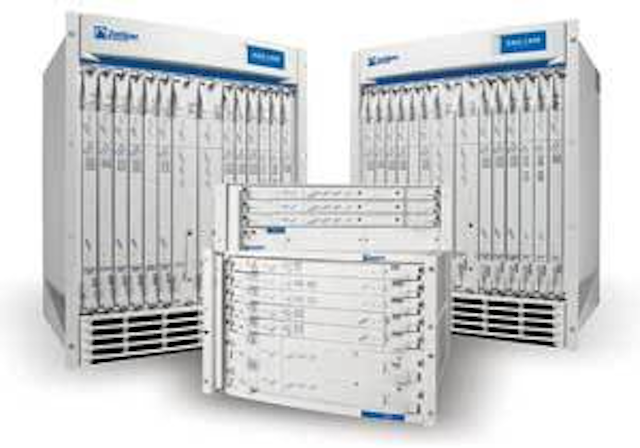 Enhanced broadband service routers
New 10-Gigabit Ethernet (10GbE) and high-density Gigabit Ethernet interface cards help reduce the cost and complexity of deploying IPTV and other multiplay services with the E320 Broadband Services Router. The 10GbE service cards enable cost-effective high-bandwidth connections between the E320 and downstream Ethernet aggregation devices as well as upstream core routers. The eight-port high-density GbE cards distribute multicast processing to the line cards, reducing load on the switch fabric and line modules, which helps providers increase system scalability while improving performance.
Juniper Networks Inc., www.juniper.net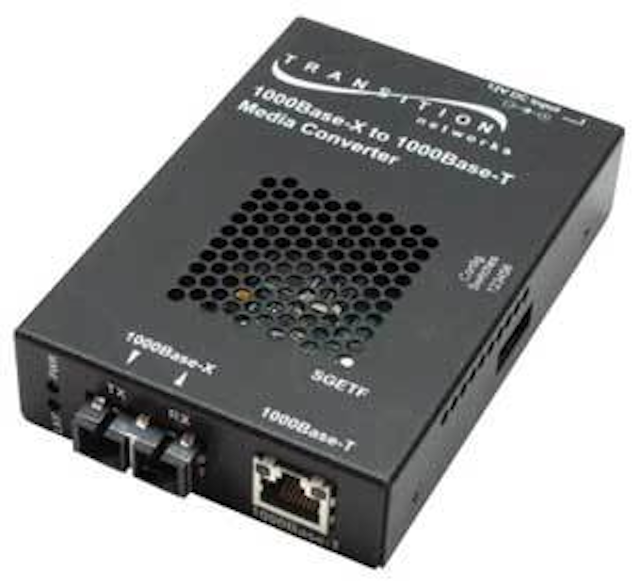 The GETF-110 series of Gigabit Ethernet copper-to-fiber media converters offer Transparent Link Pass Through and Remote Fault Detect, which prevent them from isolating a head-end device from link failures at the remote end by monitoring the status of both the copper and fiber links. The converters pass link status information on to both end devices, notifying them of the link failure. Users can choose between fixed fiber interfaces and an open SFP slot. Converters with an open SFP slot support multimode, singlemode, or long-haul singlemode fiber transmissions based upon the individual SFP module used in the converter.
Transition Networks Inc.,
www.transition.com

Designed to provide a low-cost, redundant, self-managed optical gigabit switch for Ethernet applications, the IQ1000 Smart Switch System provides reliable performance with sub-second recovery. The system is plug-and-go, automatically configuring into a self-healing network. In the event of a fiber break or loss of power, the system will automatically reconfigure within milliseconds. No software or manual equipment configuration is required, and there is no reengineering or network reconfiguration required for expansion, eliminating network downtime.
CBL Systems,
www.cblsystems.com
A family of DWDM XFP optical transceivers offers modules with high output power and a wide range of dispersion-tolerance levels for distances from 80 to more than 200 km. This range allows customers to optimize the cost-performance ratio across different networks, including metro and regional. The RoHS-compliant transceivers are designed to help reduce multichannel WDM system inventory and minimize dispersion management complexity and cost.
Pirelli Broadband Solutions,
www.pirellibroadband.com
With an operating power of 400 mW, the 94SGP PowerDeep submarine pump module features the highest-power pump available for submarine applications. The 94SGP integrates the high-performance PowerIntense 980-nm laser chip with proven packaging technology. The combination of high optical power and reliability enables submarine system integrators to design new architectures with highly dependable power at a lower cost. The module will be available for deployment in highly reliable repeaters throughout next-generation submerged fiber networks.
Avanex Corp., www.avanex.com
The ClearSpectrum-DCMX chromatic dispersion compensation module boasts the industry's smallest package and offers enhanced performance for high-speed metro and long-haul DWDM networks. It is designed to compensate links from 20 to 200 km in a single, low-loss module. The module is intended as an alternative to dispersion-compensating fiber (DCF) in cost-sensitive networks since its small footprint minimizes space and its low insertion loss (<3 dB) reduces amplification requirements. Based on multichannel fiber Bragg grating technology, the compensators can be cascaded in networks beyond 2,000 km.
TeraXion, www.teraxion.com
Premier coupler/splitter modules provide a small form factor, minimizing the overall hardware size. Each module/splitter accommodates either 1×32, dual 1×16, or two 1×8 modules. The modules are completely connectorized, utilizing standardized pigtail lengths. The modules are compatible in the 144-, 288- and 432-port OptiTect Premier cabinets, a local convergence-point family featuring a smaller size and weight than traditional cabinets. The modules are also accepted in Eclipse hardware products, which provide interconnect and crossconnect capabilities.
Corning Cable Systems,
www.corning.com/cablesystems
The Splicer V-Groove cleaning kit integrates eight components for inspection and cleaning of any fusion splicer. Contamination in the v-groove of the splicer is still a primary source of trouble for the splicing technician. This is especially problematic when splicing with a fixed v-groove fusion splicer. The kit's cleaning fluid is nonflammable and environmentally safe, and lint-free cotton swabs are included for cleanup without generating additional particles. Refill kits are also available for the fluid and cleaning tools.
AFL Telecommunications,
www.afltele.com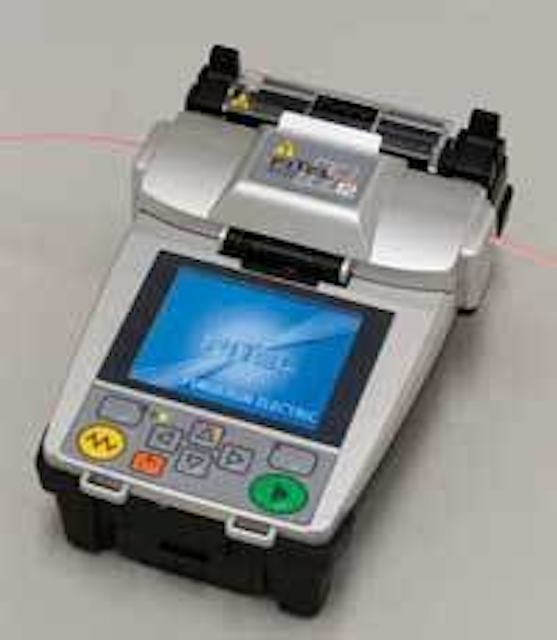 The FITEL S122M12 ultraportable mass fusion splicer is appropriate for single fibers up to 12-fiber ribbon, delivering a 15-sec splice and 45-sec heat time for 12-fiber ribbon. Incorporating new patent-pending technologies for real-time arc control, automatic fiber position correction, and automatic fiber-count identification, the splicer increases splicing speed while virtually eliminating fiber axis offset. These advances and the compact design bring greater mobility, higher accuracy, and easier operation to every installation. Magnification for each fiber is an industry best for mass fusion splicing at 56X. The S122M12 is 50% smaller and 70% lighter than previous conventional ribbon-splicer models.
Furukawa America Inc.,
www.furukawaamerica.com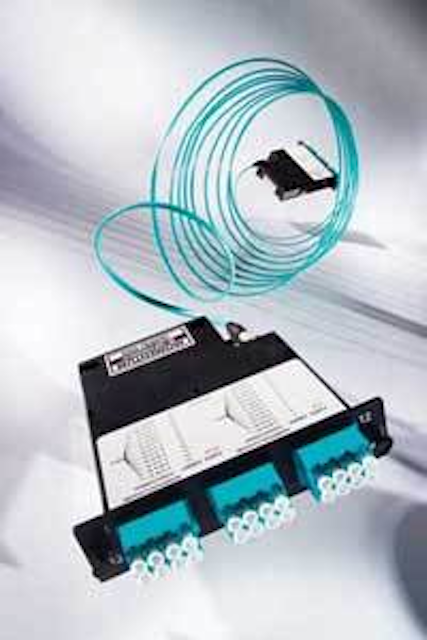 The Momentum 2 modular, preterminated fiber-optic cabling system combines state-of-the-art optical ribbon cabling, MTP termination, advanced LC polishing, and innovative hardware. Designed for use in data centers and SANs, the cabling system makes moves, adds, and changes quick, easy, and error-free. The cassettes are available in 12-fiber SC or LC duplex and 24-fiber LC quad connector versions, with singlemode and leading 50/125 laser-optimized multimode fiber (LOMF). Ribbon backbones are available in singlemode or 50-µm LOMF in 12-, 24-, 48-, and 72-fiber counts.
Ortronics/Legrand,
www.ortronics.com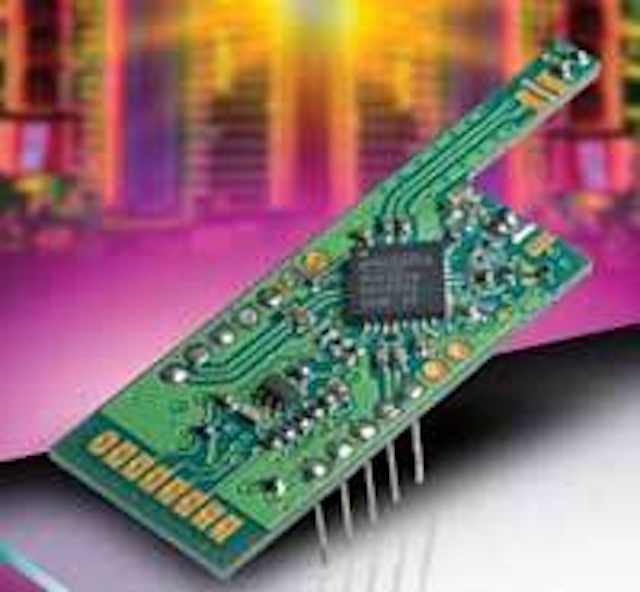 Following the release of the PHY1078 GEPON chipset, the PHY2078 transceiver IC is designed for the higher-bandwidth 2.5-Gbit/sec GPON ITU G.984.2 standard. It can be combined with a microcontroller to support digital diagnostic monitoring (DDM). The PHY1095 and PHY1097 transimpedance amplifiers are capable of high-sensitivity performance without the added cost of an avalanche photodiode circuit. The PHY1097 is designed for GEPON and GPON operating at up to 2.5 Gbits/sec, with sensitivity of -29 dBm and low input referred noise of 150 nA. The PHY1095, which operates at up to 1.25 Gbits/sec, servicing the GEPON sector of the market, achieves -32-dBm sensitivity coupled with 60 nA of input referred noise.
Phyworks, www.phyworks-ic.com
The ML9xx46 series, a high-output laser diode for use in optical fiber communication capable of 2.5-Gbit/sec transmission, is targeted for FTTH and GPON applications. By optimizing the construction of the active layer where the laser diode emits light, the diode shows improved optical conversion efficiency at high temperatures with an optical output of 15 mW and operating range of -40° to +85°C. Modulation bandwidth has been improved by reducing the capacitance of the laser diode. An aspherical lens increases coupling to 70% in the ML920T46S model. This decreases operating current, which leads to reduced power consumption in the transmitter.
Mitsubishi Electric Corp., http://global.mitsubishielectric.com
A series of dense wavelength-division multiplexing (DWDM) transmitter lasers is capable of greater than 200-km (3,600-psec/nm) transmission in a singlemode fiber. Compatible with direct modulation at up to 2.5 Gbits/sec for OC-48/STM-16 applications, the lasers are available in the full range of C-band ITU-T G.692 recommended wavelengths at 100-GHz spacing. The devices come in hermetically sealed, industry-standard 14-pin butterfly packages with an optical isolator and meet GR 468 reliability specifications. Also available is a 10-mW DWDM butterfly-packaged laser for 120-km transmission distance without an EDFA. This device combines the low dispersion penalty of the 200-km devices with +10-dBm optical output power. This combination enables amplifier-free operation in many metropolitan-area network applications.
Applied Optoelectronics Inc., www.ao-inc.com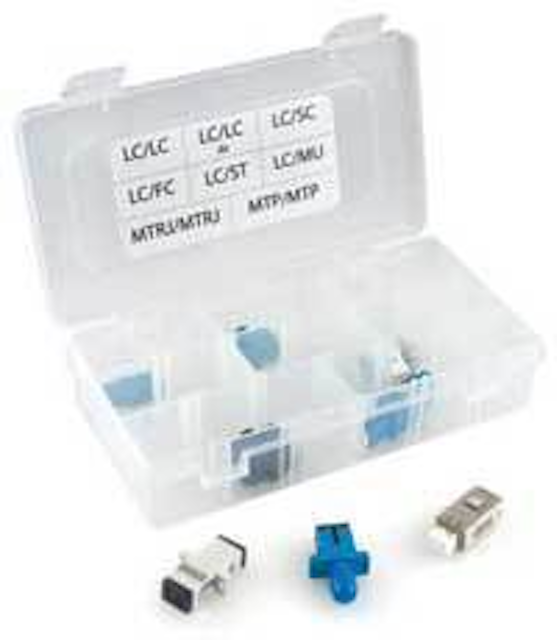 A line of fiber-optic adapter kits is designed to provide a simple solution to mating multiple connector types. Various kits are available for applications requiring cable-to-cable connections. Kits contain both standard and hybrid adapters for the most popular connector types, each suitable for both singlemode and multimode use. The adapter kits are available in both standard (SC, LC, FC, ST, MU, MT, and MTRJ adapter types) and custom configurations. Each kit includes assorted adapters, a durable compartmentalized storage case, and reference chart for easy identification.
Timbercon Inc.,
www.timbercon.com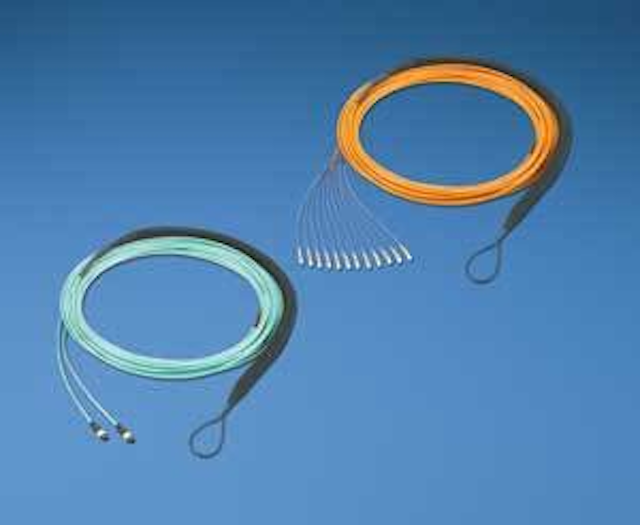 Opti-Core and QuickNet preterminated trunk cable assemblies allow for faster installation and startup of high-density permanent links in a single assembly for data center applications such as main, horizontal, and zone distribution areas. The assemblies minimize waste and optimize slack storage to ensure efficient use of pathway space for applications that are pushed toward small-form-factor (SFF) cabling. 10Gig versions support network transmission speeds up to 10 Gbits/sec for link lengths up to 300 m per the IEEE 802.3ae standard. Versions are available in 150- and 550-m link lengths. They are available in simplex, duplex, and 12-fiber connector configurations (up to 144 fibers) for improved flexibility.
PANDUIT, www.panduit.com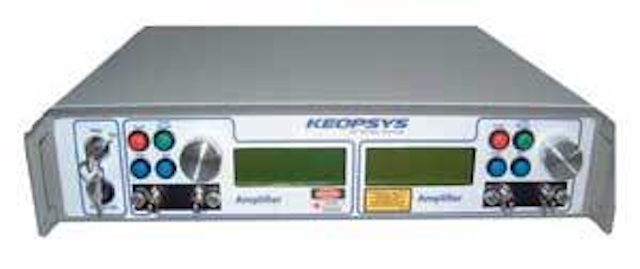 The DUO benchtop series is well suited to industrial or laboratory applications in which space is constrained. The design integratestwo side-by-side fiber amplifiers or fiber lasers in one 19-inch rack-mountable unit. Whether the need is for a twinset of lasers or a pair of power amplifiers, the DUO series provides the performance of two optical devices with the same functionality of a standard standalone benchtop unit. The module includes all required controls, monitors, alarms, and RS232 computer interfaces necessary for system integration. Front-panel touch keys allow user-friendly independent control and monitoring of the different parameters and functions of both optical modules.The benchtop can be customized to meet demand in terms of operating wavelength (at 1 or 1.5 μm), power output level (up to 10 W), and standard or PM fiber design.
Keopsys Inc., www.keopsys.com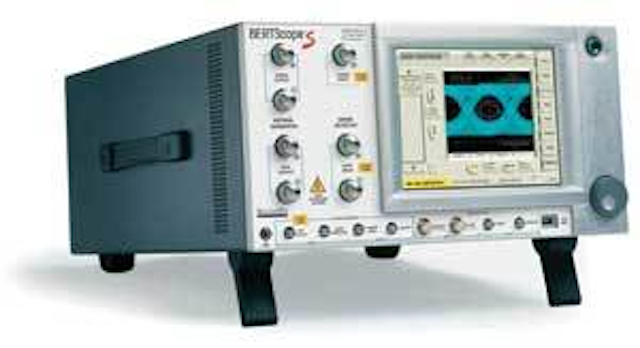 The new BERTScope S pattern generator allows design and test engineers to generate calibrated, stressed data for jitter tolerance testing when either the device under test or a legacy bit-error-rate tester (BERT) are used to measure bit-error ratio. The pattern generator supports testing for sinusoidal jitter, sinusoidal interference, bounded uncorrelated (PRBS) jitter, and random jitter. With very flexible clocking capabilities from 0.1 to 12.5 Gbits/sec, it can also stress an external clock, including spread spectrum clocks (SSC) for serial bus testing. It is capable of flexible pattern generation with intuitive RAM pattern editing and a library of common standards patterns such as Fibre Channel, Serial ATA, and others.
SyntheSys Research Inc.,
www.bertscope.com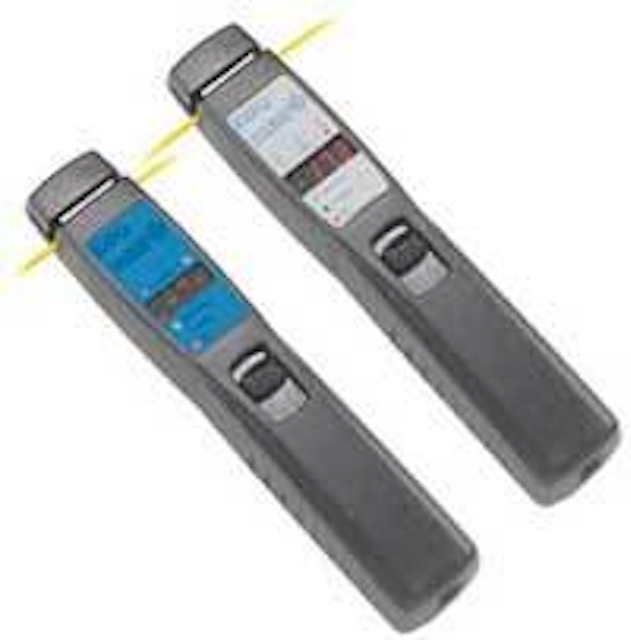 Patented FiberFinder technology, including both the LFD-300 Live Fiber Detector and the TG-300 Tone Generator, takes the guesswork out of fiber identification for the efficient and safe management of live and dark optical fibers. Disconnecting the wrong fiber can cause significant network downtime. Installed at the transmitter site, the TG-300, a nonintrusive clip-on device, adds a 0.1-dB signature to the live signal by applying a soft, low-frequency modulation pressure to the fiber. If it's a live fiber, the signature will be detected by the LFD-300 at the other end in seconds, removing the risk of disconnecting the wrong fiber. The detection devices show little or no effect on a link's loss budget, which is important for large central offices and FTTX applications with high numbers of fibers.
EXFO Electro-Optical Engineering Inc., www.exfo.com