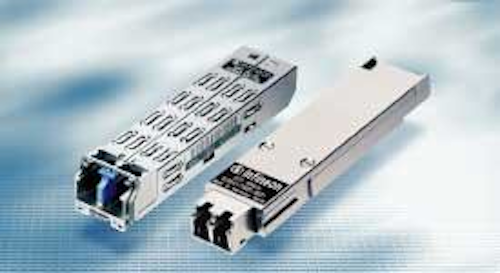 When the 10-Gbit/sec XFP transceiver multisource agreement (MSA) debuted in March 2002, it appeared that the storage market would become the device's first major adopter. Storage heavyweights like Brocade and Emulex numbered among the MSA's 10 founders, and the Fibre Channel community appeared ready to move from 2 Gbits/sec to 10 Gbits/sec for top-end next-generation devices. However, the recent debut of 4-Gbit/sec transceivers in a small-form-factor-pluggable (SFP) configuration indicates a rest stop on Fibre Channel's road to 10 Gbits/sec. The result, say several device manufacturers, is a delay in demand for 10-Gbit/sec equipment—and an equal lag in XFP deployment within SAN applications.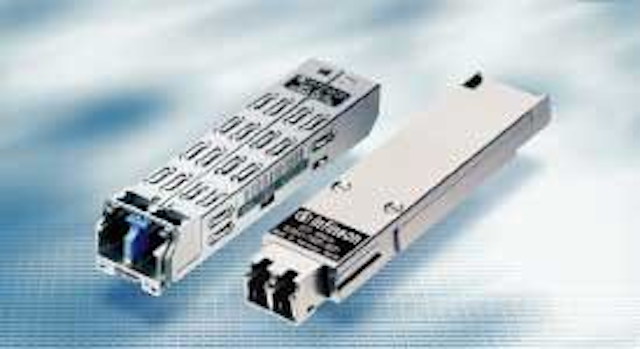 While the XFP (right) seemed destined to be the transceiver of choice for next-generation SAN equipment, 4-Gbit/sec Fibre Channel devices in the SFP form factor (left) may signal a change in market direction. Photos courtesy of Infineon Technologies
According to Rami Kanama, senior marketing manager, fiber optics, at transceiver manufacturer Infineon Technologies (Munich), the advent of 4-Gbit/sec devices has given Infineon's potential SAN equipment clients who were behind the curve on the development of 10-Gbit/sec equipment a closer target at which to shoot. "They all have plans to do 10 gig, but they all have plans to do 4 gig. And it looks like 4 gig has taken priority at this point," he says. "So that means 10 gig will happen, but it will be pushed out. And the volumes will be lower."
Dr. Wenbin Jiang, vice president of product development and advanced technology at E2O Communications (Calabasas, CA), agrees with this assessment. "On the storage side, 4 gig does have an impact to a certain degree, especially for the HBA [host bus adapter] guys," he explains. "On the switch side, we have seen some impact for certain short-distance applications where the switching systems are in the same computer room because of the price differentiation between the two products. Certainly in many cases, if 4 gig can do the job, they will stay with 4 gig instead of going to 10, because the price still is very different."
Vendors of data communications chips also see this trend. "Everyone believes that XFP has a place on their roadmap. It's just that the first market that people were expecting was 10-gig Fibre Channel, and in the last six months a real wrench was put in the works for 10-gig Fibre Channel," says Dan Trepanier, CEO at Quake Technologies (Kanata, Ontario). "And that's turning out to be developing as a market more slowly than what people would have expected eight or nine months ago."
The T11 Committee's deliberations this month on an 8-Gbit/sec specification also cloud the future of XFP in SAN applications. "I'm not sure if 8 gig is going to happen, but it looks like there's a strong push for it," says Infineon's Kanama. "So that might delay or kill the 10-gig Fibre Channel."
While Kanama believes that 8-Gbit/sec transceivers will assume the SFP form factor, others aren't so sure. E2O's Jiang and Steffen Koehler, vice president of marketing for transceivers at U.K.-based Bookham Technology, say XFP devices would best fit 8-Gbit/sec needs. "If you did an 8-gig device, you would essentially be using an XFP," asserts Koehler. "You'd have to modify the XFP to be able to work that low, but now you're in that realm—you look much more like an XFP than you look like an SFP if you go to 8 gigs."
Koehler believes it is too early to determine the future of the XFP in SAN applications. Regardless, the rate at which other applications are moving toward the technology may make the question moot.
"The switching and routing folks are probably the ones who are driving the hardest for XFP, because all of the advantages of XFP are even easier to bring on there," Koehler explains. "They care about things like density. They are going to be able to do much earlier things like quad driving chips to drive more than one transceiver with the same piece of silicon."
Kanama agrees that other markets have overtaken SANs as early adopters. "The adoption for XFP right now is happening in the SONET area, switching from 300-pin to the next generation, which would be serial," he says. "Right now,
I would say that almost 70% of the XFP customers are SONET, asking for short-reach SONET SR1. And the rest are mainly the early adopters of 10-gig Fibre Channel. There's very little interest from the Ethernet side."
While the early adoption of the technology by the SAN vendors was thought to be important in creating volume-driven price decreases, Jiang believes this concept is overrated. "Certainly, volume will help to push the price down. But it will never come down to the level that [some predicted]," he says. "When they first started 10-Gigabit Ethernet, one of the targets they had was three times the 1-gig cost. I don't think it will ever be there. It will be more like 10 times than three times."
Despite the uncertainty, the XFP remains a viable candidate for a variety of applications. Trepanier, like others, sees the form factor as the winner in the 10-Gbit/sec market. "The questions are really around the rollout, the significance of the volume, and just how much of a cost advantage there is to migrating to XFP relative to incumbent solutions," he concludes. ..
---
While 4-Gbit/sec Fibre Channel transceivers may not be good news for XFP supporters, they may prove to be a boon for developers of 1310-nm vertical-cavity surface-emitting lasers (VCSELs).
According to Warner Andrews, vice president of marketing for VCSEL developer Picolight (Boulder, CO), the optical specifications for 4-Gbit/sec Fibre Channel feature a tradeoff among three factors: extinction ratio, spectral width, and wavelength frequency. "One can satisfy this with either a very narrow linewidth laser at any spectrum from 1260 up to about 1350 [nm] or a somewhat wider spectral width device centered exactly on 1310," he says. "The Fibre Channel market is probably one of the more cost-sensitive markets on the planet, and so using telecom-based, narrow-linewidth technology, i.e., DFBs, to solve a 10-km reach problem for Fibre Channel is probably not economically feasible. So a narrow-linewidth 1310-nm VCSEL, which can essentially be delivered to the market at or about the same price as a Fabry-Perot solution but deliver the DFB optical characteristics is more or less a perfect fit for 4-gig. We think the Fabry-Perots would have just a heck of the time solving that problem, and as a result this looks like a great early application for 1310 VCSELs."
Andrews says the economics and performance of long-wavelength VCSELs are so good that one transceiver could meet 1-, 2-, and 4-Gbit/sec Fibre Channel applications. He also says that such VCSELs will support 20-km reaches.
Similar devices could find their way into other applications. "Another similar story we think will take place around SONET specs—and in this case, what I'm talking about is you have an IR1 spec or an IR2 spec, for example, for OC-48. One of them is a 15-km reach based on a Fabry-Perot technology and the other is a 15-km reach based on a DFB technology. And 1310 VCSELs again could bring the DFB performance with the Fabry-Perot price point, so it collapses those two specs into one zone. So you could actually see a new class of specification form there," he predicts.
Meanwhile, another company has staked a claim to a piece of the long-wavelength VCSEL market. E2O Communications (Calabasas, CA) announced at the end of last year that it has succeeded in developing 1300-nm VCSELs using common laser materials. Unlike devices based on nitride materials, the E2O process will supply lasers with enough power to find use at wavelengths from 1260 to eventually 1610 nm, according to Dr. Wenbin Jiang, the company's vice president of product development and advanced technology.
Jiang likewise sees long-wavelength VCSELs as a strong player in Fibre Channel markets. He believes such light sources also will find their way into 10-Gigabit Ethernet transceivers designed around the LX4 PMD. E2O should have samples of their technology ready by the second half of this year. ..