There are two basic reasons to use media conversion technology: To make the most of the legacy infrastructure during network upgrades—say, from copper to fiber—and to extend and optimize the fiber plant. But thanks to improved manageability and the use of pluggable optics, today's devices are evolving from basic media conversion to provide more complex optical transport functions.
"When we used to talk about the traditional media converter, it was really copper to multimode fiber or copper to singlemode fiber," recalls Alex Saunders, chief executive of Metrobility (Merrimack, NH). "Invariably, the only thing that we were trying to do was convert media to get more distance. Now, media converters have evolved to be products with a lot more capability."

Media converters like Metrobility's E-Services Network Interface Device are evolving from basic media conversion to more complex optical transport.
As network operators incrementally upgrade their infrastructures, they often end up with an amalgamation of media and protocols, requiring various media conversion devices. To solve this problem, several manufacturers have incorporated pluggable optical transceivers, first in the form of gigabit-interface-converter (GBIC) modules, then more recently small-form-factor pluggables (SFPs). Pluggable optics are small hot-swappable port interface modules that provide physical layer signaling for data, voice, storage, and video transport networks.
The real advantage of pluggable optics in media conversion is flexibility, reports Todd Rope, vice president of technology at MRV Communications (Chatsworth, CA). "You can take a very simple media-independent transponder, or transparent transponder, plug in a multimode-fiber pluggable optic on one side and a singlemode-fiber pluggable optic on the other side, and then all of a sudden it becomes a media converter," he explains.
SFP modules are half the size of their GBIC predecessors and provide far more intelligence, thanks to the digital-diagnostic tools specified in the SFP multisource agreement. Their ability to assess in real time critical optical parameters, including transmit and receive power, voltage, and temperature, enables network operators to reduce the number of truck rolls, which in turn reduces operational expenditures.
Because media conversion is often used in mission-critical applications, network operators must have spare converters readily available in case of failure. SFPs, paired with protocol-independent media converters, simplify this task. The combination enables the same media conversion device to be used for SONET conversion or Ethernet conversion, for example, just by replacing the SFP modules.
"Think about the difference between having a spare for every single individual kind of media conversion in your network, which can be quite a lot of different kinds, versus having one basic module or one basic unit that is a spare converter and then just a bag full of SFPs to cover all the various physical interfaces that you have," muses Rope.
MRV is not alone in providing GBIC- and SFP-based media conversion devices; Metrobility also offers media conversion with pluggable optics, as does Fiberdyne Labs (Frankfort, NY), which recently unveiled the SFP Gigabit Converter. Late last year, Microsens (Hamm, Germany) introduced the Gigabit Ethernet Bridge complete with GBIC/SFP modules.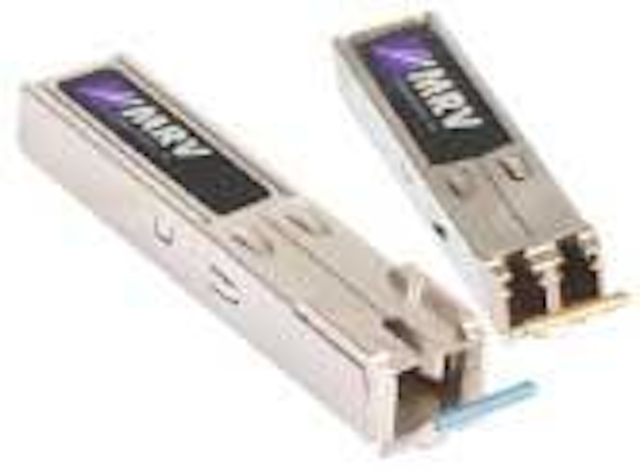 The use of pluggable optics in media conversion, such as these modules from MRV Communications, provides additional flexibility and management, while lowering operational expenditures by reducing network operators' inventory.
The pluggable optics trend should only increase in popularity as media converters evolve from basic media conversion to optical transport, contends Rope. "If I were to ask you, 'what is the difference between a wavelength transponder and a media converter,' what's your answer? For all practical purposes, there really is no difference," he says. "A distance extender and a media converter and a wavelength transponder are all fundamentally things that take signal A, maybe recover it, and then send it out on physical medium B." The same SFP building blocks can be used to build media converters, distance extenders, crossconnects, Ethernet switches and routers, and WDM transport equipment.
According to Saunders, the basic media converter is morphing into something more akin to his company's E-Services Network Interface Device (NID). "It certainly has attributes of a media converter," admits Saunders, "but it really becomes a product that goes from just being a Layer 1 media converter and starts doing Layer 2 things, like VPN [virtual-private-network] tagging. We are seeing a trend where the majority of our customers are going to more and more management on the devices as link speeds increase."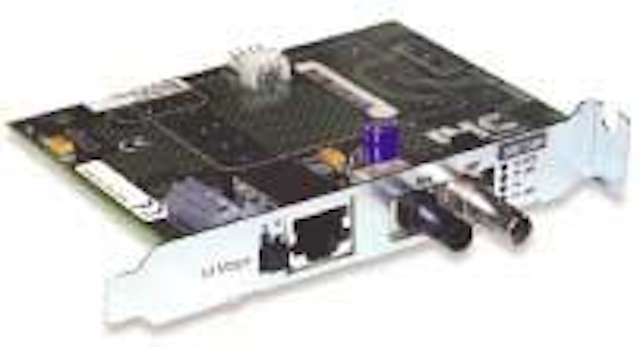 Several vendors, including IMC Networks with its McPC Series, now offer PCI-powered media converters for fiber to the desktop applications.
The E-Services NID supports copper-to-fiber or fiber-to-fiber connectivity and employs SFP modules to provide flexibility and cost savings. The device provides a secure demarcation point between service-provider and customer networks and gives service providers critical operations, administration, and maintenance capabilities, including remote management and troubleshooting.
Managed media conversion isn't new; simple network management protocol (SNMP)-based devices have been available for some time. However, vendors like Metrobility and MRV are taking advantage of work done by the IEEE's Ethernet in the First Mile (EFM) group to provide in-band management of the media-converter link.
Using the IEEE's 802.3ah standard, the media converter can manage the remote side from the local side or the customer premises equipment from the service provider's central office. SNMP-based management requires an extra IP address at the customer site, which "can be a royal pain," adds MRV's Rope. The 802.3ah standard eliminates the need for an extra IP address by embedding all the requisite information in-band.
SNMP-based devices are still the most popular, however. In January, IMC Networks (Foothill Ranch, CA) launched the iMediaChassis, which provides fiber media conversion, distance extension, and transparent LAN services from a single platform. The remotely configurable iMediaChassis features an SNMP management agent that gathers real time information on all modules, links, and ports and measures voltage levels, chassis temperatures, and fan speeds.
According to Bill Schultz, vice president of marketing at Transition Networks (Eden Prairie, MN), media conversion is "really a technology-curve follower. We provide solutions for problems that are created when people move to newer technologies, newer protocols, and newer speeds while still trying to support legacy systems."
What about a customer base looking to reduce its capital expenditures? Several manufacturers have developed single-strand fiber converters that employ WDM technology or, as Metrobility calls it, bidirectional WDM. Such devices combine transmit and receive signals on a single fiber strand, effectively doubling the capacity of the available fiber. "Where there was a fiber pair, I can now run data on just one strand, and I have the other strand available to run more data or even run voice or video traffic," explains Saunders, who reports his company shipped $400,000 worth of single-fiber devices in the last quarter alone.
Other vendors have followed suit. MRV's Fiber Direct system is also available in a single-fiber version, Canary Communications (Morgan Hill, CA) touts a single-fiber device, while Omnitron Systems Technology (Irvine, CA) recently began promoting its iConverter Single-Fiber (SF) device. IMC Networks offers several single-fiber models.
IMC and Transition Networks, meanwhile, have tackled the recent trend toward fiber to the desktop (FTTD) with the introduction of Ethernet copper-to-fiber converters with a PCI interface. The new devices are simply installed in any available PCI slot on a computer and connected to the existing copper network interface card via a Category 5 cable. Both Transition's PCI-powered media converters and IMC's McPC Series converters draw power directly from the PCI slot, eliminating the need for an external power supply.