Big Bear bullish on 40G
Feb 1st, 2005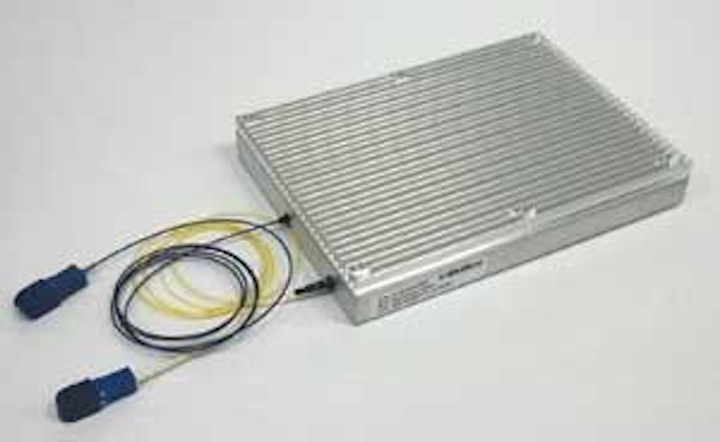 There has been increased activity in the area of 40-Gbit/sec transport in the last 6-12 months; Cisco Systems debuted the CRS-1 router, Mintera and StrataLight unveiled transmission systems, and carriers like MCI and Sprint completed successful field trials. Add startup Big Bear Networks (Sunnyvale, CA) to the list, since the company recently launched the Kodiak 40/43G transponder, which it claims is the industry's first 40-Gbit/sec multiservice-agreement (MSA)-compliant transponder with significant volume shipments.
The device's primary application is communications-system interconnects. It can be used to interconnect core routers and transmission systems in 2-km intra-office spans, for example, as well as for interoffice connections of 40-80 km in metro networks. Big Bear reports that some system vendors are also interested in deploying the Kodiak transponder in long-haul, multi-span systems. However, vendors often deploy proprietary equipment in such systems, so it may be some time before they start to use modules at this level.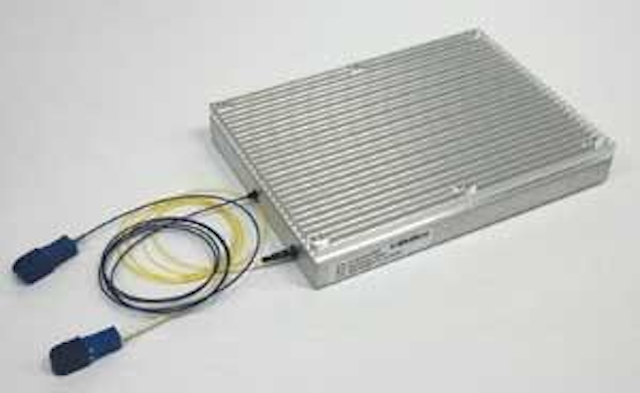 The Kodiak 40/43G transponder
is available as a 300-pin pluggable module and compliant with relevant multiservice-agreement, International Telecommunication Union, and Optical Internetworking Forum specifications.
As an IC company, Big Bear attempts to solve optical issues with electronics. "Historically, the lowest cost of transmission occurs when you do all the multiplexing electronically rather than optically," notes John Trail, director of product management at Big Bear. "Certainly, when you have equivalent volumes, [electronic multiplexing] is going to give you lower cost. And when you have that level of integration, you have fewer fibers and fewer modules to worry about."
Big Bear has designed all the 40-Gbit/sec silicon devices in the transponder, including the high-performance gallium arsenide modulator driver and the central multiplexing unit (CMU) in the transmit path. The CMU uses IBM's silicon germanium 7HP technology and is fully compliant with the SFI-5 standard. The CMU features three oscillators that enable the device to be tuned from 39 to 45 Gbits/sec-and even up to 50 Gbits/sec, says Trail.
Big Bear purchases its electro-absorption modulator from a "top-tier company" that Trail wouldn't name; all of the optical components in the transponder are outsourced.
In the receive path, the company has designed a standard low-noise photodiode; a transimpedance amplifier with a broadband, monotonic frequency response; a limiting amplifier; and a clock and data recovery (CDR) unit that has very good tolerance for incoming jitter, says Trail. The receiver provides a sensitivity margin of typically 3-5 dB over temperature and power-supply variations.
According to Big Bear representatives, the Kodiak transponder represents an important industry milestone because it is one of the first commercially available MSA-compliant modules. It is also the only such device to be Telcordia GR-468-qualified.
For now, fellow startup CoreOptics (Nuremberg, Germany) is Big Bear's stiffest competition, but that may not be the case for long, says Daryl Inniss, program director for the optical components/communications semiconductors program at RHK (San Francisco). Incumbent vendors like JDS Uniphase, Mitsubishi, and Hitachi as well as startup OpNext played in this space before the telecom bubble burst, and they all appear poised to reenter the market. But what will this increased competition mean for Big Bear?
"Traditionally, once an incumbent or leading supplier gets involved, they already have the sales channels and the relationships in place, which makes it more difficult for startups to play," admits Inniss. "So the startup needs to have something that is unique. It needs to have some advanced technology that beats the competition; it needs to be ahead of the curve in some way. Big Bear has that promise based on the fact that they are really an IC company."
Big Bear seems to be ahead of the competition, which could prove a key advantage as the 40-Gbit/sec market matures. For now, it's "a lot of murmurs," admits Inniss. "But," he adds, "I have seen and heard some analysis at the system level that suggests that if you have a node running at near 10G capacity-let's say 60% of the 10G cards are lit-you need to increase capacity. So you ask yourself, 'What am I going to do next?' [System vendors] argue that in today's dollars, it starts to make sense to run traffic at 40 Gbits/sec. This is particularly true when there is a fair amount of traffic on the node already."