Cortina Systems launches Milan all-in-one chip
Sep 1st, 2003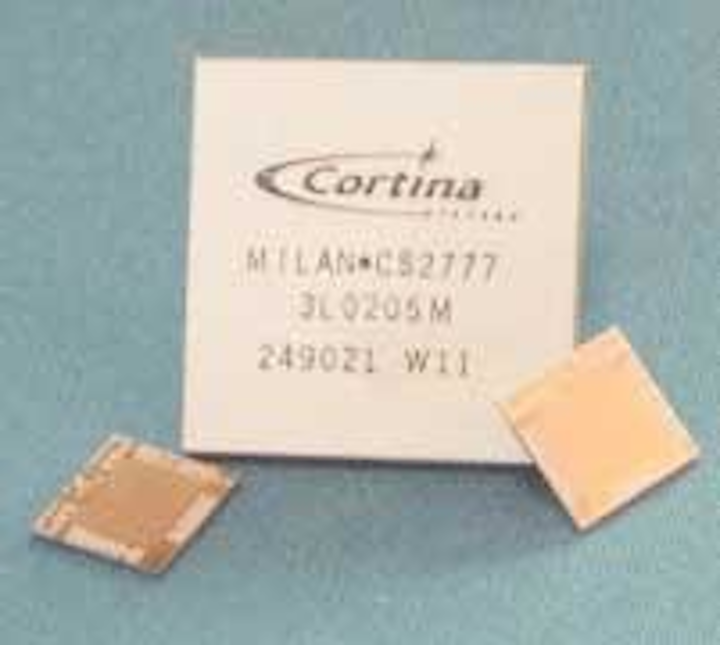 Startup Cortina Systems (Mountain View, CA) has turned heads recently with the launch of Milan, an OC-192/OC-48 framer and resilient-packet-ring (RPR) media access controller (MAC) that supports SONET and Ethernet framing, packet over SONET (PoS), generic framing procedure, ATM mapping, and the IEEE 802.17 RPR standard. Designed for use in routers, switches, and transport equipment, the Milan IC is one of the first implemented in 0.13-µm CMOS. The software-selectable, hardware-ready chip has already caught the attention of Cisco Systems, and other system vendors may soon follow suit.
Today's system vendors must deploy separate line cards for PoS, RPR, ATM, Ethernet, short-reach, medium-reach, long-reach, different speeds, etc., explains Cortina marketing vice president Zino Chair. Such a strategy is inefficient and expensive, he says. While the Milan IC doesn't offer anything new from a service perspective, it does promise to reduce by "orders of magnitude" the number of line cards required to support each communications protocol—something capital-constrained carriers can appreciate.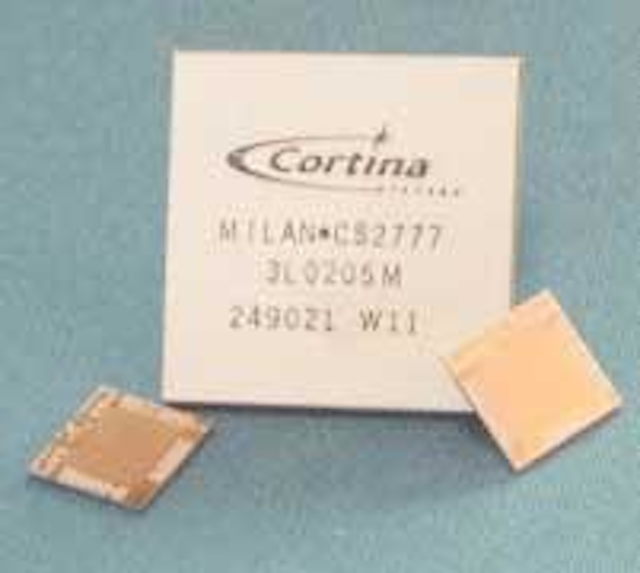 The Milan IC from Cortina Systems features separate engines for packet over SONET, ATM over SONET, generic framing procedure over SONET, and resilient packet ring, which can be run over Ethernet or SONET.
On the system side, the Milan features a standard SPI4.2 interface that talks to any Layer 3 engine, whether in-house or external. The chip also accommodates SPI4.1, XAUI, and serial XFI.
On the line interface side, Cortina has taken the serializer/deserializer multiplexing/demultiplexing and clock and data recovery functions that normally reside in optical modules and brought them into the IC, which enables the Milan chip to talk to an XFP module directly through a serial interface. "We believe that [XFP] is going to be the optical module of choice for next-generation OC-192 and 10-Gigabit Ethernet because of its aggressive price point and small size," says Chair.
The Milan IC is also compatible with traditional optical modules like the 300-pin commonly used today, and all interfaces may be programmed as either SONET or Ethernet. "The whole idea is to give the flexibility to the system vendors to pick their optical modules," explains Chair. "Some people are not aggressive [enough] to use XFP; they want to still use 300-pin. Some people want to use Ethernet. We don't make that choice; we let the system vendors do it." Which begs the question: Is there any reason why a system vendor wouldn't incorporate a multiprotocol, multiline interface IC into its system?
"It does seem too good to be true," admits Marian Stasney, managing partner at market analyst Telecom Inquiry Solutions (Austin, TX). However, she adds, many of the reasons why a system vendor might eschew a new IC technology seem moot in Cortina's case. Price can be a deterrent, but the Milan is implemented in CMOS, which lowers its cost. Power consumption can be an issue, but Cortina claims its chip consumes less power than competitive offerings. If anything, backward compatibility might present a minor obstacle to deployment, though Stasney does not think that's enough to keep system vendors away.
For her part, Stasney is optimistic about Cortina's chances, given the company's pedigree and history of execution. "These guys have pulled it off before," she says, referring to Chair and chief executive Amir Nayyerhabibi, who together founded chipset manufacturer StratumOne Communications. StratumOne was purchased by Cisco, which happens to be the first of Cortina's announced customers. "It makes sense that they're in bed with Cisco," says Stasney, who adds, "It's not a bad spot to be in."
For the moment, Cortina's closest competition seems to be Infineon, which is slated to release a similar offering this summer. AMCC, PMC-Sierra, and Broadcom may also join the fray, though Chair is confident that Cortina has "a good year lead on the development of multiprotocol ICs." Work is already underway on a second IC, Roma. Between Milan and Roma, the company will be able to cover all rates from Gigabit Ethernet to OC-192 to 10-Gigabit Ethernet. ..